Complete Guide to Sliding Sash Windows
Share this story!
Share this post to any popular social media, email it to a friend or print it off.
---
Since the early 1700s, sliding sash windows have been a popular window style for British homeowners. Sliding sash windows can suit various property types, from large mansions to humble cottages. At Quickslide, we supply highly customisable uPVC sliding sash windows that can combine modern security features and energy efficient double glazing with the classic and authentic feel of sash window design.
This comprehensive guide to uPVC sliding sash windows can help you understand all the ins and outs and explain why uPVC sliding sash windows could be the perfect choice for your next home improvement project.
uPVC Sliding Sash Windows VS Timber
There are a surprising number of differences between timber and uPVC sliding sash windows. Many traditional sliding sash windows are made with timber, but new homes typically use more modern materials such as uPVC or, in some cases, aluminium. Each material has advantages and disadvantages, but uPVC offers an excellent balance, making it the best choice for our sliding sash windows.
uPVC is a durable yet lightweight material that can withstand intensive weather conditions. uPVC frames can maintain shape without swelling, cracking, or splitting. Homeowners can avoid worrying about sanding or varnishing uPVC sliding sash windows from Quickslide.
Because of their ability to maintain their shape, uPVC sliding sash windows can help homes look their best for years with minimal maintenance. They can look especially gorgeous when combined with our extensive collection of durable colours and stunning woodgrain finishes. It's easy to learn how to clean uPVC sliding sash windows, as they come with a slide and tilt facility and don't splinter like timber.
Another benefit of uPVC that timber can't match is the energy saving properties that uPVC provide. Combined with our bespoke double glazing, our uPVC sliding sash windows can retain heat to keep homes warm and comfortable year round. Timber doesn't retain heat as well as uPVC, leading to increased design difficulties when building for thermal efficiency.
Timber windows can also be more expensive than uPVC, especially since timber typically requires more maintenance to keep them looking their best. Not only that, but timber frames also typically cost 3 times as much as sash windows made of uPVC. Additionally, timber frames may warp, suffer from condensation, or eventually end up with mould or water damage issues. Our modernised design for uPVC sliding sash windows includes well placed trickle vents to avoid condensation build up, offering excellent ventilation.
At Quickslide, we understand that timber has been used as a window material for hundreds of years. The traditional aesthetics of timber frames are perhaps the biggest benefit of timber. However, our uPVC sliding sash windows can be wrapped with durable woodgrain foils that can mimic the true appearance and feel of timber, letting homeowners enjoy the best of both worlds.
It may seem that timber could be the more environmentally friendly option, as uPVC is a type of plastic. However, with new technologies and techniques, uPVC can actually be recycled. Plus, with the extensive lifespans of uPVC sliding sash windows and their energy efficient properties, they won't need to be replaced as often, and they could even help reduce energy consumption in the long term.
You can read more about the sustainability of uPVC sliding sash windows in Are Sliding Sash Windows Sustainable?
Popular Sliding Sash Window Colours & Trends
uPVC sliding sash windows are available in all sorts of vibrant and unique colours. Gone are the days when homeowners had to accept the basic off-white colouring that uPVC typically offered. At present, uPVC can be made in almost any conceivable hue, and at Quickslide, we can offer a bespoke colour bonding service to help create the perfect window colour for any home.
White Woodgrain, Anthracite Grey, Chartwell Green, and Black are popular trends for modern or classic homes. However, there has been an increase in more unique sliding sash window colours as homeowners look to create a style that suits their preferences. Every home is different, as is every homeowner, and understanding what colour window frames to choose doesn't need to be a challenge.
Smaller homes such as cottages and other homes in the countryside could work beautifully with naturally coloured uPVC sliding sash windows. Chartwell green, various cream shades and deep brown hues can create a harmonious look that blends with the surrounding natural environment. Wood effect sliding sash windows can also be an excellent choice to match nearby trees or fields, letting the home be one with nature.
Meanwhile, larger properties or those within more urban environments can do well with darker shades, such as classic black and Anthracite grey. Or they can make a statement with a deep maroon or gold shade to stand out from the crowd. You can read more about how to transform a home's aesthetics with sash windows in this article.
Deciding between stock woodgrain foils or RAL colours depends entirely upon the homeowners' personal tastes, but it can change slightly based on the type of home and its location. Find out the best method for choosing the right foils or colours for sash windows in this article.
Design-wise, the most popular sliding sash windows vary between classic Georgian and Victorian styles. Georgian sliding sash windows are recognisable by their six-over-six pane design, while Victorian sliding sash windows typically have fewer separated panes, such as two-by-two. Victorian sliding sash windows could be the ideal choice for homeowners looking for a less interrupted view, as they have fewer glazing bars (also known as astragal bars) across the glass.
For the best of both worlds, the Edwardian sliding sash window style typically offers a six-by-two design. They usually have six panes separated by glazing bars on the top sash and two panes on the bottom. Read more about the types of sliding sash windows in this article. Or discover more about the popular colour and design trends of sliding sash windows here.
You can learn more about the new colours and trends for sliding sash windows in New uPVC Window Colours Available Now.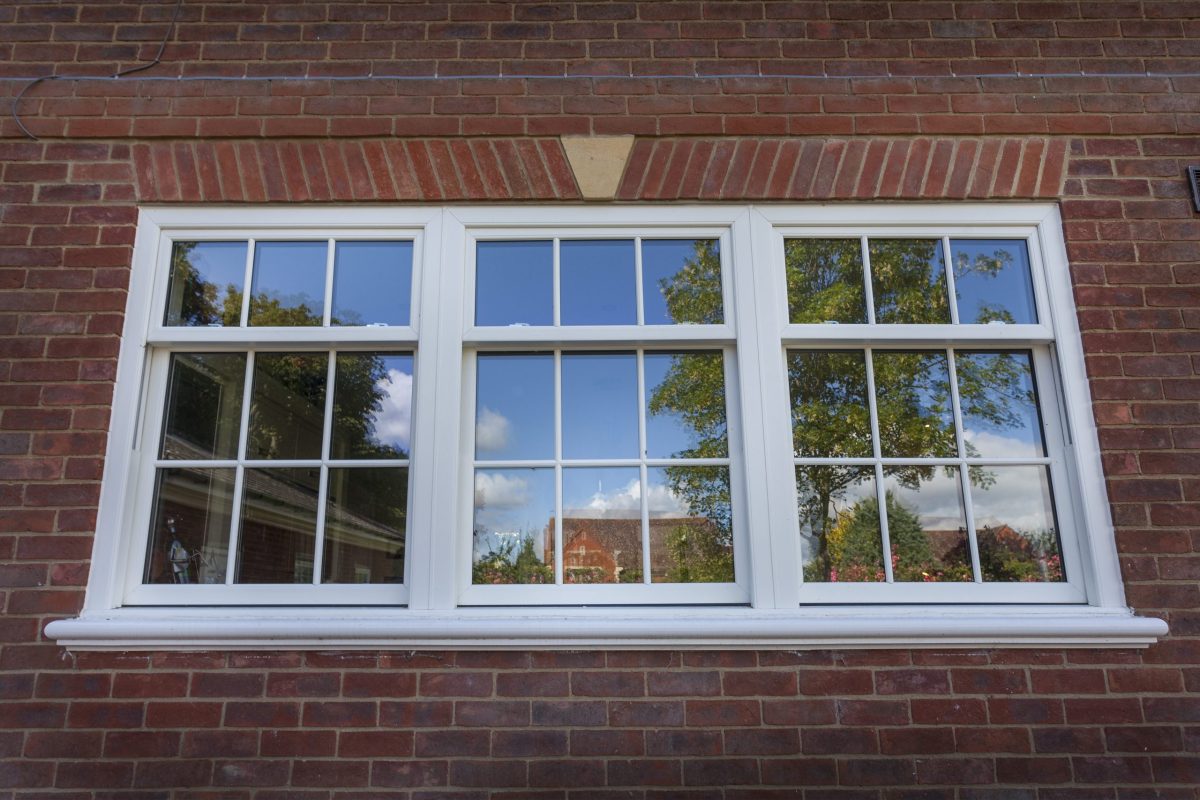 Energy Efficient Sliding Sash Windows
Understanding the importance of energy efficiency is essential to navigating the window market today. Throughout the years, there have been many evolutions in window hardware and manufacturing technologies. These new developments mean that contemporary windows can retain much more heat while offering many other benefits, such as increased security, broader colour schemes, and slimmer sightlines.
A key way new windows have enhanced their energy efficiency capabilities is through double and triple glazing. Double glazing is constructed of two thin sheets (or panes) of glass that sit close together. As heat inside a home passes through the first pane, it gets trapped within the small pocket and fails to escape beyond the second pane. Some more advanced windows, such as Qucikslide's sash windows, also incorporate argon gas inside the glazed unit, which makes it even harder for the cold to travel through. Insulating materials within the profiles of the window may also be available. uPVC can, therefore, be an excellent choice for homeowners looking to improve their home's energy efficiency.
One of the best ways to save on rising energy bills is to invest in modern windows to waste less heat within the home. By letting less heat escape through windows, homeowners can rely less on central heating systems, leading to lower energy consumption and potentially reducing bills. Learn more about how installing new windows can help lower energy bills here.
Our uPVC sliding sash windows incorporate modern double glazing compared to old timber sliding sash windows that usually still use single glazed glass. We fill the space between or double glazed panes with a special argon gas that can trap heat even better than regular air. We also use wool piles that are expertly colour matched, which can help keep out cold draughts while maintaining the windows' unique colour scheme.
Read further about the benefits of sash windows for energy efficiency in this article.
Sliding Sash Window Prices Guide
The price for sliding sash windows depends on a range of factors. The size, security features, design, colour, and the addition of optional features and installation fees can all affect the final price. Considering all these factors, we recommend receiving a personalised price, which can be requested on our website via our pricing tool. Alternatively, we can be contacted directly at 03332 412 240, via our online contact form or by emailing us at sales@quickslide.co.uk.
Learn more about the cost of sliding sash windows at: Are Sliding Sash Windows Expensive and How Much Are Sash Windows?
Find An Installer
Find a local installer easily with our locator tool. It only requires a postcode to get started, letting you get in contact with someone nearby for our uPVC sliding sash windows in just a few clicks.
Visit the Find An Installer page now. Or, become a trade partner with Quickslide, and benefit from dedicated marketing and after-sales support. Fill out the form here now to become a trade partner.
Further Reading:
What Are The Best Sliding Sash Windows?
uPVC Sliding Sash Windows Installation Guide
Should I Replace Wooden Windows With uPVC?
Do I Need Planning Permission to Replace Wooden Windows With uPVC?
The Timeless Elegance of Sash Windows: A Perfect Addition to Your Home
Please note, our news articles are relevant and accurate at the time of release, but as technical developments dictate, and times goes by the information in this article may no longer be applicable. If you have questions, please contact us using our online contact form or call us on 03332 412 240.