Share this story!
Share this post to any popular social media, email it to a friend or print it off.
---
When you are buying UPVC windows you can create a solution that's unique to you. With a textured woodgrain effect, your UPVC windows can achieve a very convincing wood effect that looks and feels just like traditional timber windows. It's not until you study the windows up close and in detail that you may notice that the windows aren't in actual fact made of wood. Whether sash or casement, to the naked eye a wood effect UPVC window will look like wood.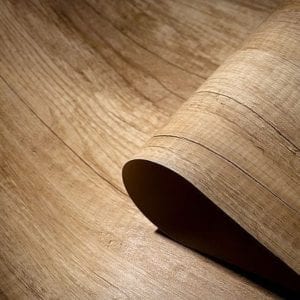 How can UPVC windows look like wood?
Quickslide work in close partnership with Renolit, an international company specialising in foils for windows and doors. A lot of research in traditional timber windows and wood effects have resulted in a superb range of realistic woodgrain options that look very much like the different types of wood used in making traditional timber windows. Some of these woodgrain options include rosewood, Irish oak and nut tree. On our classic range of UPVC double-glazing, we can offer 22 different wood effect options from stock. If on the other hand, you're looking for bespoke wood effect UPVC windows, you can opt for a standard white wood foil to be colour-bonded in your choice of colour.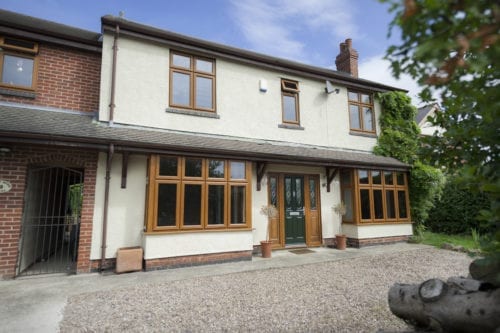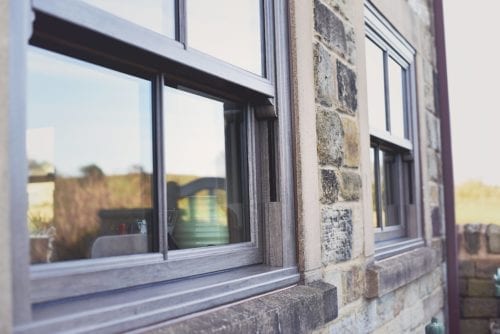 What is the wood effect on UPVC windows made of?
The PVC base film of the woodgrain foil consists of advanced high-performance raw materials. It is based on an innovative copolymer technology, which eliminates plasticiser migration. A transparent film with highly efficient UV-absorbers protects all underlying layers and also the profile from premature aging. Particularly high quality colour pigments both in the base film and in the adjacent printing layer guarantee colour throughout its product life. On the reverse side, a primer layer improves adhesion to the window profile.
A unique Solar Shield Technology reflects infrared radiation from the sun and thereby protects the film, adhesive and window profile. The woodgrain foil contains a high UV absorber content. Particularly sensitive white tones benefit from this and heat build-up in dark colours is reduced.
Description from Renolit.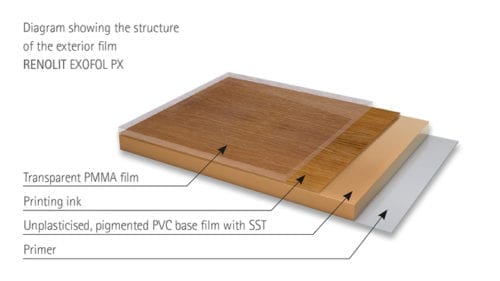 The woodgrain lamination process
The woodgrain foil is bonded to the PVC profile using hot glue and rollers. The profile is then set aside to allow the woodgrain foil to set before the profile is used in fabrication. The foiling process is carried out using state-of-the-art machinery at our production facility in Brighouse. Here at Quickslide we carry out most of our processes including woodgrain lamination, profile bending and colour-bonding ourselves to ensure that we're in control of both quality and lead time.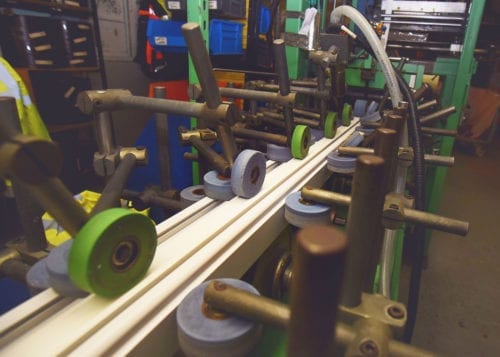 Popular UPVC wood effects
The most popular wood effect on our classic UPVC casement windows is rosewood also known as cherrywood. Rosewood windows are characterised by a dark brown-red wood looking finish. Rosewood is one of the longest standing woodgrain finishes within the double-glazing industry and is often the go-to choice on traditional looking homes.
In recent years, homeowners have become more adventurous when it comes to replacement windows; woodgrain finishes such as chartwell green, agate grey and even darker tones such as grey and black are becoming more and more popular. As the choice of colours is now virtually endless we expect to see a broader range of colourful woodgrain windows across the UK in the next few years.
Our wood effect uPVC windows are particularly effective when matching the period looks of certain properties or other styles. Some examples can be found below:
The same effect can also be replicated to match our range of external French doors.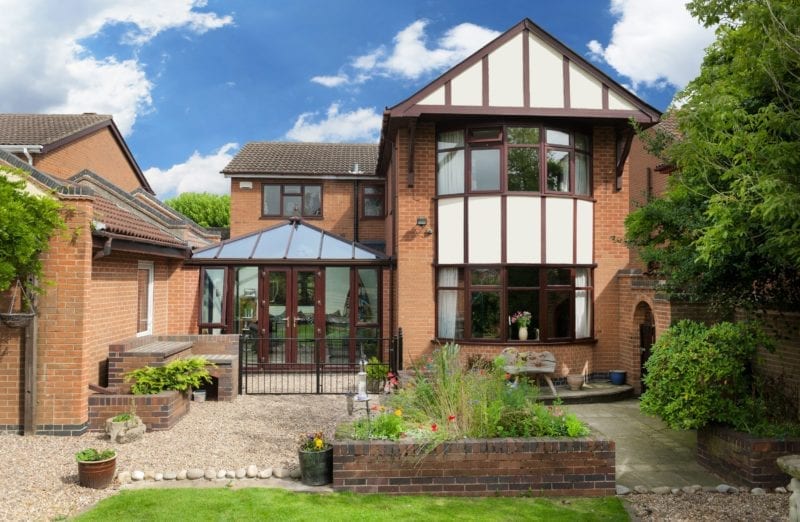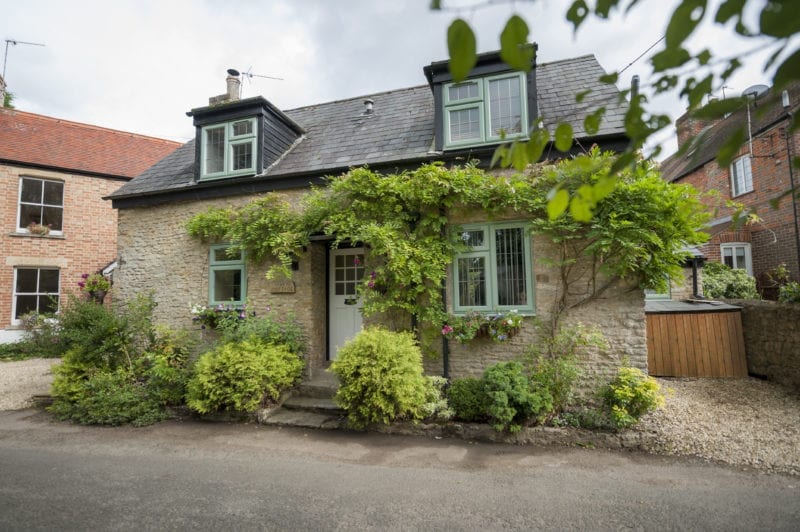 Order a wood effect upvc window

Please note, our news articles are relevant and accurate at the time of release, but as technical developments dictate, and times goes by the information in this article may no longer be applicable. If you have questions, please contact us using our online contact form or call us on 03332 412 240.