New uPVC Window Colours Available Now
Share this story!
Share this post to any popular social media, email it to a friend or print it off.
---
We're excited to announce a brand-new expansion of our colour selection! A combination of plenty of extensive research and development plus feedback from a trade partner survey we conducted towards the end of 2022 has motivated us to extend our range of colourways. We've launched four new colourways on a select range of our award-winning windows and doors. The new foils will provide new selling points for our trade partners, alongside diversifying the options available for British homeowners.
Our new colours are available to order now for delivery week commencing the 27th of February 2023 and onwards.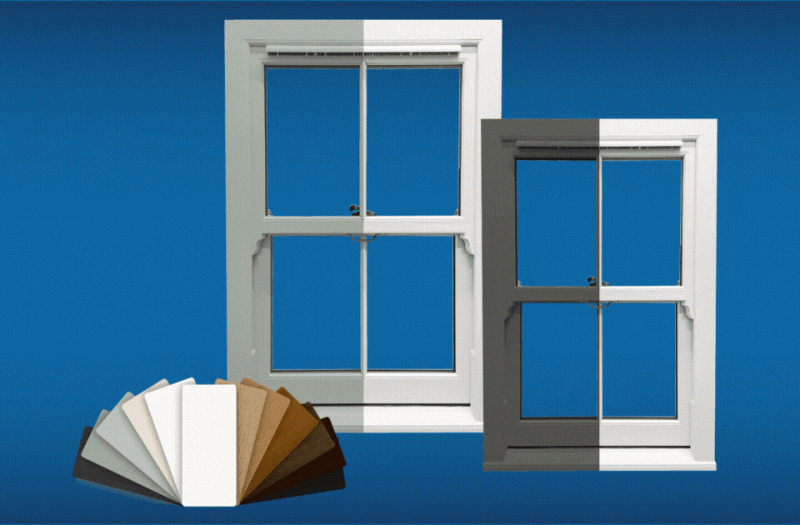 Dual Colourways for Authentic Sash Windows
One of our most exciting developments is the introduction of two new dual colours for our uPVC Legacy Sliding Sash Windows. Perfect for a traditional style, we're now manufacturing windows in agate grey on the external side with a clean heritage white wood effect on the inside. Looking for a slightly more modern touch but not looking to stray far from the authentic heritage style we're known for? Opt for anthracite grey woodgrain externally and heritage white internally.
Additionally, we're now able to combine white woodgrain and smooth white from stock, it's the perfect mix of traditional and modern. There's no better way to describe our new colourways for our uPVC Sliding Sash Windows than distinctive. Seamlessly keep the inside of your home modern without sacrificing your heritage timber-looking appeal on the outside. Combining these two timeless finishes is something we've been working on for some time, and we're thrilled to offer this combination as a stock option on our sash windows.
Smooth Grey on our uPVC Casement Range
Based on customer feedback, we've introduced the modern smooth grey finish across our entire uPVC Casement range from our uPVC extruder Deceuninck. Deceuninck stats and our survey results show that greys are becoming increasingly popular, so alongside our existing Agate Grey and Anthracite Grey woodgrains, Smooth Grey will be an excellent fit. This new finish covers everything for uPVC Casement Windows to uPVC Flush French Doors, and we sincerely hope you share our enthusiasm. For a full overview of our Deceuninck range, download our brochure.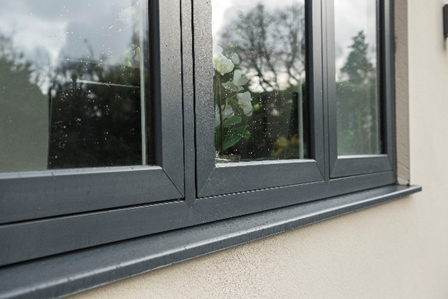 Latest Colour Trends for Windows and Doors
We pride ourselves on being forward thinking and adaptable to change! It's crucial that we stay on top of current colours becoming popular with UK homeowners, so we can offer a product that end-users will love. Knowing what colours are on trend means we can make sure to promote the right products to our network and thereby manufacture products that our trade partners can sell.
Following feedback from our trade partners, we understand White Woodgrain and Anthracite Grey are consistently popular finishes, followed closely by Cream Woodgrain, Chartwell Green, and Black.
Besides this, our trade partners seem to agree that sage and olive greens will see an increase in popularity during the next 24 months. Smooth foils including matt white and dark aluminium lookalikes are ones to look out for too.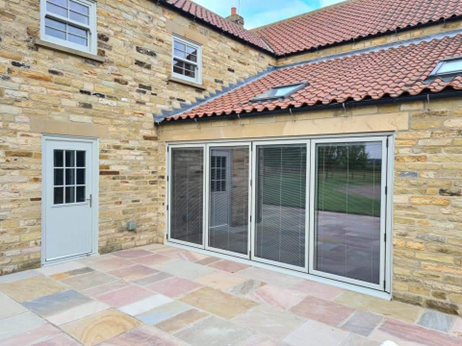 Bespoke Coloured Windows and Doors
These brand-new finishes add to our already extensive range of foils and colours available to choose from, but if you're on the lookout for something a little more personal, we also offer a bespoke colour bonding service. We can produce our windows and doors in virtually any colour including the popular RAL collection, so you can rest assured that a customised window is always a viable option when you choose Quickslide. Choose a colour-coated window to match your building or to even create a bright contrast. Any bespoke colour can be requested either in a smooth or wood effect finish, so the sky really is the limit.
We've been working on our range of new finishes for a while, and we can't wait to start seeing coloured windows and doors in these new finishes being installed across the country.
Get a price for our new coloured windows
You can request a price for a sliding sash window on one of our new dual colourways by submitting your required specification right here on our website. You can also discuss your requirements with our friendly team by calling us or emailing sales@quickslide.co.uk
Please note, our news articles are relevant and accurate at the time of release, but as technical developments dictate, and times goes by the information in this article may no longer be applicable. If you have questions, please contact us using our online contact form or call us on 03332 412 240.