What are the benefits of double and triple glazing?
Share this story!
Share this post to any popular social media, email it to a friend or print it off.
---
What is double glazing?
A double glazed window includes a sealed unit made up of two panes of glass. The gap between the two panes of glass will either consist of air or argon gas depending on your requirements, which creates an insulation barrier against the cold outside and warm inside. If your home features original single glazing, you will instantly notice the difference if you were to upgrade to double glazed window frames.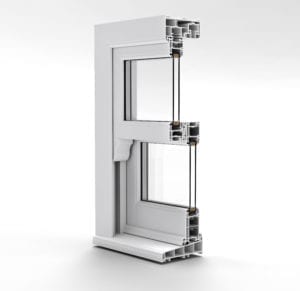 It's widely believed that it was an American who created the first double glazing window solutions. However, some might say that double glazing dates back to Victorian Scotland times. The debate still goes on this day today. Double glazed windows became increasingly popular in the 70s due to rising energy prices caused by the oil crisis. During this time, homeowners became more and more aware of the benefits associated with installing double glazed units and the government pushed for stricter building regulations to become less reliant on oil from foreign markets. Double glazing is now the most popular type of glazing used in homes across the UK. As old traditional timber windows need to be replaced, people often set out to upgrade with double glazing. However, since the introduction of double glazed UPVC windows we've seen a plethora of period properties having their heritage timber windows replaced with smooth white casement windows, obviously getting the benefits of better insulation and low maintenance but at the expense of the beautiful period look. You can rest assured that Quickslide's Legacy uPVC Sash Windows can recreate tradition with its many period features that have been designed to mimic traditional wooden sash windows.
What are the benefits of double glazing?
Double glazed windows come with countless benefits and the difference in performance compared to single glazed windows can easily be felt from inside the home. Some of the most discussed benefits are listed below in further detail.
Improved insulation
Double glazed windows are a great way help keep your home warm. The two glass panes create a heat retention barrier, which will help make sure that only a small amount of cold air enters the home through the glass. With double glazing you will automatically get a better window energy rating increasing the overall energy efficiency of your home. You would notice a difference as this may result in lower heating bills compared to if you had single glazing.
Noise reduction
Another advantage of double glazed windows is the reduced noise pollution. Whether you live near a busy road or next door to some loud neighbours, two panes of glass will help soundproof your home. In some extreme cases, you may want to consider acoustic glass instead, which comes with a transparent film over the glass reducing noise levels even more so.
Increased security
Double glazed windows can also increase the security levels of your home. Due to the extra pane of glass double glazed windows have, they are more secure than single glazed windows making them harder to break through.
How much does double glazing cost?
Any reputable window manufacturer will offer double glazing as standard. Standard glazing at Quickslide is comprised of a glass unit with a pocket of air in between the two panes of glass. An upgrade for argon gas can be requested and will cost around £25 per window. On our uPVC Sliding Sash Windows, double glazing with air achieves an energy rating of 'B', and with argon gas the window achieves an energy rating of 'A'.
History of double glazing
Double glazing has been around for decades and it's the most common type of modern glazing used in homes across the UK today. Up until around the mid-sixties, all that was known was windows with a single sheet of glass and it wasn't until then that the first slightly primitive double glazing solutions were introduced. Single glazed windows consist of only one pane of glass and they are therefore associated with poor insulation and draughts. Back in the days, people used to rely on fires to keep them warm, and the poorly insulated windows were often the main cause of heat loss in the home. Due to the low quality of the windows, people sometimes experienced mould growing on the walls, foaming around the windows and condensation, which could lead to the plaster breaking down. Before double glazing was introduced, there's evidence that some families added a second pane of glass over the windows to create an extra barrier for added heat retention. Whether they were successful, we don't know but based on the multi glass sheet technology used in double- and triple glazing this day today, something suggests that they might have been.
What is triple glazing?
Triple glazing is made up of three panes of glass with air or argon gas within each of the two pockets. Argon gas is used to increase the energy efficiency and the overall performance of the windows. Triple glazing work in the same way as double glazing although with triple glazing you get an extra pane of glass and an extra insulation barrier. This does offer better insulation values, but it's not a notable amount. Triple glazing is popular in countries such as Iceland, Norway and Sweden where temperatures reach well below 0. With Britain's mild winter conditions, it's unlikely that we will see a huge uptake of triple glazing.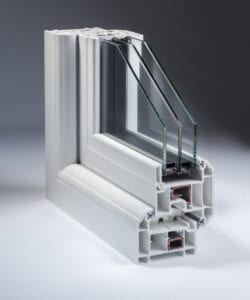 Looking to upgrade to double or triple glazing in your home? Read our comprehensive Windows Buying Guide for more information.
Additionally, if you are looking to supply double glazing through your business, sign up to be a trade partner today. We offer a range of sash and casement double and triple glazed windows. Double and triple glazing is also available throughout our range of bi-fold, French and patio doors.
Please note, our news articles are relevant and accurate at the time of release, but as technical developments dictate, and times goes by the information in this article may no longer be applicable. If you have questions, please contact us using our online contact form or call us on 03332 412 240.