Understanding Energy Efficiency
Share this story!
Share this post to any popular social media, email it to a friend or print it off.
---
What does it all mean?
Understanding energy efficiency ratings is the all important first step to ensuring you have the right windows and doors for your home. With U-values and letter-based ratings being thrown around, it's easy to feel overwhelmed.
U-Values are, to put it simply, how much and how fast heat is lost through a structure. It's calculated by dividing the rate of heat transferred through a structure by the difference in temperature across that structure. For example, our uPVC Sliding Sash Windows can reach an impressive U-Value of 1.4 W/m²K. As something new our uPVC Casement Windows can reach a staggering 1.0 W/m²K with triple glazing.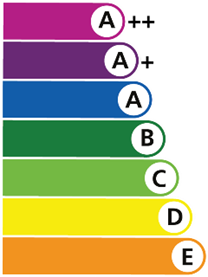 Energy ratings are more straightforward. It's likely that you will have seen the above rainbow scale used on household items like fridges and washing machines. It works exactly the same for windows and doors. They work on an alphabetical scale, with 'A++' being the best for energy efficiency. Windows and doors need to meet an energy rating of 'C' to be classed as energy efficient. Our uPVC Sliding Sash and Casement Windows can reach energy ratings of 'A', making them great at keeping the heat in. According to the BFRC, windows and doors with an energy rating of A to A++ are classed as energy positive.
How are windows tested for energy efficiency?
Energy ratings are provided based on a window's solar gain (how much sunlight comes through the window) minus the thermal heat loss and air leakage. How the overall measurement translates to specific BFRC energy ratings can be seen below. The energy certificates of our windows and doors are accessible at the British Fenestration Rating Council (BFRC. Our customers can also verify the energy performance of our windows on their website.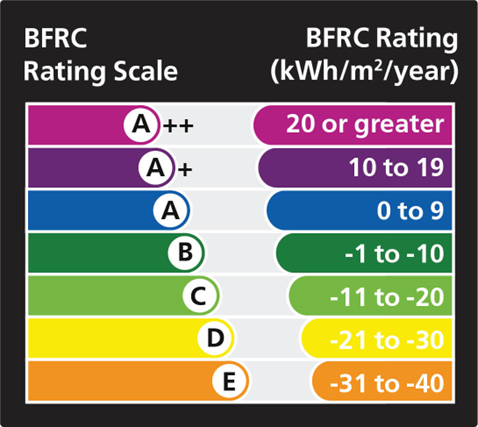 Quickslide's windows and doors have their energy efficiency ratings displayed on their individual pages right here on our website. You can find their best possible u values and energy under 'performance'.
Now you've got a grasp of what the different energy ratings mean, how can you ensure your windows and doors are as efficient as possible? At a time where energy prices are rising and many are struggling to heat their homes, you're not alone if you're looking for ways to beat the bills with energy efficiency.
Double and Triple Glazing
At the time of writing this, it's common to see temperatures drop well below freezing, and presumably you want to feel the least amount of that chilly outside temperature as possible while inside your home. Compared to traditional single pane units, double glazing will doubtlessly be more efficient. You can also take a piece of advice from countries who deal with extreme cold regularly, and upgrade to triple glazing.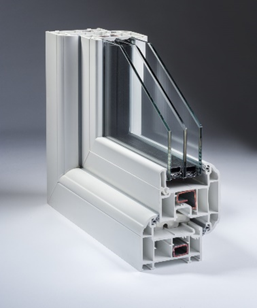 Double and triple glazing is based on the same principle. By adding extra layers of glass, heat is less likely to escape through the glass. Therefore, you can easily improve the window's energy efficiency and performance.
Modern glazing also has the added benefit of increased durability and is incredibly long lasting. The additional glass pane(s) in double and triple glazed windows make them even harder to get through and thereby safer from unwanted intruders.
Energy Efficient Window Installation
The installation of windows and doors is just as vital for increasing energy efficiency as the manufacturing process. Our windows and doors are made to measure and thereby fit perfectly in your home. A combination of our excellent UK manufacturing with a quality installation can greatly reduce the risk of a draught. Find your local Quickslide stockist and get our energy efficient windows and doors installed in no time!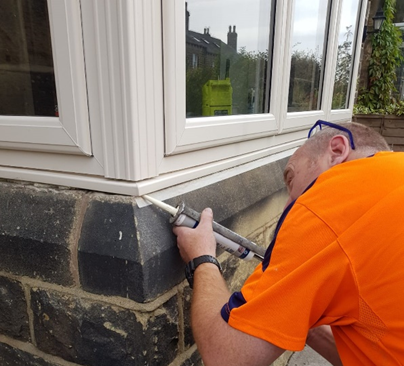 What about draughts and leaks?
Energy efficiency is worth very little if your windows leak and let in draughts! Something we understand is a priority considering the unreliable weather we have in the United Kingdom. That's why we've invested plenty of time and funds into ensuring our windows act as much as a barrier against bad weather as possible. A full overview on the weather performance test results of our Sliding Sash Windows, is available on our blog.
Please note, our news articles are relevant and accurate at the time of release, but as technical developments dictate, and times goes by the information in this article may no longer be applicable. If you have questions, please contact us using our online contact form or call us on 03332 412 240.