External Door Buying Guide
Share this story!
Share this post to any popular social media, email it to a friend or print it off.
---
Index
Introduction
Buying a new external door doesn't need to be a long and complicated process. Our buying guide will help you make the right decisions regarding product type, design, material and glazing. More and more homeowners replace their doors because they no longer fit in with the overall look and feel of their home. It's no longer just down to the performance of the door, although thermal efficiency is still a huge buying factor on doors with large glass areas such as sliding patio doors and bi-folding doors.
Replacing or Creating
Whether or not you need planning permission, comes down to whether you are replacing or creating something new. In most cases, if you are replacing your front- or back door with one of our Solidor composite doors you can create a personal solution in a style and colour of your choice without needing approval. In recent years, the front door has become the heart of the home and homeowners use the door as an opportunity to add life and personality to the home.
If you are building an extension with the incorporation of a bi-folding door and roof light you will typically need planning permission before you begin the build.
For any new build homes, the doors you incorporate must meet the standards set out by building regulations. A reputable manufacturer such as Quickslide will offer a versatile range of doors designed to ensure the prevention of unauthorised access. These doors may include the incorporation of enhanced hardware and glass upgrades such as double and triple glazing. To make sure the doors you buy can be incorporated into your new build, ask if the doors have been tested to PAS 24: 2016.
If your home is listed and/or if you live in a conservation area, you will need to be very careful and always check what types of doors you can replace your current ones with. There will likely be restrictions in terms of the design and material you can opt for, so we always recommend checking with a planning officer before buying.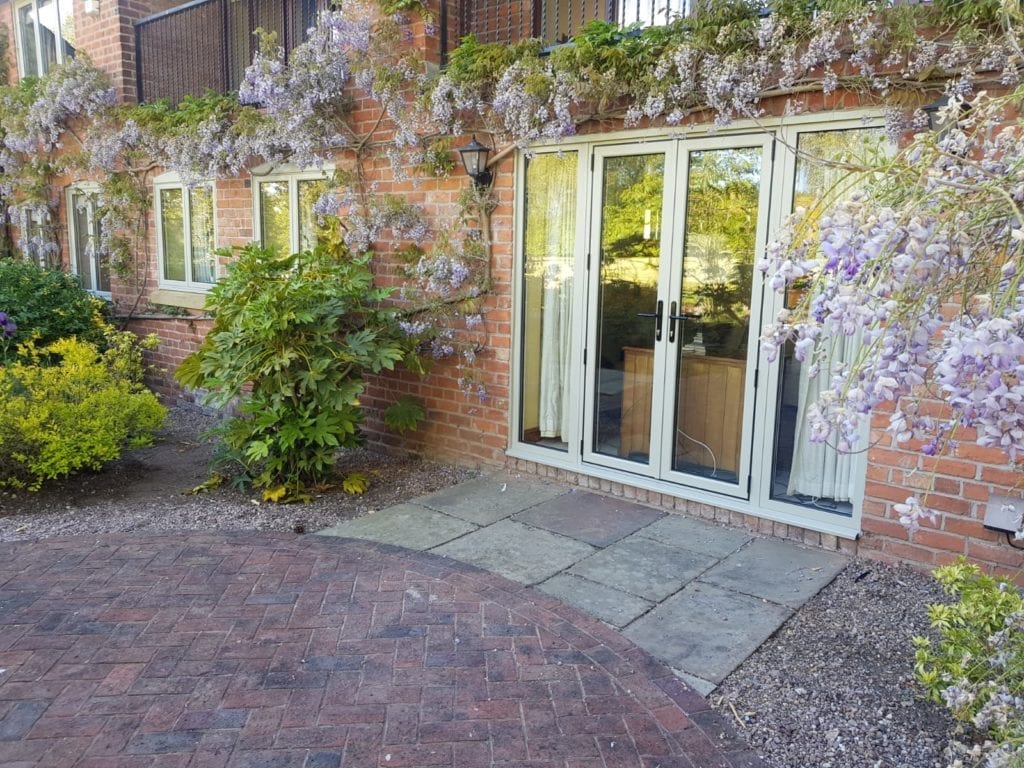 Is Your Door Subject To Legal Requirements?
The short answer is yes, but it really comes down to the type of door, its specification and the property it will be installed into. The legal requirements are set out by several minimum national standards that building design, construction and alterations must comply with. Please note there are slight alterations in the standards between England, Wales and Scotland. The standards exist to ensure that any building work is carried out to a high standard and meets the standards for energy conservation, security and building access.
Some of the most common requirements to look out for when buying a new door is energy consumption and security. An increasing focus on energy efficiency has meant that the regulation in relation to the amount of heat that can pass through the glass and framework is rapidly becoming stricter. You should look for something called u-value and you should know that the lower the u-value the more energy efficient the door will be. When you specify your requirements, it is important to tell your sales representative where the door will be installed, which will allow them to identify any requirements needed to meet the building regulations. These requirements may include enhanced security features or even trickle vents to provide ventilation in certain rooms.
You should also note that if you are replacing the main entrance in a home that has been constructed since 1999, the threshold should always remain level otherwise the works will not comply with the building regulation. This standard was set in place to enable those with disabilities to access the dwelling.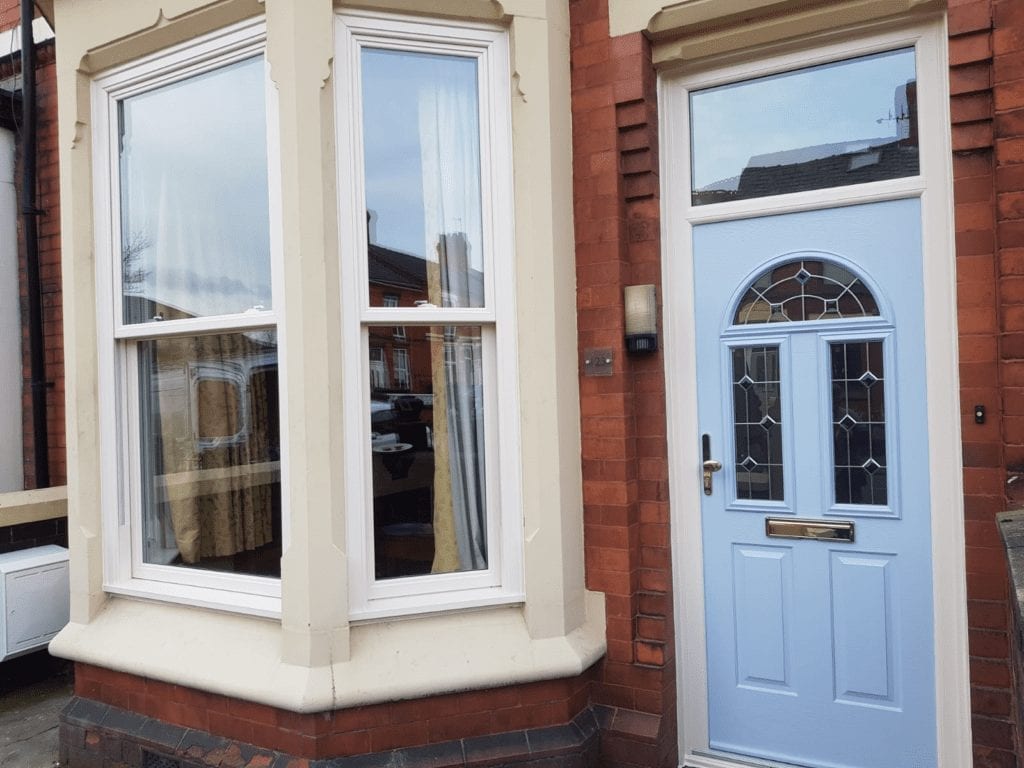 Who Will Install Your Doors?
Depending on the type of door you are considering you may need to get a professional installer to help with the installation. Generally, we don't recommend any homeowners with no experience or professional training to attempt to install any of our windows and doors themselves. Think about it; a bi-folding door is quite an expensive product to have to replace just because the installation wasn't done properly. A single slab composite door is the easiest of door types to install yourself. However, an experienced installer will know precisely how to install the door efficiently and most importantly, accurately which is undoubtedly worth the money. One thing to always bear in mind is that the positioning of the door frame in the aperture is fundamental to the success of any door installation.
If you're sourcing your own installer, you should look for a FENSA approved tradesman. An approved installer will supply you with a certificate, which provides proof that your installation comply with building regulations, is energy efficient, registered with the local council and most importantly, it also means that the installer's warranty is insured.
Read our guide on how to install a bi folding door here.
What door styles should you choose?
Doors have become so much more than an opening to enter and exit the home. There are so many different styles and configurations available nowadays that allow you to create a door solution that fits in with every room in your home. Every home needs a main entrance way and most homes also feature a back door and some sort of opening to easily access the garden. So, what options do you have?
Solidor Composite Doors
A composite door is our go-to door solution for front and back doors. They are versatile and offer endless options that can be personalised to match your interior and exterior design choices. Here at Quickslide, we work in close partnership with Solidor to offer what is generally considered the most secure composite door on the market. All our composite doors come with an incredible 48mm solid timber core and a high security cylinder from Ultion as standard. The doors are certified to PAS 24: 2016, which in other words mean that they have been tested to the security standards required by building regulations. The doors are available in different configurations to match your requirements including single slab doors, French doors and even stable doors. All doors can be personalised in your choice of colour, hardware and glass design.
Learn more about what a composite door is and what they're made of here.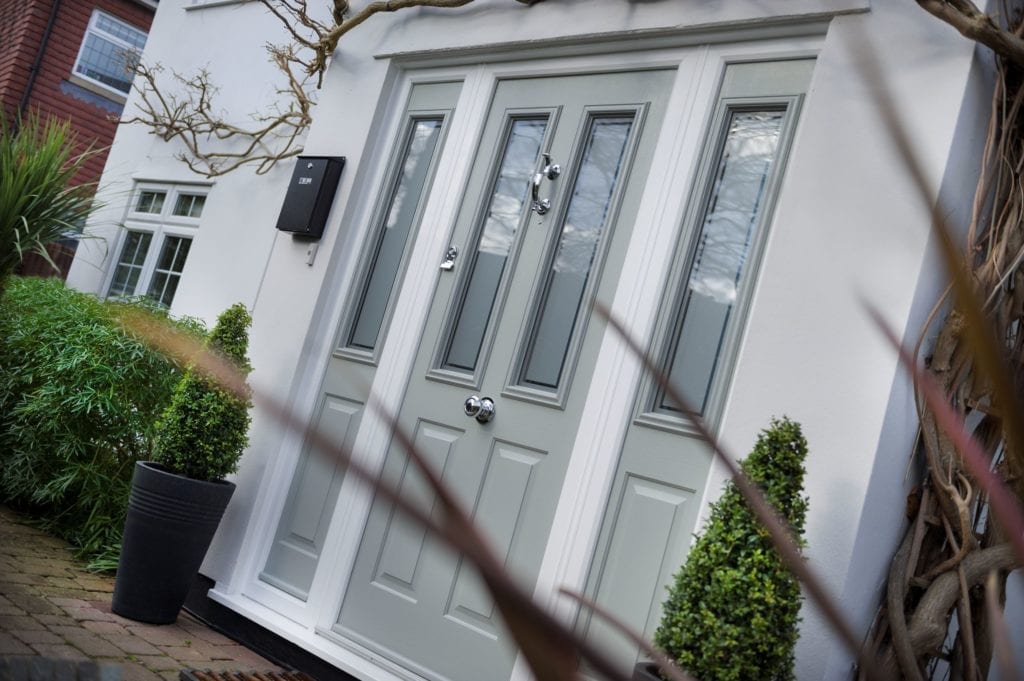 French Doors
French doors are to a lot of British homeowners also known as French windows. The French doors are classed as the classic access to a patio or garden from rooms with only just enough space for a small aperture. In most cases, the doors will feature two levered handles on the internal side allowing for both sashes to open. Depending on your preference the doors can open inwards or outwards except for our range of flush French doors, where the flush design only enables them to open outwards. The doors are available in a smooth or woodgrain finish in virtually any colour to easily match them with our range of windows. French doors can be found in Aluminium, uPVC and uPVC Flush varieties.
Sliding Patio Doors
If you want to open up your home and bring a nice view closer to sight, you may want to consider a sliding patio door. A sliding door features a large glass area and will therefore brighten up your home by allowing natural light to flow in. As the name suggests, sliding doors feature sliding panels which open and close in line with the frame. Sliding doors are available in multiple configurations with 1 or 2 sliding sections depending on your preference and the overall door size.
Aluminium sliding patio doors are extremely popular but can also be found in the uPVC variety.
Bi-folding Doors
With bi-folding doors you can create your own grand design home. In recent years, the doors have seen a huge uptake of homeowners wanting to add value and WOW factor to their homes. The doors are versatile and can be personalised to create the transformation your home deserves. Bi-folding doors are available in configurations ranging from 2 panels to 8 panels depending on the size of your opening and can be personalised in your choice of finish and colour inside and out. A dual colour option is available if your interior design stands out from the exterior.
Still not sure which style of door to choose from? Read more here.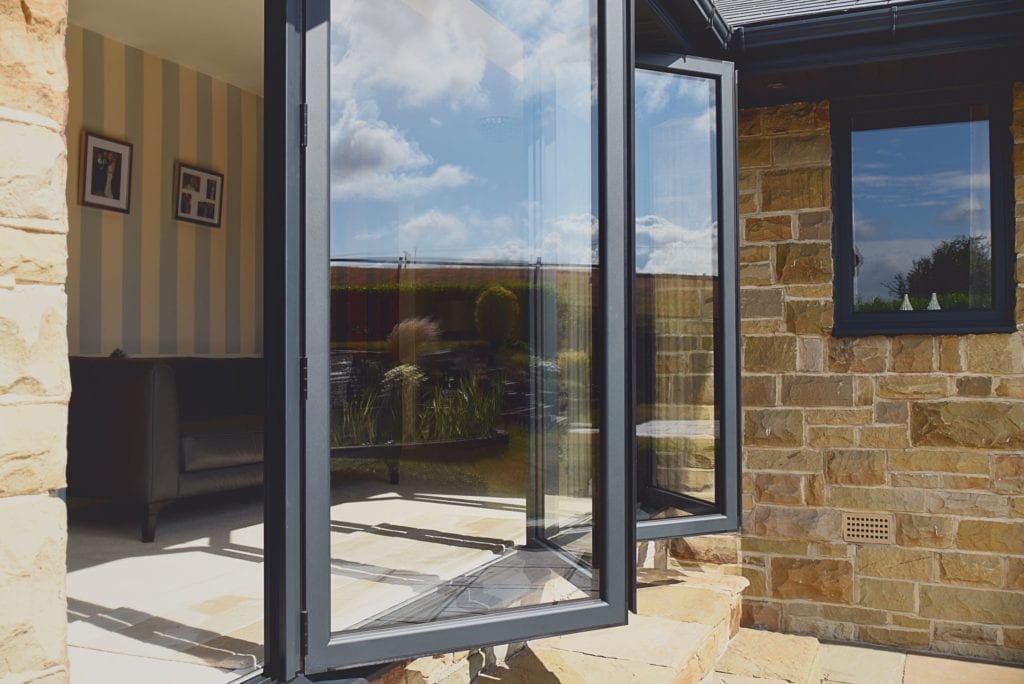 Which door material should I choose?
For doors with large glass areas, you want to make sure you opt for a material that doesn't obstruct the views with wide frame sections. Although available in uPVC, our choice for doors that feature more than 70% glass is always aluminum, a material that simply provides the best torsional rigidity with the slimmest sections. Why is this important? Although most of these doors are chosen for their effect when open, the fact is that the British weather dictates that they will spend more time closed. And bi-folding doors by their nature use more profiles in their manufacture so the slimmer the section, the less intrusive will the frames be when they are closed. Sliding patio doors are available in both uPVC and aluminium and due to their large sliding sections, less frame is required to create a stunning addition to your home.
Generally, when it comes to door material, this choice is often dictated by which material your windows are made of to create a seamless appearance.
What maintenance is required for my new door?
With any of Quickslide uPVC or Aluminium doors, there is no requirement for endless maintenance; all our doors are made using low maintenance frames from partnering extrusion suppliers. Even uPVC frames featuring a woodgrain foil require nothing but an occasional wipe down using soapy water. On no circumstances should you be using any harsh chemicals as this may damage the door finish.
If you found our External Door Buying Guide useful you may also want to check out our Windows Buying Guide.
Please note, our news articles are relevant and accurate at the time of release, but as technical developments dictate, and times goes by the information in this article may no longer be applicable. If you have questions, please contact us using our online contact form or call us on 03332 412 240.