When to replace Patio Doors?
Share this story!
Share this post to any popular social media, email it to a friend or print it off.
---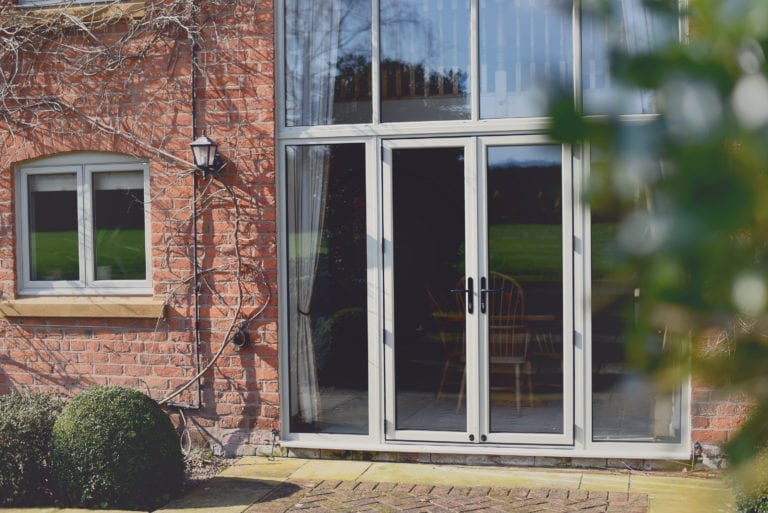 After the astonishing early spring drama of a nationwide lockdown, demand for all building work including home extensions and renovations has gone through the roof – and still it continues! As we return to some sort of normality, people seem eager to latch on to a fresh start, and with that we have seen an increasing number of homeowners finally taking the step to build the home of their dreams. Through home improvement projects, homeowners have the prime opportunity to reinvent their homes by including their personality into the interior design. One of this year's most popular home improvements is garden patios, but when do you know if your patio door needs replacing too?
If your patio doors are draughty, you should seriously consider replacing them with a more energy efficient patio door like the uPVC sliding door solution from Quickslide. If you move your hands across the seals where the sash and frame meet you should be able to detect any draughts entering your home.
If your patio doors will not lock/unlock, close/open or slide you should consider speaking to a local window installer to see if they can resolve the issues at a low cost. Through photos and videos, the installer should be able to easily tell if the issues you're experiencing can be resolved or if you're better off replacing the patio door. Speak to a member of our team if you would like to get a supply only price.
Can Patio Door glass be replaced?
If the glass unit in your patio doors is hazy or has broken, you should be able to get the glass replaced. In modern patio doors, the bead can be removed, and a new glass unit can be installed. The glass unit in a patio door especially that of a sliding door is very large and can be very heavy, you should therefore not attempt to replace the glass on your own.
What Patio Doors are best?
There are three main types of patio doors: Sliding patio doors, French doors and bi-folding doors. The latter of the three being the most popular and modern patio door solution. Generally, a bi-fold door will feature three panels that slides to either the left or right and folds in on itself to create a seamless opening. Sliding doors are a classic and offer unobstructed views all year around. The best patio door solution really comes down to your home and the opening where the patio doors will be installed into. If your replacement patio doors need to offer a quick entry and exit to an external area, you will benefit from classic French doors or bi-fold doors with an independently opening traffic door.
Patio doors are available in either uPVC or aluminium, with both materials offering several benefits. While aluminium is the costlier solution of the two, it also has a much greater strength-to-weight ratio compared to uPVC, which means that the frames on aluminium patio doors are slimmer allowing for a greater glass surface area.
Sliding Patio Doors or French Doors?
If you're deliberating between a sliding glass door and a classic French door, you should firstly consider the size of the door opening. If the opening is greater than 1800mm, you may need to consider side lights alongside your French doors or even better to avoid the additional vertical frame structures, go with a sliding glass door. For large openings we will always recommend sliding patio doors and for openings that have been used mainly as a rear entry you may want to opt for French doors.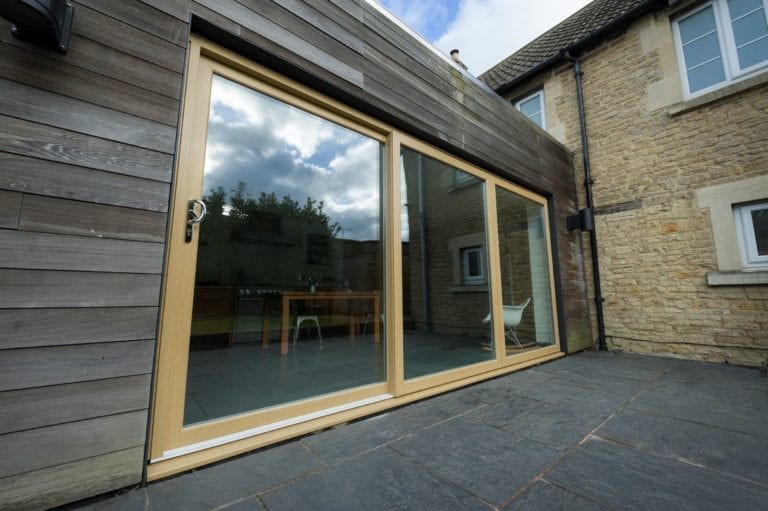 Are Patio Doors energy efficient?
The large glass panels found in patio doors serve the main purpose of enhancing the internal living space by making it feel brighter and bigger. You may be reading this and wondering whether these large sheets of glass will be a problem when it comes to the energy performance of the doors. You can rest assured that Quickslide's patio doors only come with the highest performing double-glazed units. With argon gas in between the cavity of the glass unit, only the smallest amount of cold air will transfer through the unit. Draught extruders across the seals minimise any possibility of air leaking and low e glass on the internal side means that heat from inside your home will "bounce" back into the room while still allowing for heat from the sun to travel through the glass.
Are Patio Doors secure?
Despite patio doors mainly consisting of glass, they are incredibly secure. The glass used in any of our patio doors including bifold doors, French doors and sliding doors comes with a toughened layer on the outside, which enhances the product in terms of both safety and security. Toughened glass goes through a heating and cooling process by which the glass will become very difficult to break. To enhance the security of your new patio doors even further you can opt for laminated glass, which prevents shattering by holding the glass in place if it is broken. This helps to stop any potential intruders from climbing through the frame.
On all our patio doors, you will find a multi-point locking mechanism and a high security lock, which features an advanced anti-picking technology preventing anyone from trying to force their way into your home.
For more information please consult our door buying guide.
Please note, our news articles are relevant and accurate at the time of release, but as technical developments dictate, and times goes by the information in this article may no longer be applicable. If you have questions, please contact us using our online contact form or call us on 03332 412 240.