Why Choose Aluminium Bifold Doors?
Share this story!
Share this post to any popular social media, email it to a friend or print it off.
---
If you are interested in updating the look and performance of your home, aluminium bifold doors are a fantastic investment. They offer a host of benefits including enhanced security, thermal efficiency, and to top it off, they look fantastic!
Our aluminium bifold doors are made to measure and adaptable to a wide range of properties. They feature expansive panes of glazing, which can flood any space with light. They are commonly installed as a back door, creating a seamless transition between a home and garden, patio or decking area.
Improve the energy efficiency of your home
Despite the expansive panes of glazing, the energy efficiency of your property will not be compromised. Thanks to the premium profiles and robust double glazing, our aluminium bifold doors can achieve an energy value of 1.6 W/m²K!
This is a market leading rating that means our doors could help to protect your building against the cold. Warmth can remain inside the home and the cold outside, where it belongs. If you decide to upgrade to triple glazing, your new installation could achieve a u-value as low as 1.3 W/m²K.
Aluminium bifold doors have been created with weatherproofing in mind. These profiles are crafted using rubber seals and draught excluders, keeping adverse weather conditions at bay. More importantly, the doors have been thoroughly tested against the worst of the British weather including winds as strong as 75mph! You can trust us to supply you with aluminium bifold doors that are quality approved and highly durable.
More secure property
Aluminium is naturally robust, which means it makes a robust bifold door. This durable profile material can handle the expansive panels of glazing without compromising on security. Toughened glass is our go-to standard glazing option for safety reasons.
The bi-fold design is paired with state-of-the-art locking systems for your peace of mind. For additional protection against unwanted intruders, we also offer a PAS24 upgrade, which also features laminated glass.
Tailored to any style of home
No matter the era, design, or size of the home you have, we can help to get the right aluminium bifold door for you. All our aluminium bifolds are made to measure, and to the specification supplied by you. This means our doors can be almost as big or small as you need them to be, within reason of course!
You have control over the way these aluminium bifold doors look and perform. We offer a broad array of colours, from bold to neutral in a smooth or wood effect finish. Get in touch with us today and we will be happy to talk you through our entire range of customisation options.
Because our aluminium bifold doors are made to measure, they can feature a low threshold. This could make your home easier to access if you have a wheelchair or pram. You can also choose a threshold with a ramp. Accommodate all your accessibility needs with our aluminium bifold doors.
Long lasting investment
Aluminium is inherently long-lasting. You can enjoy years of use when you choose aluminium bifold doors. This naturally strong material won't need a lot of time, money, or energy to maintain its new look.
Choice of a sustainable installation
Aluminium bifold doors can be highly sustainable because they are fabricated using eco-friendly aluminium. After a long life, they won't have to end their life in a landfill. When disposed of correctly, they can be recycled and transformed into something else.
Our aluminium bifold doors could help you enjoy a more sustainable home thanks to their energy efficiency. Thanks to their enhanced level of insulation and with triple glazing, your doors could help lower your annual energy bills as you rely less on your central heating.
In summer, you can open our aluminium bifold doors up wide and better ventilate your space. To find out more about how sustainable aluminium bifold doors are, get in touch with our team today!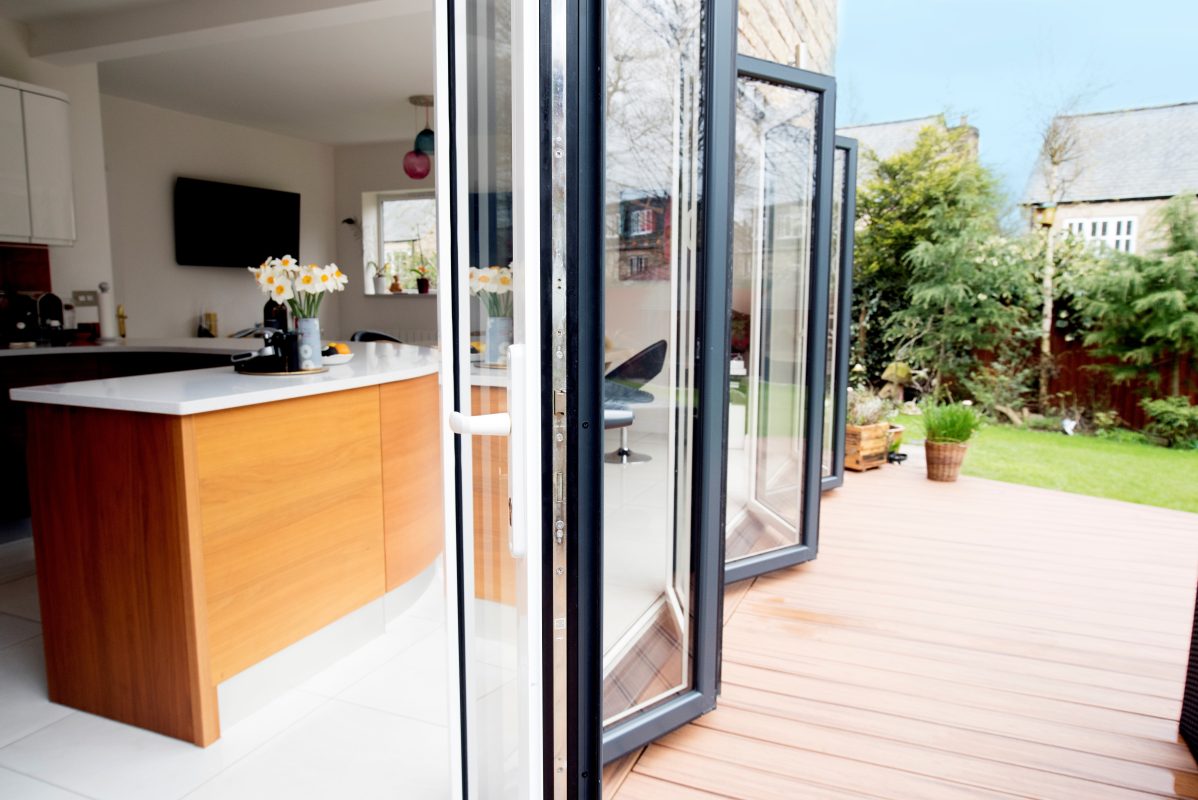 Brighten up your home
Large amounts of natural light can flow into your space, making it appear more open, bright, and welcoming. A brighter home can boost your mood and improve your mental health.
Aluminium bifold doors are inherently stronger than profiles made from wood or plastic, allowing for slimmer frames, maximum glazing, and plenty of light. Often installed as a back door because they can be folded back, you can enjoy the comforts of being indoors while also being able to enjoy the outside scenery.
Aluminium Bifold Door Prices
If you want to choose aluminium bifold doors for your home, please get in touch with our team today. Use our online contact form or call on 03332 412 240 and we will be able to help.
Keep an eye on our blog to stay up to date with the latest news from Quickslide. If you are interested in becoming Trade Partner, look at our program and get in touch.
Please note, our news articles are relevant and accurate at the time of release, but as technical developments dictate, and times goes by the information in this article may no longer be applicable. If you have questions, please contact us using our online contact form or call us on 03332 412 240.