Building Regulation Guide for Doors and Windows
Share this story!
Share this post to any popular social media, email it to a friend or print it off.
---
Index
Introduction
Let's start by answering the overarching question of what are Building Regulations? These regulations are standards set in place by the Government to ensure that any building work is completed in a safe, efficient and healthy manner. Since the 1st of April 2002, building regulations have applied to all replacement glazing. Other areas such as safety, air supply, means of escape and ventilation are also covered by the regulations.
A window or door is classed as a 'controlled fitting', and any standards relating to this classification will need to be met when you are installing a window and/or door.
At the bottom of this article you will be able to download the official documents, which explain the standards in a lot more detail. This article acts a general guide on what to look out for and be aware of in terms of choosing windows and doors that comply with Building Regulations.
Thermal Heat Loss
Dwellings are required to be energy efficient. One of the main reasons for heat loss in a home is poor glazing in the windows and doors. Double and triple glazing is a great way to prevent this. The windows and doors you go with must comply with the requirements of the amount of heat that can pass through the glass and framework, which is measured as a u-value. Now then, what is a u-value? A u-value is a set value calculated by the thermal transmittance performance of a system. You should know, the lower the u-value the better.
At the heart of the Building Regulations relating to window performance lies PART L – Conservation of fuel and power, which states that windows and doors must have a minimum u-value of 1.6 W/m2K or lower, or a 'C' Energy Rating or better.  Often new builds will require lower u-values such as 1.4 W/m2K, in order to achieve the overall energy performance requirement for the dwelling. The Quickslide uPVC Sash Window achieves a can achieve a u-value of 1.4 with the inclusion of argon gas.
The need to reduce overall building energy consumption is part of a bigger goal of achieving "nearly zero energy" or "net-zero energy buildings". The European Commission's Energy Performance of Buildings Directive requires all new buildings to be nearly zero-energy by the end of 2020.
As climate change predicts hotter summers and warmer winters in the next 100 years, buildings designed now as well as many existing buildings will need to cope with the future climate. The aim for building designers should be to provide buildings with comfortable environments for occupants without using excessive heating or cooling energy, which will exacerbate carbon emissions.
The below table shows the u-values required by Building Regulations for each building component each decade. Building Regulations actually change more frequently than that (about every 5 years or so and each part of the regulations may be updated at a different time) but it gives a good guide to what has happened over the last 50 years.

Safety Glazing
This one is pretty straightforward. Safety glazing is required to any glass in a critical area. Generally that means in an unobstructed openable area: At least 0.33 square metres and at least 450mm high and 450mm wide and/or within any glazed door up to 1500mm from floor level. All of Quickslide's Bi-folding Doors, French Doors and Sliding Patio Doors come with safety glazing as standard.
In the Approved Document K, you will be able to find a diagram, which goes into detail of when safety glazing is required.
Ventilation
Windows and doors are you main method for providing ventilation into your home. Airflow is very important, as it'll improve the overall condition of the dwelling and wellbeing of the people living there, so it's not surprising that there are rules in place as to how much ventilation is required. The type and extent of ventilation will depend on the use and size of the room. Kitchens, bathrooms and utility rooms will likely produce high levels of steam and should therefore be provided with higher levels of ventilation than other rooms. Quickslide offer 'trickle' vents on the majority of our product range. On flush finish products such as our uPVC Flush Casement Windows we can offer a flush finish vent to seamlessly fit in with the product design.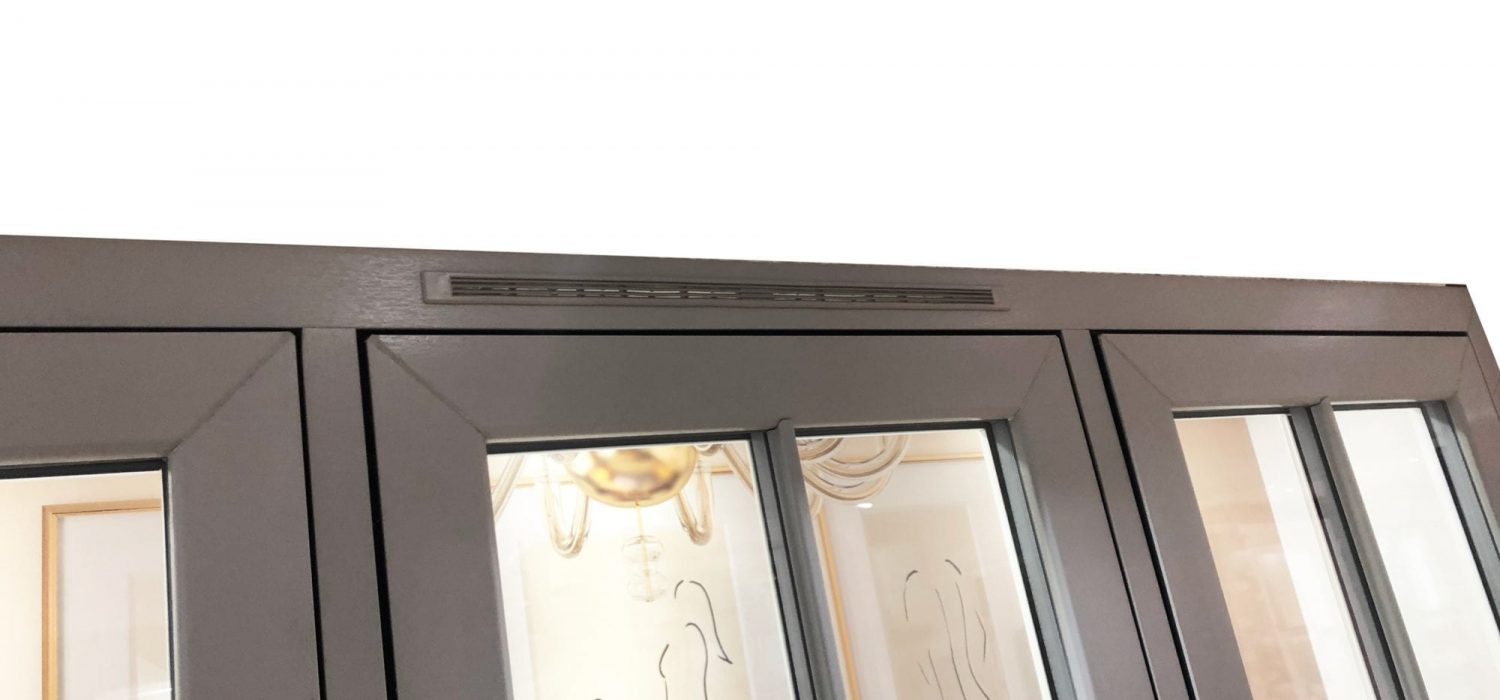 Fire Safety
When you're buying new windows and doors, the main aspect of fire safety is the requirement of a 'means of escape'. If you're replacing a window, the new opening should be sized to provide at least the same potential for escape as the window it replaces. If the original window that is being replaced was larger than necessary for the purpose of escape, then the new window opening could be reduced down to the minimum as specified in the criteria below.
The means of escape requirements should be considered for any windows installed into a new building, extension or existing dwelling. In most cases a window with a fire escape feature will not look any different from the rest but its functionality could save lives. It's important to follow the standards and inform the manufacturer of any such requirements. If an escape window is required, the following criteria should be adhered to:
Width and Height – Either of these are not to be any less than 450mm
Clear Openable Area – No less than 0.33m²
Cill height – The bottom of the openable area should be no more than 1100mm above the floor area.
Watch the video below to see our service engineer, Dave demonstrating our uPVC Sash Windows with fire escape.
https://www.youtube.com/watch?v=klBuTsFNm_k&feature=emb_title
If you're replacing windows on the first floor that are currently not equipped with a fire escape option, it would be wise to consider replacing a couple of them with some that are.
Generally, one per room is required.
Access to Buildings
Every home needs a main entrance and if the home was built post 1999, the main entrance threshold must remain level otherwise the works will not comply with Building Regulations. The rule is set in place to enable people, including those with disabilities, to gain access into the dwelling.
Government Building Regulation Downloads
Part A – Structure
Part B1 – Fire Safety
Part C – Moisture
Part E – Sound
Part F – Ventilation

Part K – Falling
Part L1A – Energy New Builds
Part L1B – Energy Replacements
Part Q – Security Dwellings
If you found this guide useful you may also like to check out our window and door buying guides.
Please note, our news articles are relevant and accurate at the time of release, but as technical developments dictate, and times goes by the information in this article may no longer be applicable. If you have questions, please contact us using our online contact form or call us on 03332 412 240.