Ultimate Guide to Sliding Sash Windows
Share this story!
Share this post to any popular social media, email it to a friend or print it off.
---
Sliding sash windows have been around for centuries since the 16th century to be exact. These beloved windows are still developed today thanks to their remarkable blend of traditional design and modern efficiency. The stylish power of these windows means that their addition alone can make almost any home gain a period aesthetic.
What are sliding sash windows?
At Quickslide, we offer a wide variety of our sliding sash windows. But what are they? Although sliding sash windows have been popular for centuries, few people know what "sliding sash window" means. Sometimes referred to as just sash windows, they're categorised by the two-window sash design, with one sash sitting just in front of the other with vertical grooves allowing it to slide up and down. The up-and-down motion was traditionally supported further by weighted cords and pulleys usually obscured within the frame. Nowadays, modern windows are fitted with innovative balances to allow the sliding feature.
So, now you know what we mean by sliding sash windows, but what kinds are there?
Single-hung sliding sash and double-hung sliding sash windows
A sash window that only allows its bottom sash to be lifted, with its upper half fixed, is referred to as a single-hung sliding sash window. Meanwhile, a double-hung sliding sash window has sashes that are both able to slide open.
Georgian Sash Windows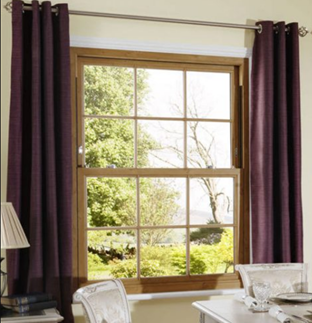 These windows are built with two sashes with six panes of glass, each separated by glazing bars which are commonly referred to as astragal bars. These sliding sash windows are extremely popular in heritage conservation areas and provide a classical aesthetic with excellent structural integrity.
Victorian Sash Windows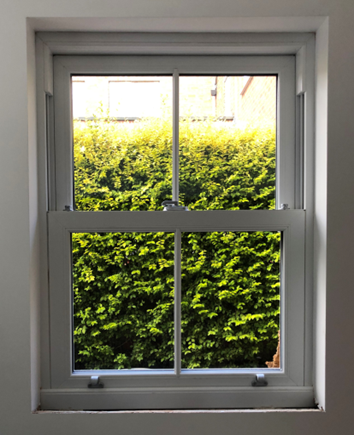 Victorian windows are characterised by a "two over two" design. They are, as such, made with two sashes that slide open vertically, with each sash appearing like two panes of glass separated by a single vertical bar. The bars can either sit within the glass unit or on the surface.
Edwardian Sash Windows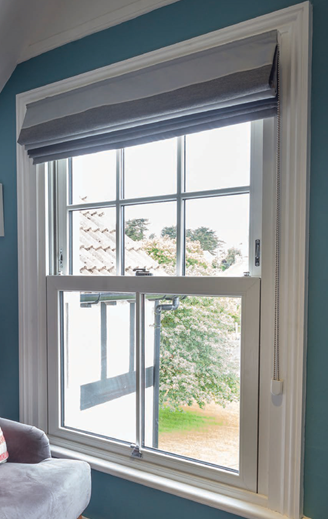 These windows combine the previous designs, featuring a "six over two" style for those who want the best of both worlds.
What materials can they be made from?
uPVC
uPVC has been widely accessible on the market for quite some time, and its popularity has remained strong for almost all of its career as a window crafting material. One of the key benefits of this choice is that it can be covered in an almost endless variety of woodgrains, finishes, and colours, making it the most versatile material compared to its peers.
It's also very affordable, whilst not having a reduction in quality. Just like aluminium, it has a low maintenance requirement with only an occasional wipe down with a warm soapy sponge to keep the material looking fresh and factory new.
uPVC is lightweight, allowing it to rely on less heavy window components. A light frame construction allows a smoother sliding and tilting experience, whether you're opening or closing the window.
Aluminium
The most modern material on the market, aluminium can provide a sleek new look to any window design. While aluminium sash windows are available on the wider double-glazing market, it's not something we offer. We specialise in traditional looking sash windows and feel that the properties of aluminium are a tad too modern-looking. However, we do offer a beautiful range of aluminium casement windows instead. Check out the range right here on website.
Timber
Traditional, authentic, and beautiful. Timber has been used to build sliding sash windows for centuries, and some would argue it's still the original sash window material! However, timber requires much more maintenance than other more modern materials and it's got a reputation of rotting if not cared for properly. With that being said, no one can deny its gorgeous historical look.
Quickslide has built its reputation on developing sash windows of uPVC that look as close to the original timber version. With our wood effect upgrade and historical features, we're proud to offer a top of the class timber alternative window solution.
Why choose Quickslide for sliding sash windows?
Quickslide provides bespoke sliding sash windows that are manufactured to order. We offer a great range of customisation, including a superb list of heritage features, locking mechanisms, woodgrain foils, and colours.
We manufacture uPVC sliding sash windows. Woodgrain foils as well as our new dual foiled colourways are available for those living in a heritage location or looking to add a heritage theme to their home.
If you'd like to learn more about the sliding sash windows and other products that Quickslide have available, click here. Or, if you'd like to start designing your sliding sash windows and need an estimated price, click here to use our online design tool.
Please note, our news articles are relevant and accurate at the time of release, but as technical developments dictate, and times goes by the information in this article may no longer be applicable. If you have questions, please contact us using our online contact form or call us on 03332 412 240.