GM Fundraising 100 Cycling Bike Ride
Share this story!
Share this post to any popular social media, email it to a friend or print it off.
---
We are thrilled to announce that we are hosting the Tour de Quickslide and are taking part in the GM Fundraising 100 cycling event! The challenge consists of cycling at least 100 miles and raising money for Hope House Children's Hospice.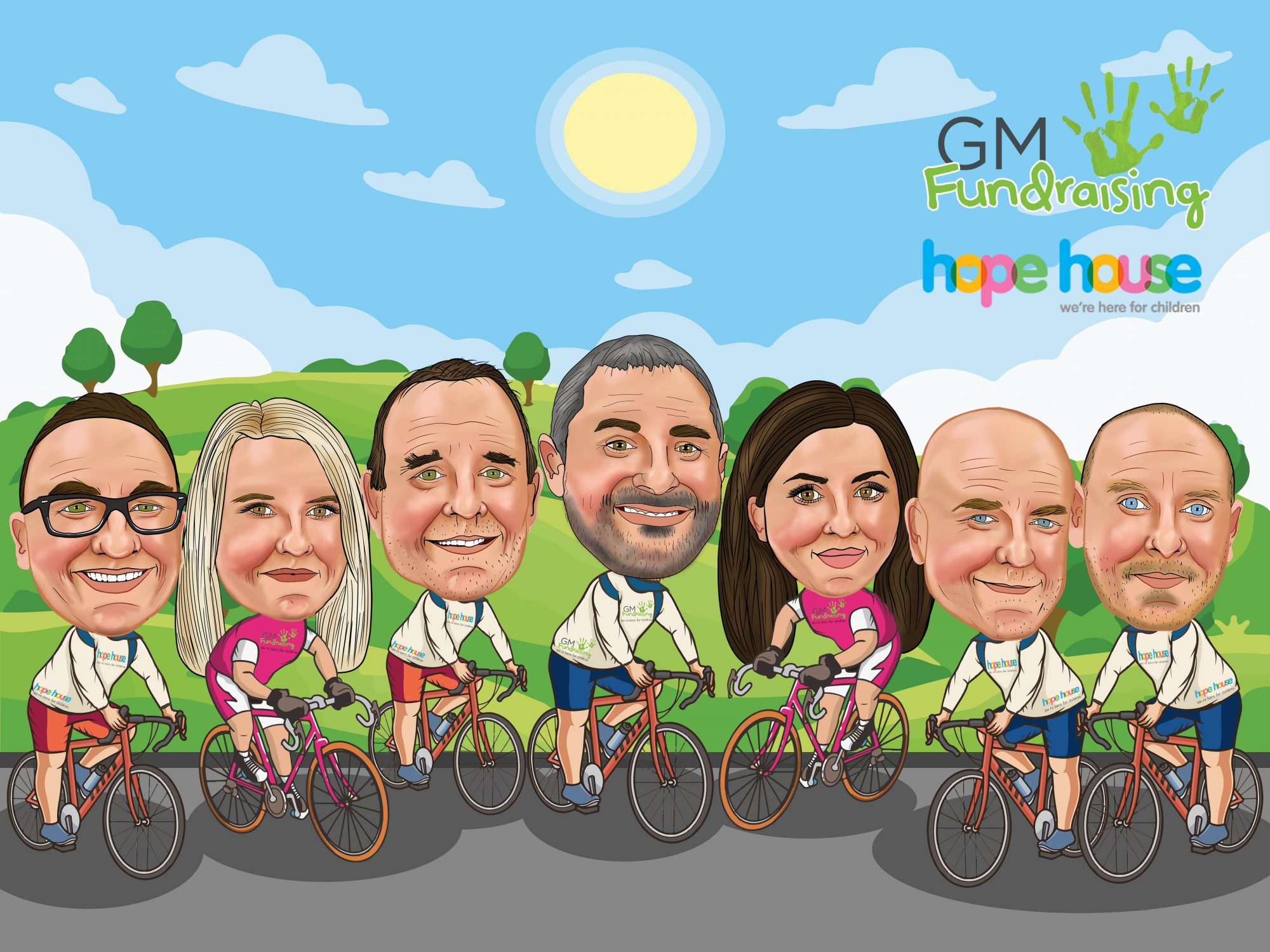 Tour de Quickslide
On Sunday the 8th of August, Dave, Rachael, Steve, Adrian, Rebecca, Joel, and Lyndon will jump on their bikes to cycle 25, 50 or 100 miles. This fun day out is a great way to raise money for this incredible charity.
Whilst our riders race to become the next Mark Cavendish or Laura Kenny, we will have a brilliant support team on standby, including first aiders and bike mechanics. We all want to work together to raise as much money as possible and cheer on our amazing cyclists.
Friends and families of the cyclists and supports are invited to Quickslide from 2pm to support the GMF 100. We will host a range of activities, including tombola and live music, alongside refreshments. There is also the chance to win an epic prize with our draw – remember your cash!
Most importantly, we are here to support Hope House Children's Hospice and raise money #ForTheKids.
What is GM Fundraising?
GM Fundraising launched in 1995 to support and raise money for children's hospice charities. From their first Gala Dinner, they now organise a wide range of activities and raise on average £130,000 a year.
This collective effort from passionate individuals allows people in the industry to have fun raising money whilst raising awareness for children with life-limiting illnesses. The money not only helps the hospices but also provides exceptional support for the families.
Hope House Children's Hospice
Hope House was formed in 1991 named after a beautiful little girl who sadly passed away aged just ten months in Birmingham Children's Hospital shortly after her older sister. Her parents made it their mission in setting up support groups and hospices for children in Shropshire.
When the house was built in Morda, it was only the tenth children's hospice in the world and since then have opened up another hospice in Tŷ Gobaith, outside North Wales. They have also built several counselling centres for the children and their families.
The Hope House Children's Hospice currently cares and supports more than 750 families and costs around £6.5 million every year, and 11 months of the year, they rely on public support. They aim to raise a further £2.5 million each year to provide further support.
Here at Quickslide, we want to raise as much money as possible to contribute to this fantastic charity. There are many ways to show support for Hopes House, from raising awareness to an online donation. Families should have access to a wide range of support during what is a difficult time.
Want To Know More?
If you would like to know more about the GM Fundraising 100 event and how you can be involved, get in touch by using our online contact form, and we will get back to you as soon as possible. If you prefer to speak with someone directly, give us a call on 03332 412 240.
You can also look around the GM Fundraising website to learn more about this event and the other ways to support these amazing charities. You can keep up with the latest events and make an online donation.
The Hope House Children's Hospice website has a lot of information about how they started, their mission, and how they support children and their families. There are stories from the families that they have helped and also opportunities to volunteer.
We are looking forward to the 8th of August and having a fun day out with our amazing colleagues, friends, and family. Keep an eye out to see what we get up to and how much money we raise for Hope House.
A big thank you, our cyclists, we are sure that you will smash it! Another thank you to the people who have volunteered to support the cyclists and the friends and family coming to support them. We appreciate any donations that are made towards this fantastic cause.
Please go to www.justgiving.com/fundraising/quickslide to make a donation. It needn't be much, but every bit adds up.
Please note, our news articles are relevant and accurate at the time of release, but as technical developments dictate, and times goes by the information in this article may no longer be applicable. If you have questions, please contact us using our online contact form or call us on 03332 412 240.