Join us at the Homebuilding & Renovating Show this March!
Share this story!
Share this post to any popular social media, email it to a friend or print it off.
---
Once again, Quickslide are exhibiting at the Homebuilding and Renovating Show at the NEC Birmingham, and we're bringing the Indi-fold doors along for the ride! You can find members of our team on stand G168 from the 23rd to the 26th of March. We'll be offering demonstrations, answering your questions, and making sure you make the most of your time at the event.
What's On?
Whether you're an avid DIYer or just starting out in your home improvement journey, there's plenty for you to get excited by at the Homebuilding & Renovating Show. From seminars and masterclasses to hundreds of industry leading products on display, it's not an event you want to miss. We're not the only industry experts in attendance either. You can book a timeslot to chat and get advice from a planner, builder, architect, designer, finance expert, or eco expert, getting all the information you need to nail your project.
As a new addition to the show, the Homebuilding & Renovating Show will be hosting a 'Home Energy Hour'. This will include talks and advice designed to help you make your home greener and more energy efficient, something that could prove vital as energy prices rise.
See us on stand G168!
Even with all the excitement happening across the show, we firmly believe our stand is the place to be. Our Indi-fold doors are the result of a revolutionary system made of individual panes that can slide and stack independently. The ground-breaking design allows for complete versatility and easy access, without sacrificing high levels of security against unwanted intruders. We've been busy refining the design and you don't want to miss out on the brand-new contemporary alternative to the classic bifold.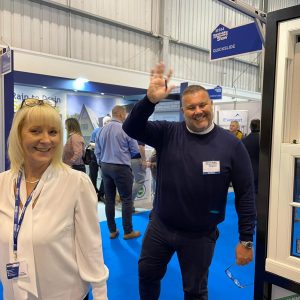 The last Homebuilding & Renovating Show back in November was a roaring success for Quickslide. We showcased the Indi-Fold for the first time and got to chat to plenty of customers; homeowners and trade individuals alike. We're excited to focus our attention on Indi-fold this time around. We're counting down the days until we can showcase our latest developments!
Want to attend? Register for your two free tickets today via our unique Quickslide link. Homebuilding & Renovating Show Free Tickets
Let us know when you'll be attending, and we will do our best to arrange a time to meet you and ensure you get the most from your visit.
Please note, our news articles are relevant and accurate at the time of release, but as technical developments dictate, and times goes by the information in this article may no longer be applicable. If you have questions, please contact us using our online contact form or call us on 03332 412 240.