Are Sliding Sash Windows Expensive?
Share this story!
Share this post to any popular social media, email it to a friend or print it off.
---
Initially brought into the UK during the Georgian era, sliding sash windows have granted UK homes excellent performance and a timeless, functional design for hundreds of years. While sliding sash windows can provide a look of class and traditional aesthetics, they are not quite as out of reach for most homeowners as one may initially think.
Many factors come into play when deciding whether sliding sash windows are expensive. At Quickslide, we've compiled a practical and comprehensive guide to help you discover what factors cause sash windows to be either expensive or cost effective.
Profile Material
One of the most integral factors in the cost of sliding sash windows is the material used to construct the sash windows profile. Some materials could increase or decrease the overall cost of the window depending on how difficult the material is to procure or manufacture.
uPVC
uPVC windows is probably the most cost-effective material choice. Not only is it robust and capable of withstanding intense weather conditions and modern intrusion techniques, but it can also come in a variety of colours and sizes. This material doesn't require much maintenance. Unlike traditional timber, the homeowner will not need to sand down and repaint the windows every spring season. uPVC sash windows look great and offer a smooth operation without breaking the bank.
Aluminium
Meanwhile, aluminium is typically a slightly more expensive material for sash windows, simply because the material itself is more expensive to obtain, to begin with. While aluminium offers a lightweight and durable frame, it's not considered a very traditional frame material and it will be hard to mimic traditional features using a material as modern-looking as aluminium.
Timber
Timber is a classic material that has been used the longest out of the standard three, and although it is likely the best choice for a listed heritage property, it isn't as durable as the other two options while also being much more expensive. Also, timber requires a much higher maintenance to continue looking at its best, with the potential for warping, swelling, splintering and cracking year after year.
uPVC can strike an excellent balance between the three, offering durable longevity and the broadest customisation options.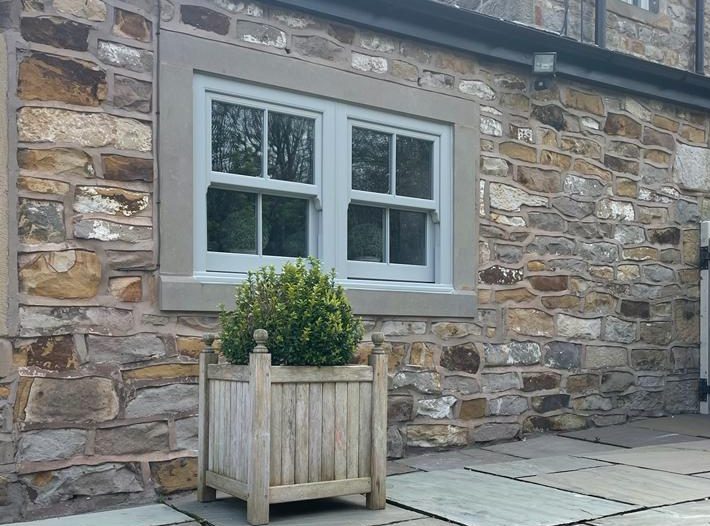 Window Size
Another factor that determines whether sash windows are expensive is the size of your sliding sash windows. A larger profile and sashes would require more materials and potentially more weight bearing hardware which would, in turn, increase how expensive the sash windows are. Additionally, larger or heavier sash windows could create more difficulty for the installer during transport or during installation, which may make heavier sliding sash windows expensive. All Quickslide's sash windows come with quick release tilt arms to combat weight associated challenges during installation.
Thanks to uPVC's lightweight nature, the light sashes can provide excellent smooth performance when opening, closing, or tilting the sashes.
Unique Styles
There are many customisation factors that can have an effect on whether sash windows are expensive compared to other window types. For example, different types of glazing can also affect how expensive sliding sash windows can be. Obscure or laminated glass typically requires a more complex process than standard glazing. With sash windows you also have the option to opt for glazing bars to create a more traditional appearance. The bar layout will play a role in the sliding sash window prices. A grid will naturally be more expensive than single vertical bar.
Optional Features
Extra features can also change your windows' costs, such as run-through horns, mechanical joints, and a deep bottom rail. For the convenience of the homeowner, Quickslide's sash windows come with a slide & tilt functionality free of charge. These optional heritage features typically cause sliding sash windows to be more expensive, although this isn't always the case. Quickslide can provide all sorts of customisation options to ensure that your sash windows suit your vision while continuing to provide a cost-effective solution.
Handles and Hardware
As standard, sash windows come with a sash fastener and lift hooks to support the sash slide function. Homeowners have the option of choosing a different hardware finish to fit in with the interior design as well as a unique heritage design upgrade for a more traditional look. Smart locks are also available. Upgrades to the locking mechanism and the finish thereof can increase the price.
Colour Schemes
Additionally, bespoke colours or woodgrain foils may increase the price of the sash windows as additional raw materials are required during the manufacture. Usually, sash windows are manufactured in a standard white tone, and to be foiled in a woodgrain requires an additional process with additional machinery and materials. Keep in mind that not every colour will increase how expensive the project will be. A stock finish such as Chartwell green or anthracite grey will typically not increase the price as much as something more unique, like pink or orange.
You can find out more about the types of colourways and woodgrain foils we can offer for your sash windows on our website here. We are proud to be able to offer long lasting dual colourways for homeowners in need of a classic outer style and a contemporary living space. Using our pricing tool, you can request a price for your sliding sash windows in just a few minutes. Our prices are always competitive, no matter what size you require or how you choose to customise your sash windows.
Sliding Sash Window Prices
Request your price for our sliding sash windows today, or find your local installer with our locator tool! Become a trade partner by applying for our trade partner programme here, or get in contact with us at 03332 412 240, sales@quickslide.co.uk, or via our online contact form.
Please note, our news articles are relevant and accurate at the time of release, but as technical developments dictate, and times goes by the information in this article may no longer be applicable. If you have questions, please contact us using our online contact form or call us on 03332 412 240.