Benefits Of Aluminium Bifold Doors
Share this story!
Share this post to any popular social media, email it to a friend or print it off.
---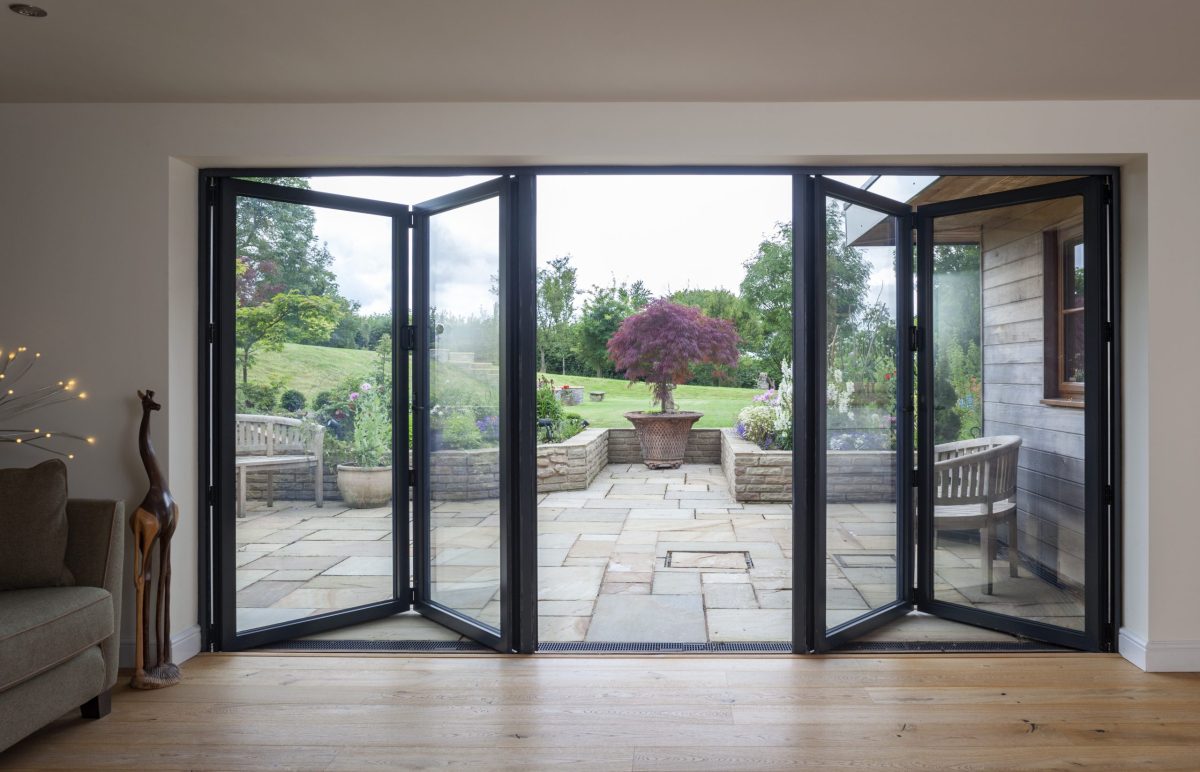 There are a number of different benefits to installing aluminium bifold doors. These benefits include high security, energy efficiency, durability, weatherproofing and a range of customisation options. It's easy to create a more spacious atmosphere with doors that allow plenty of light into a home. We also provide guidance and specification to ensure our products can be manufactured in line with the government's building regulations. Be ready for summer with aluminium bifold doors
What Are The Top 7 Benefits Of Aluminium Bifold Doors?
Manufactured In The UK
All of our products are produced and manufactured within our UK facility. The reason for this is to help prevent unnecessary delays due to shipment delays. By manufacturing the doors within our factory, we can also ensure that every single door is built to our high standards. You can expect a quick turnaround when you choose Quickslide as your supplier. Should you have any questions regarding how the aluminium bifold doors are manufactured, get in touch with our team today.
Energy Values
With double glazing, the aluminium bifold doors are able to achieve an energy value of 1.6 W/m²K! This is a superb rating, as it means the property will be well protected against the cold and can help ensure the home's natural heat doesn't escape. For an even better value, choose our superior triple glazing, which can achieve a U-Value as low as 1.3 W/m²K. Aluminium bifold doors are an excellent choice for anyone who wants to make a smart future investment and potentially save on their current energy bills.
Weatherproof
Aluminium bifold doors can withstand all kinds of weather conditions thanks to their rubber seals and draught excluders. These features are fantastic at keeping the worst of the British weather out. These doors have been thoroughly tested against winds as strong as 75mph, with no signs of water leaks. You can trust us to supply you with aluminium bifold doors that are quality approved and highly durable.
PAS24 Security
Aluminium is a naturally robust material, which is superb at remaining sturdy and secure. This means, when combined with our advanced locking mechanisms the fully glazed bi-fold door is no less secure than a solid one. The toughened glass we use also does a fantastic job at keeping people safe from harm in case of breakage. For additional defence against intruders, we also provide a PAS24 upgrade, which features laminated glass and high security cylinders. Stay safe with Quickslide's aluminium bifold doors!
Tailored To You
At Quickslide, we take pride in ensuring our customers' needs are met. The aluminium bifold doors are available in virtually any size. In case you require an out of the ordinary size, you can contact our team, who will be happy to help. Additionally, we have various modern colours available which have been carefully selected because of their high quality properties. And as something new we're about to introduce woodgrain foiled bi-folding doors too! You can improve the value of a property with our outstanding doors. They will add a new sense of style to any property. Whether it's a heritage home or a new build, these aluminium bifold doors can be adapted to suit any specification.
Energy Efficient
You may be able to save money on your energy bills with our aluminium bifold doors. They are manufactured to feature double or even triple glazing, which in winter is fantastic to keep warm air inside where it belongs. And in summer the slide and fold feature provides you with the ultimate means of ventilation.
Durable
The aluminium bifold doors are highly durable, thanks to the aluminium. It is a naturally strong material, which provides the doors with great strength. This is a huge benefit as it means the bifold doors can last for many years. Additionally, the durability is superb at ensuring the property is kept well protected against intruders.
How Sustainable Are Aluminium Bifold Doors?
Aluminium bifold doors are highly sustainable as they are manufactured using a very eco-friendly material, which is aluminium! This material is versatile and incredibly durable. Even after years of use, aluminium can be recycled and given a new lease of life. When disposed off correctly, our doors won't end up taking up waste in a landfill somewhere. Instead, when the bifold doors eventually reach the end of their use, they can be recycled. Saving the environment and your carbon footprint.
You can also lower your energy emissions by installing our doors on your property. They are highly efficient at keeping a property's warmth in and cold air out during winter. In summer, you can benefit from having doors that can allow for plenty of fresh air to flow into the building. This is a great way of potentially saving on your electricity and gas bills all year round. To find out more about how sustainable the aluminium bifold doors are, contact our team today!
Low Threshold
Our aluminium bifold doors are custom-made and can feature a low threshold. By opting for a low threshold , those who require access for a wheelchair or pram users have this option. For additional ease of use, you also have the option of going for a low threshold with ramps. Increase the value of your property and accommodate all by installing our aluminium bifold doors, which create a seamless transition between the indoors and outdoors.
Aluminium Bifold Door Prices
Begin benefiting from aluminium bifold doors today! You can get a price for the aluminium bifold doors by speaking to a member of our team. Use our online contact form or call on 03332 412 240. Contact your local installer and plan your next project today.
Keep an eye on our blog to stay up to date with the latest news from Quickslide. If you are interested in becoming Trade Partner, look at our program and get in touch.
Please note, our news articles are relevant and accurate at the time of release, but as technical developments dictate, and times goes by the information in this article may no longer be applicable. If you have questions, please contact us using our online contact form or call us on 03332 412 240.