Aluminium Sliding Doors Near Me
Share this story!
Share this post to any popular social media, email it to a friend or print it off.
---
If you are wondering "where can I get aluminium sliding doors near me?", do not worry. We've got you covered! We manufacture high-quality aluminium sliding doors for various properties up and down the country. We work with local installers to provide homeowners with doors that can transform their homes.
Patio doors are the classic garden door style, and we manufacture ours in both uPVC and aluminium. We have put a twist on the timeless design and added a modern aesthetic. Our aluminium sliding doors are made to measure to ensure they fit into each opening. A range of colours and hardware is available to complete the final look.
Here at Quickslide, we have years of experience under our belts and understand that you may have some questions about our range of aluminium sliding doors. Read through this article and you will no longer find yourself searching for "aluminium sliding doors near me". You can find your local installer on our website and book your installation directly with them.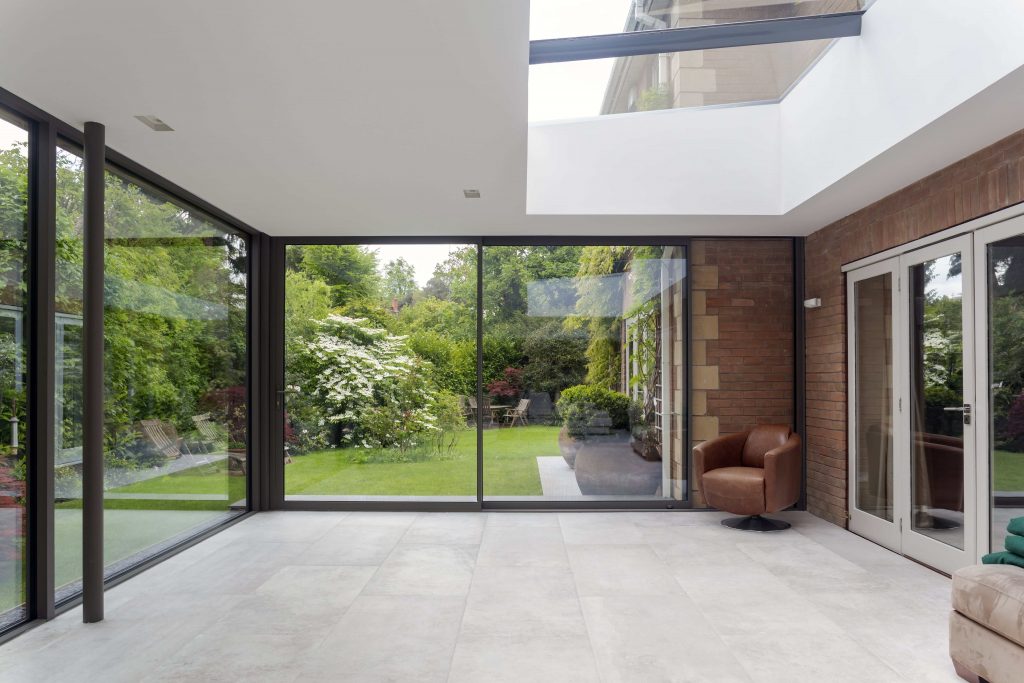 Aluminium Profile
Aluminium is one of the strongest materials on the market and has recently become one of the most popular materials in the home improvements market. Aluminium sliding doors offer a more contemporary solution for garden doors and can be tailored to suit any property. They offer a sleek visual appeal that will attract visitors.
Due to their strength, aluminium sliding doors offer many practical benefits. The build and weatherproof elements of the robust aluminium frame can help protect homes on rainy days. The thermal qualities within the material combined with double or even triple glazing can help improve the thermal performance and insulation values.
Aluminium Sliding Door Benefits
Slim Sightlines
One of the main reasons people love to use aluminium is its slim sightlines. It has a lot of strength and can hold a wide glass surface. This allows installers to fit aluminium sliding doors that offer fantastic views of their surroundings. Throughout the year, homeowners can sit back, relax, and take in the scenery.
Slim sightlines don't just offer great views; they can also enhance the interior design of properties. Throughout the year, the glazing will utilise the surroundings and fill homes with natural light. This allows properties to feel a lot brighter, spacious, and cosy. Homeowners can rely less on using their lighting, lowering their electricity bills.
Thermal Performance
Aluminium sliding doors offer many practical benefits, including enhanced thermal performance. A polyamide thermal break is fitted within the frame, creating a barrier in-between the home and the outside. This blanket will help retain as much natural heat as possible whilst preventing cold temperatures from creeping through.
Double glazing is fitted as standard within aluminium sliding doors, with the option to upgrade to triple glazing. With this upgrade, aluminium sliding doors can achieve u-values as low as 1.4W/m2K. As the insulation levels improve, homeowners may not use as much heating which in turn may lower their carbon footprint.
Customised Design
Aluminium sliding doors are made to measure to ensure that they fit each property. There are many ways that sliding doors can be customised to meet each person's requirements. Firstly, our aluminium sliding doors are available in different configurations to suit each opening.
To retain the modern look of the aluminium sliding doors, we offer them in three colours: White (RAL 9010), Grey (RAL 7016) and Black (RAL 9005). These colours can suit existing uPVC windows or be matched with new aluminium windows. You can also request a dual colour option with different colours on each side of the frame.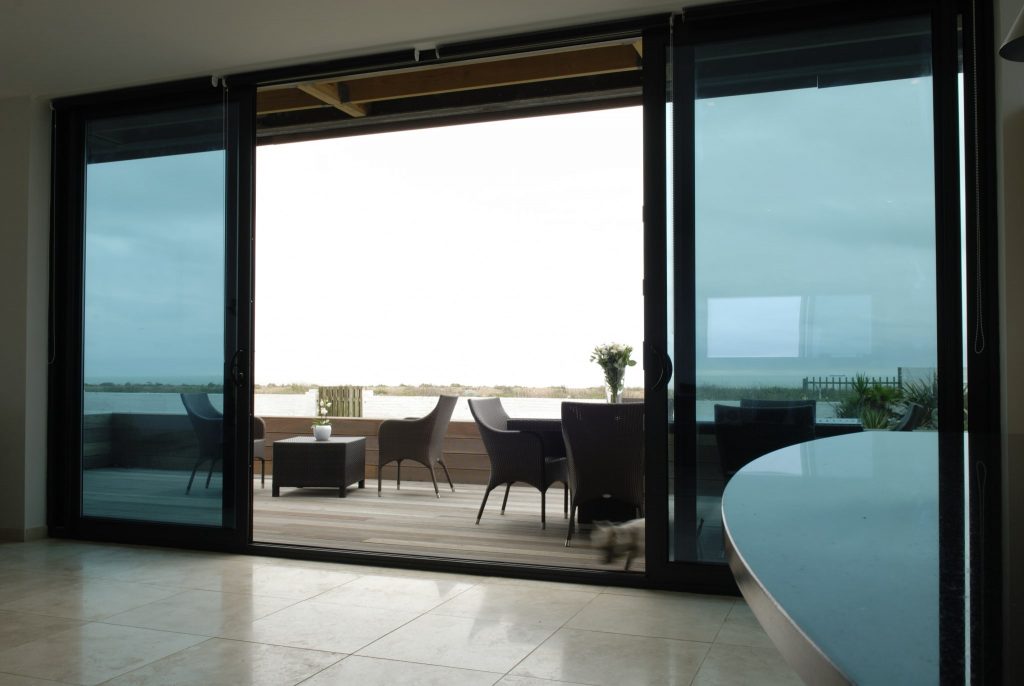 Prices for Aluminium Sliding Doors Near Me
Each of our aluminium sliding doors prices is determined by various factors. From dimensions to design preferences, there are many things we consider before providing a price. If you are a homeowner, you can find a local installer to discuss our range. They can then work out a price for you.
We also have an online design tool where you can enter your dimensions and select your design. Following submitting your design, we'll get back to you to discuss your requirements. We know our aluminium sliding doors inside out and will be happy to help you with your next project. Use our online contact form to send us a message or give us a ring on 03332 412 240. 
Please note, our news articles are relevant and accurate at the time of release, but as technical developments dictate, and times goes by the information in this article may no longer be applicable. If you have questions, please contact us using our online contact form or call us on 03332 412 240.