How Quickslide replicate traditional timber windows
Share this story!
Share this post to any popular social media, email it to a friend or print it off.
---
What is a traditional timber window?
Before the introduction of modern equipment that has allowed us to seamlessly create a range of double-glazing elements, windows were handcrafted out of wood. It wasn't until 1965 when the Government introduced the first legislations to futureproof homes and protect the people living in them that homeowners began to replace their traditional windows with modern double-glazed ones. At the time, the buying motive was purely performance. However, since then we've seen a shift towards heritage as people recognise the value of maintaining traditional characteristics. The demand for authenticity and historic windows features, especially in older buildings where smooth white uPVC would look out of place, continues to increase.
In this article we look at the traditional window features offered by Quickslide replicate the very best windows of the past and help you get a solution that adheres closely to traditional, authentic window designs.
Timber replica windows
We offer a wide range of options if you're looking for authentic heritage windows, our most popular choice being our uPVC Legacy Sliding Sash Windows. For a more cost-effective alternative, our Flush Casement Windows in your choice of woodgrain foil can prove ideal for period cottages. With timber alternative sash windows, you can specify a window solution that mimics your traditional windows without breaking the bank. Our Sliding Sash Windows are made-to-order, and some of the traditional features available are explored in more detail below.
For windows that replicate steel, please check out our slimline aluminium windows.
Woodgrain foil
We offer a wide range of authentic woodgrains that can provide a traditional timber window look to cover the typical shiny white uPVC. We've seen lot of success with woodgrain foils from Chartwell Green to Irish Oak, especially in conservation areas which often refuse standard white uPVC windows. Wood effect windows are an increasingly popular look even in modern homes, with many homeowners opting for black sash windows or one of our shades of grey for a perfect combination of contemporary and traditional. As something new we're about to launch two new dual wood effect finishes for our sash windows. This premium colour option gives you a stunning bright timber-looking finish on the internal side and either Agate Grey or Anthracite Grey on the external side. Use our online form to request a colour-swatch.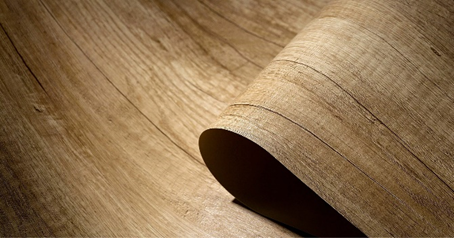 Mechanical Joints
If you've decided to opt for one of our woodgrain foiled finishes, we recommend you consider mechanical joints which takes authenticity to the next level! Our mechanical 90-degree joints replicate the traditional joining method on handmade timber windows, rather than a 45-degree uPVC weld. Please note mechanical joints are only available on sliding sash windows.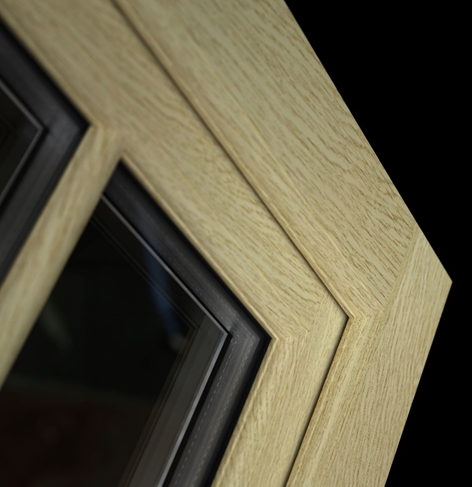 Run through sash horns
Add detail and a heritage style to your sliding sash windows with optional run through sash horns. With mechanical joints and a classic curve, run through horns form a continuous part of the top sash . On any of our woodgrain sash windows, the sash horns come with woodgrain end-caps; a detail not necessarily noticeable to the naked eye BUT here at Quickslide it is our priority to pay attention to every detail of traditional heritage windows. We're focused on offering true heritage across the board, so we don't offer mock sash horns simply because they often look inauthentic.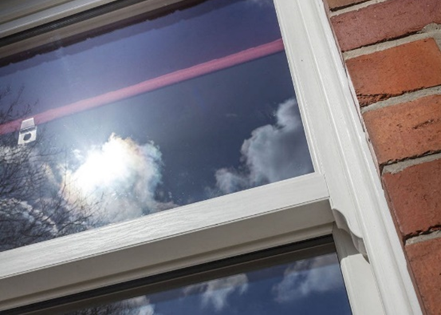 Deep bottom rail
Traditional timber bottom rails were made deeper than modern rails, as they had to carry much more weight than the top sash. Choosing a deep bottom rail is a great option for a subtle upgrade, and important if you want your sliding sash windows to look as authentic as possible.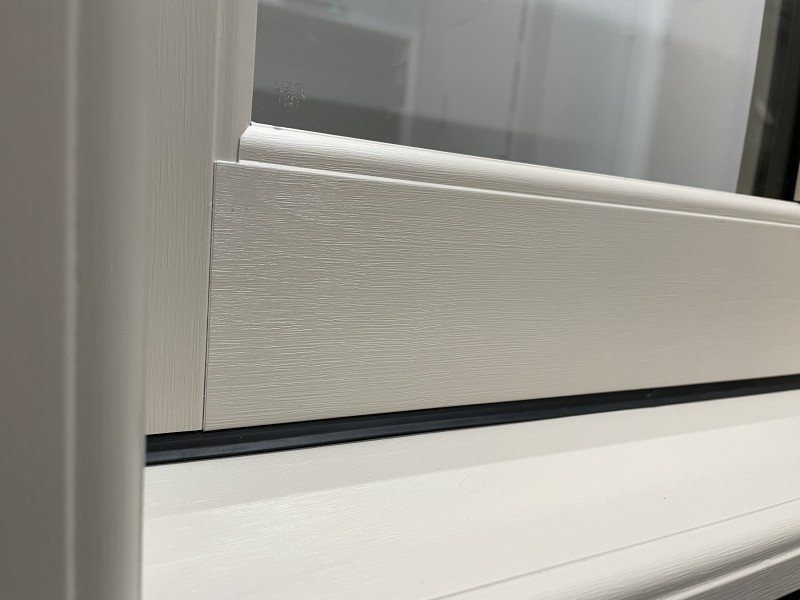 Weatherbar
Add a traditional touch with an ovolo shaped weatherbar. This is one of our newest optional design features. Despite its name, the purpose of the weatherbar is mainly added authentic appearance. For more information on how we use modern technology to ensure our sliding sash windows can defend against the weather, read about our recent weather testing success.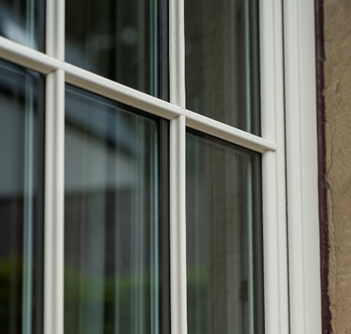 Astragal bars
We have our own exclusive style of astragal bars here at Quickslide, designed to replicate separate panes of glass seen in heritage windows. We can manufacture astragal bars to almost any specification required, as well as a range of historic styles. Our most common layouts are Georgian full grid windows, Edwardian windows, and the ever popular Victorian sash windows.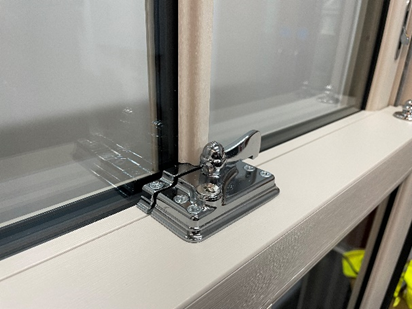 Traditional Hardware
Alongside our standard hardware, we also offer a full range of heritage hardware, from locks to tilt knobs. These maintain the authentic period charm you would expect of a timber-looking sliding sash window, without sacrificing functionality or durability.
Traditional Window Prices
You can request a price for our traditional sliding sash windows by designing your required specification right here on our website. You can also discuss your requirements with our friendly team by calling us or emailing sales@quickslide.co.uk
Please note, our news articles are relevant and accurate at the time of release, but as technical developments dictate, and times goes by the information in this article may no longer be applicable. If you have questions, please contact us using our online contact form or call us on 03332 412 240.