Bi-folding Doors are becoming more and more popular because of how they open up the indoors to the outdoors with their wide, unrestricted openings and slick smooth action. Aluminium bi-folding Doors are a genuine long-life product due to the robust profile, which has been designed to give strength and durability to ensure a structurally reliable performance over a lifetime of use. Before you start installing your bi-folding doors, you need to ensure you have the right planning permission to do so. Usually the installation of bi-folding doors would fall under permitted development, but it is best to double check.
If you're looking to keep the cost down by installing the bi-folding door yourself, we've put together a step by step guide which may help you along the way. They may seem more complex to fit than, say, a patio door, but it is possible with enough time and patience. Bi-folding doors are heavy, and you will need a helping hand to carry out the installation. If you have no experience in window and door installation, you make want to ask a professional installer for help and advice. Before you start, it's important to understand that bi-folding doors rely on carefully balanced and sliding elements and most problems come down to poor installation. Quickslide will always recommend using a fully trained and FENSA registered installer to carry out the installation.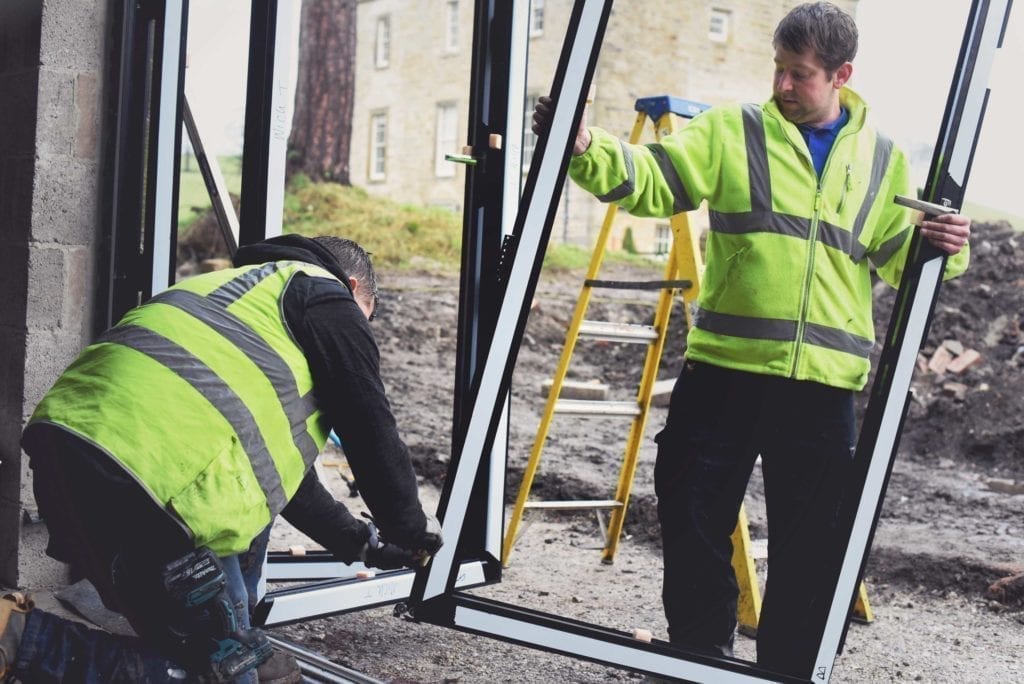 Typically, installation of a bi-folding door will take around half a day to a full day depending on the number of panels the door has. Installing a bi-folding door into a new build property may take less time compared to a refurbishment project because no old silicone will need to be scraped off in order to create a clean, square and straight aperture.
Tools and Supplies Required
• Spirit Level
• Allan Keys
• Fixings (screws etc)
• Electric Drill
• Screw Drivers
• Scissors to cut out gasket for glass
• Foam Gun
• Silicone Gun
• Silicone
• Filler Knife
Step 1- Fully Clean the Aperture
Make sure you fully clean the aperture before fitting the frame. Where the frame is going to sit on the base, the sill or the brickwork, you can bed the base of the frame onto some silicone for a much more adequate seal. Packers can be used for expansion when fitting the frame.
A good tip is to use a laser to measure the height from the bottom of the bi-folding door to the laser point to ensure the frame is levelled. You will need to check that the frame is level, square and plumb at every 600mm in both width and height before proceeding. When you initially measured the opening, you should've measured the opening to its narrowest point. If there is a discrepancy you should deduct 5mm off from the narrowest point, otherwise you may be struggling to level the door.
Step 3- Drill Fixing Points on Each Side
When the frame is levelled, you should drill at least 4 fixing points on each side, top and bottom of the outer frame to fit it to the aperture. The fixing points should be no closer than 100mm to the top and bottom corners, and 600mm in between one another.
Step 4- Start Fitting One Panel at a Time
Start with one panel at the time. Often, the manufacturer will write on the security tape, so you know which panel goes where.
Step 5 – Fix the Panels to One Another
Fix the panels to one another one by one. It's important not to forget the final fixing screws on the hinges when all door panels have been fitted. Ensure that all the heads of the door panels are 'line-through' with each other. This step is often forgotten by even the most experienced builders.
Step 6- Check Sliding Process Throughout
Throughout the entire installation process, you should slide, fold and open the doors to make sure they operate smoothly and don't catch.
Step 7- Glazing the Panels
When the doors have been fitted and operate as they should, it's time to glaze the panels. You must not forget to toe and heel each panel. To ensure the glass stays in place, glazing packers should be used on all hinged sided bottom corners and on top corners diagonal from the bottom corner.
You must toe and heel the glass into the openers; there will be a diagram in the fixing kit. This is a very important step! The glass panel in a bifold is obviously quite big and with that comes a lot of weight and to make sure the glass doesn't drop each panel needs to be properly toe and heeled.


Make sure Allan keys on the hinges on the doors are tight and use fixing screws provided to fix the hinges. You would be surprised how many people forget to fix the final fixing screws. When you think you're done with the installation, go through each step again.


Make sure on middle doors the key is taken out before opening and folding the doors to prevent it from snapping in the lock between two panes.


Cut the gasket at an angle for it to fit nicely into the corners. We've introduced a new gasket that doesn't need to be cut in each corner. The new gasket will only need to be cut once to fit around the glass section. Don't leave the gasket too tight – it's better to squeeze in a longer length because when you fit the gasket it's hard not to stretch it but when it goes back to its normal form you want to make sure there are no gaps.
If you follow these steps and tips carefully, you should be able to successfully install your own bi-folding doors. If you experience any issues whilst installing your bi-folding door; it is best to get a professional installer to do it for you rather than risk damaging your home or the product.