Colour Inspiration Guide for Doors and Windows
Share this story!
Share this post to any popular social media, email it to a friend or print it off.
---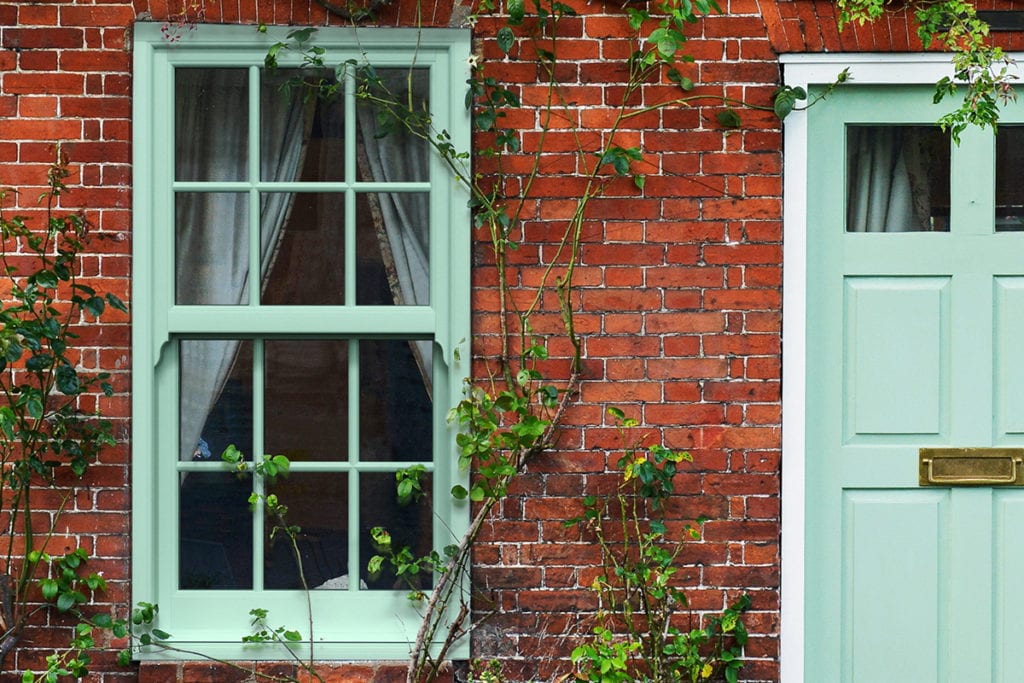 Deciding what colours work well together for the windows and doors in your home can seem like a challenging task. What you pick will depend on what will suit your property – with different colours working better with certain style homes. Over the years, tastes may change but your windows and doors can last for decades. So, how do you pick colours that you will be able to enjoy for many years?
There are two main points of consideration when selecting the perfect colour for your windows and doors:
The style of your home
You should consider what colour scheme will match the design and age of your property the most. For example, the first thing to consider is whether you have a traditional or modern house. In homes that have a traditional design, the window frame colour ought to be subtle and match the exterior of your home – warm tones or simple white woodgrain tend to be most common in traditional homes. However, in a modern style home, you can afford to be more daring with your colour choice. Classic colours are better suited to traditional style homes. Though, with modern homes there is more leeway to be anything from subtle to bold.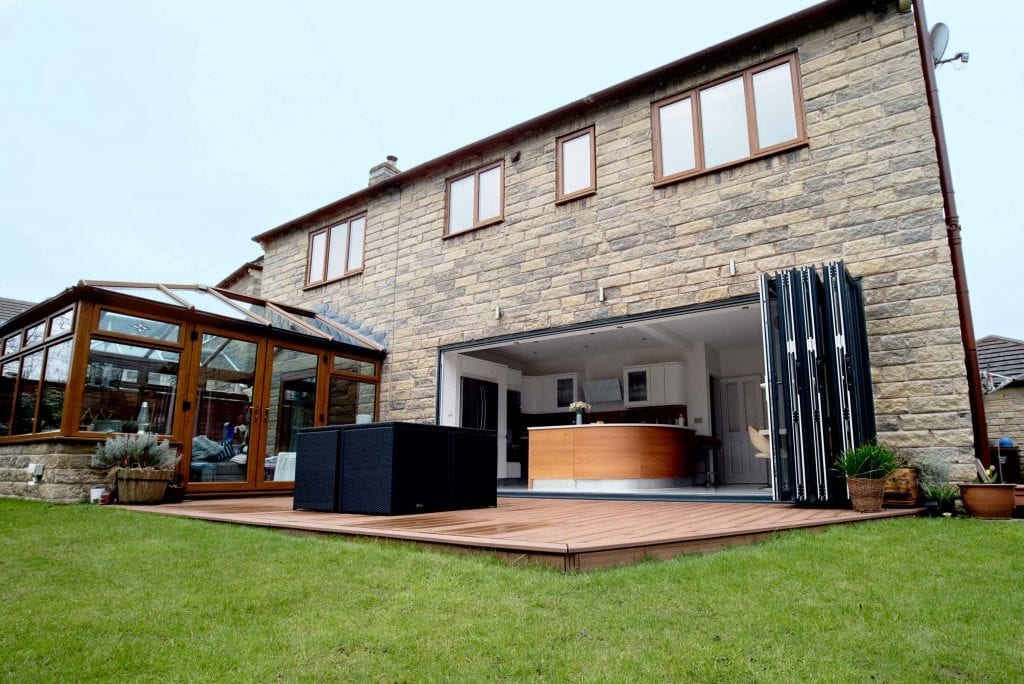 Wood effect upvc windows along with some stunning grey bifold doors.
The landscaping of your property
Opt for colours that work in harmony with the exterior of your home and mix perfectly with your surroundings. When choosing a shade, you need to think about what will suit the building material of your home. It helps to have your front door the same colour as your windows. As, it ties everything together to make it look coordinated and aesthetically pleasing. Alternatively, you can make a statement by choosing a different door colour.
What is the right colour for my windows and doors?
Windows and doors are an architectural statement. So, you must choose wisely when it comes to colours to avoid clashes. Dark shades give the appearance of the window frame vanishing into the glass. This results in a smooth and blended look. It may be worth considering that darker colours against lightly coloured houses make a big and bold contrast. If you are looking for a trendy and modern feel to your property, a black door and black windows do just that. However, white frames are considered more traditional as they give a crisp appearance. Lighter shades emphasize window frames, making them stand out more. Over the years, grey has become a very popular colour for window frames and doors as it gives a property an elegant feel. This is perhaps due to the fact grey suits a range of different tones. Therefore, you can practically pair it with any material and shade.
Now, how do you decide if you want a matt or woodgrain finish? A woodgrain finish gives the appearance of a realistic timber frame and hence it is more distinctive. Whereas a smooth matt finish will make the frame seem lighter, more subtle, and delicate. Using a woodgrain finish means you can accomplish a more striking façade, even though you may have selected a neutral colour.
Black
Black is a timeless classic which exudes sophistication. The shade offers flexibility which equally complements traditional and modern properties. For example, black UPVC windows and doors create a dramatic impact.
Some might say that the colour black and bifold doors are not a good mix. Bifold doors are developed to let natural light pour into a room, whereas black is the colour of darkness. However, the contrast balances each other out. Black bifold doors or black patio doors in any room can make the space even more chic than it was before.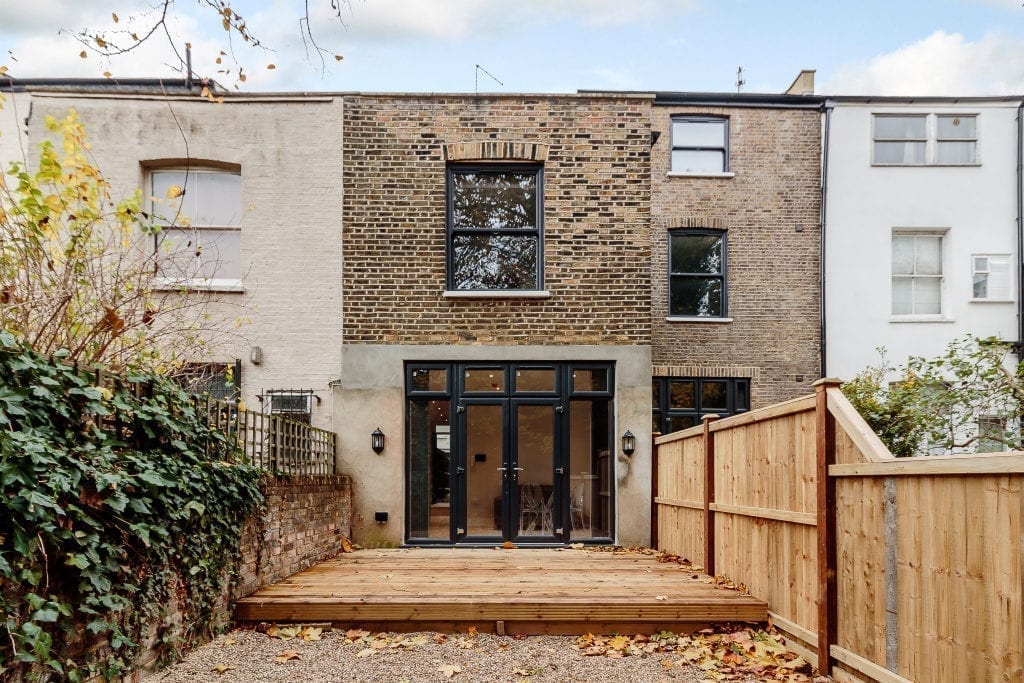 White
Despite inducing a feeling of modernism, white enhances homes of any era or style. Sometimes darker shades can look quite dull. If that is the case, light UPVC windows and doors may be better suited to your desired look. White can be the perfect option for highlighting other features of your property to make a statement. Are you looking for your window and door to contrast? Then why not mix black bifold doors with white aluminium windows, for a stylish exterior. Aside from being energy efficient, aluminium is recyclable, making it an environmentally friendly material.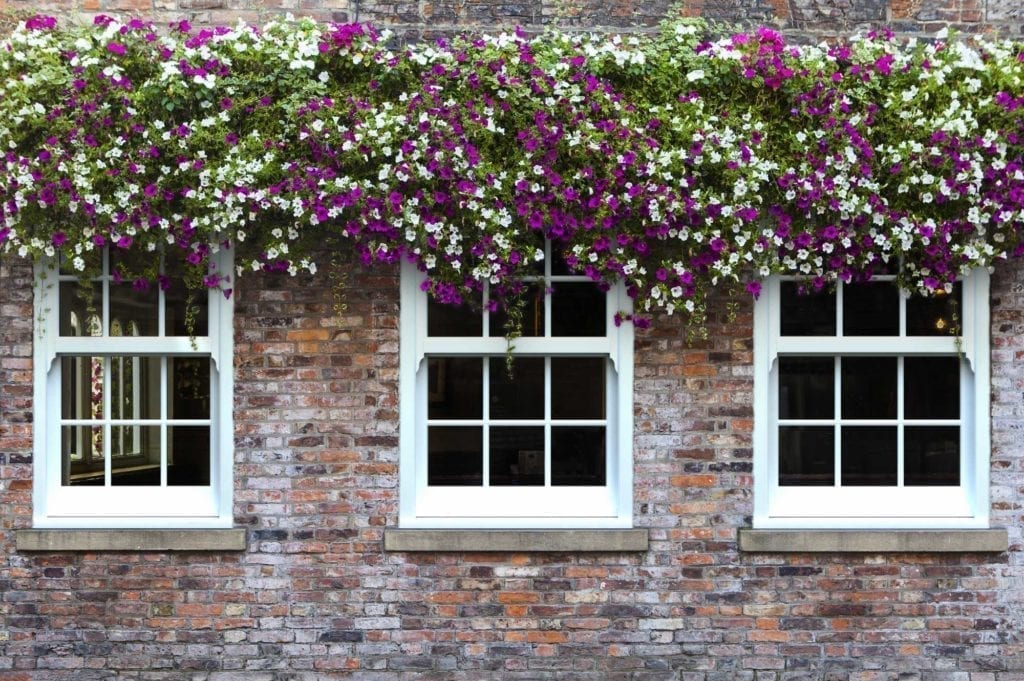 A lovely contrast between white upvc windows, brickwork and colourful contrasting flowers.
Grey
You could also opt to use the same colour for your windows and doors – just in different tones. This works well with greys. Its darker shades allude to mystery and boldness, whilst its lighter hues are more illuminating and dynamic. For example, dark grey French doors match perfectly with light grey aluminium windows for a classy appearance.
Recently, grey bifold doors have gained much attention and popularity. They are aesthetically attractive, with a sleek and contemporary appeal which along with some grey upvc windows or grey aluminium windows create a stunning modern feel. Grey bifold doors also offer a lot of versatility. The shade can be combined with a variety of outdoor accessories to transform your garden. Lighter grey tones are also an effective way of welcoming more natural light into a room.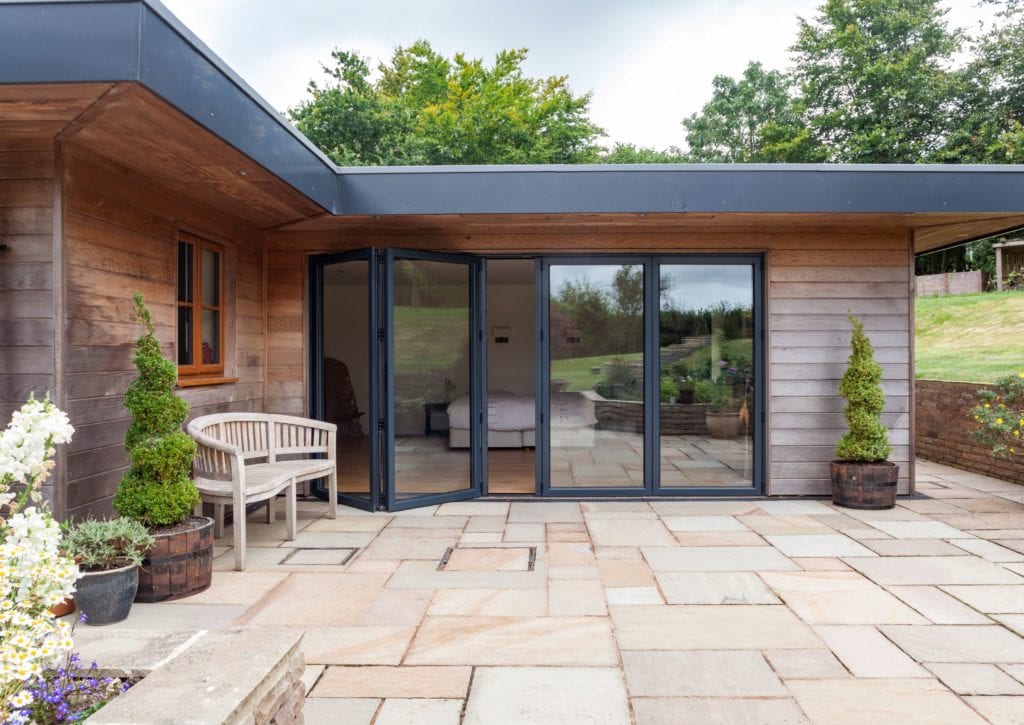 Stunning grey bifold doors aligned with wooden panels.
Wood
You can also choose from a brilliant assortment of authentic woodgrain choices. Some of these include rosewood, Irish oak, nut tree or even black woodgrain as seen below. Wood mimics a lovely and organic aesthetic. It is ideal for houses based in the countryside – the timber effects take inspiration from nature to blend your home in with its surroundings. Wood effect UPVC windows give the appearance of a natural look of timber, without the high expense or upkeep requirements of wood.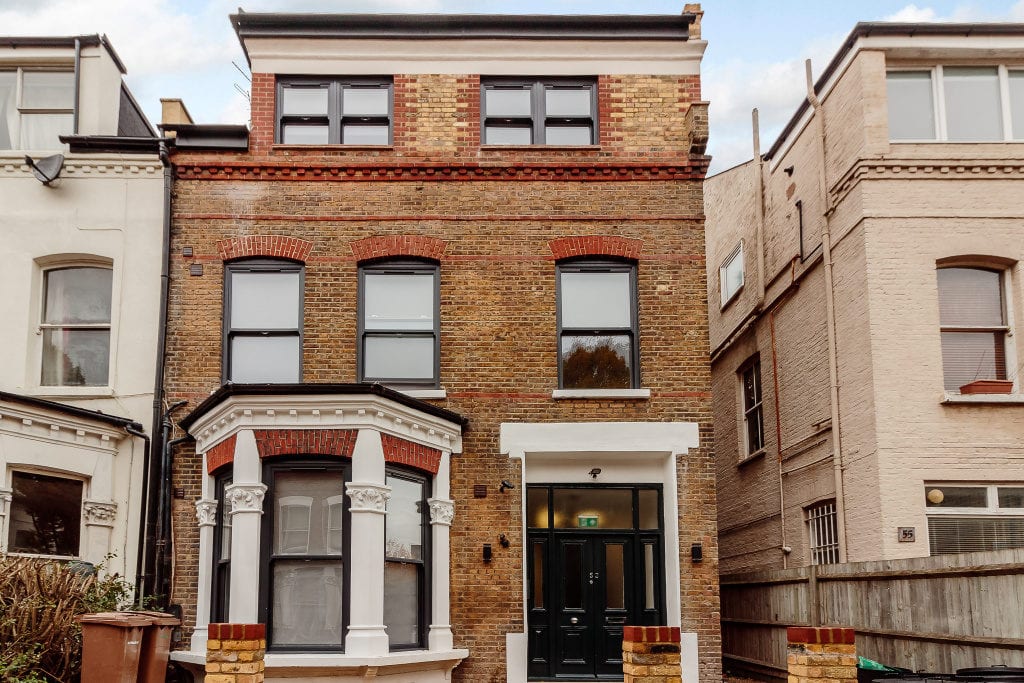 Green
Set your house apart from all others whilst blending into nature with a genuinely unique Chartwell Green colour for your windows and doors. These windows have a soft tone balencing the overall look of the house and look particularly nice again stone walls. They also have the added benefit of looking less 'plastic' and more natural. Below you can see an example for some of our casement windows.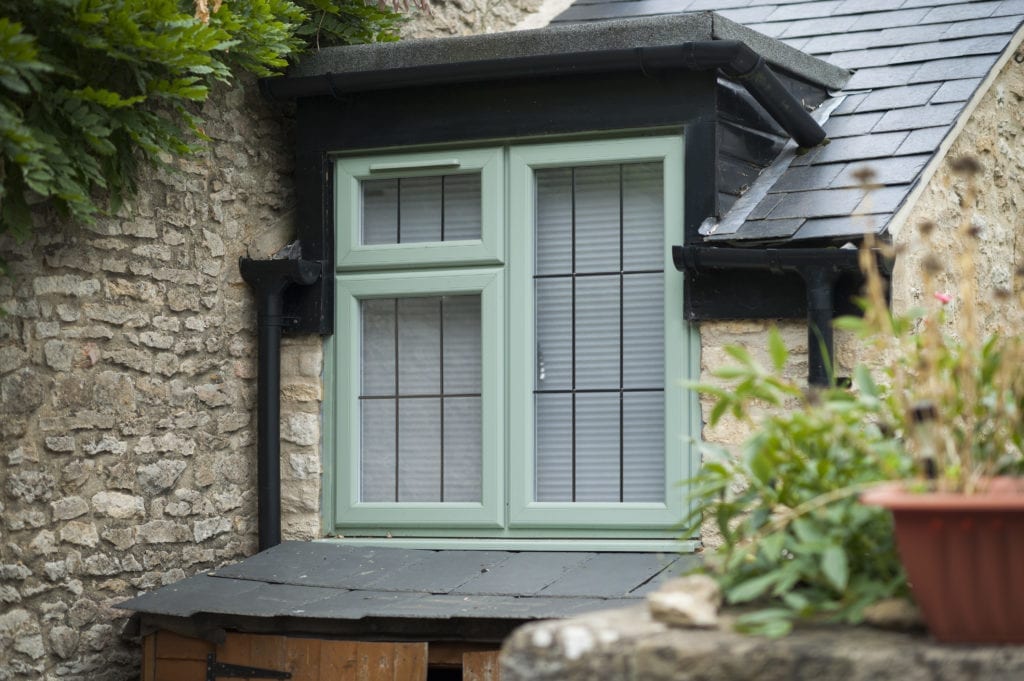 Tips and tricks
Trends will not always be trends. However, your windows and doors will remain in place for many years to come. So, make sure you select shades and tones that will stand the test of time. Also, if you do not want your property to clash with your neighbours, pick colour combinations that will match the rest of your street. If you are looking to add just a dash of colour without being too bold, pick brightly coloured UPVC doors, but then go for white windows. This combination is a perennial trend, and it gives you the burst of colour you desire.
Check out our window buying guide for more inspiration.
Please note, our news articles are relevant and accurate at the time of release, but as technical developments dictate, and times goes by the information in this article may no longer be applicable. If you have questions, please contact us using our online contact form or call us on 03332 412 240.