Quickslide Partners with Glazpart to offer the Perfect Trickle Vent Solution
Share this story!
Share this post to any popular social media, email it to a friend or print it off.
---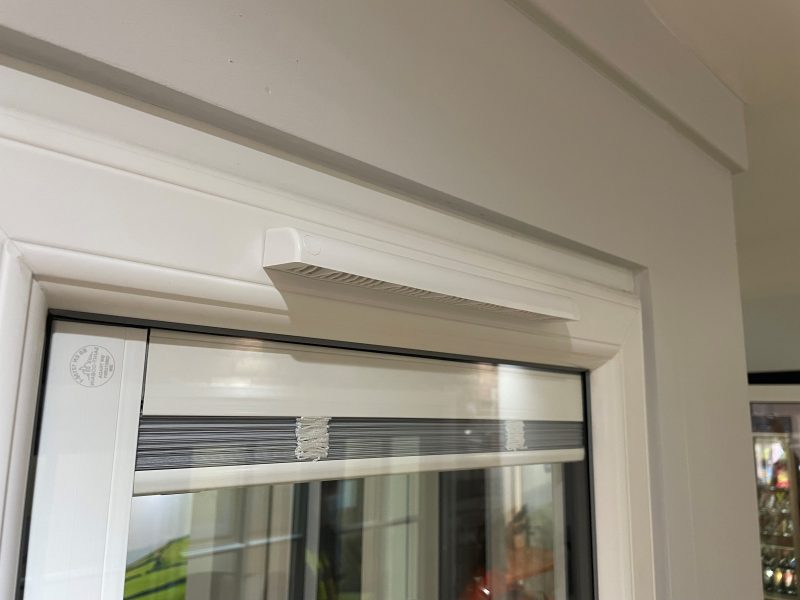 With the controversial Part F of the revised Building Regulations coming into force on June 15th this year, trickle vents will become a requirement on the majority of windows installed in new build and replacement projects.
With compliance being mandatory, leading window and door fabricator Quickslide has partnered with top glazing accessories manufacturer Glazpart to come up with an ideal trickle vent that will offer aesthetics that will prove attractive to buyers, whilst also satisfying the requirements of the Building Regulations.
Quickslide approached Glazpart when it became clear that the requirement for trickle vents would become statutory, tapping into the firm's reputation for developing customised solutions for a range of glazing accessories, and especially for trickle vents. The Glazpart Link Vent chosen by Quickslide for its range of uPVC casement windows and doors uses aerodynamic calculations to deliver double the volume of airflow through a trickle vent with half the footprint of conventional types. Thus, compliance with Part F may be achieved using the same number of trickle vents that were required under the old legislation.
The fear of spoiled aesthetics through the inclusion of trickle vents has been alleviated due to the care taken in the design of the Link Vent. Glazpart has ensured that the vents are not only discreet but also colour matched to Quickslide's casement profile, including a carefully selected range of finishes that blend in perfectly with the company's 26 stock colourways.
Quickslide Sales & Marketing Director Tom Swallow was quick to praise the response by Glazpart in providing a solution for his company: "At Quickslide we take a practical approach. The requirement for trickle vents will be mandatory from 15th June so it was imperative that we did something about it to provide an ideal solution for our customers. Glazpart's Link Vent is an excellent solution for our casements, satisfying the statutory airflow requirements in a unit that is attractive and very discreet.
"The partnership with Glazpart continues to evolve and while developments of a bespoke vent solution unique to Quickslide's flagship Legacy VS are kept tightly under wraps for now, we're confident that we will be ready with a product range that not only looks great but also complies with all mandatory performance criteria. After all, we're not here to sell windows, we're here to make sure our customers can," revealed Tom.
Dean Bradley, Glazpart's Sales and Marketing Manager commented: "This was a very interesting exercise. Where so many in the market are complaining about the insistence of trickle vents under the revised Part F of the Building Regulations, Quickslide showed pragmatism and challenged us to provide them with great solutions that will satisfy regulations whilst also providing attractive vents appropriate for Quickslide's distinct product range."   
Quickslide's Compliant Windows
Quickslide was an early pioneer of heritage uPVC Sash Windows allowing the owners of modest Victorian terraces to enjoy high performing windows whilst maintaining the increasingly sought after 'period chic' of their homes.
We've worked tirelessly and have done amazing work designing our Legacy Sash Window with features such as run-through sash horns, astragal bars and a deep bottom rail. The requirement for compliance to the revised Document F means that we've had to develop a vent solution that will not spoil the aesthetics of our heritage windows – and we're pleased to say that our trickle vent solutions do just that.
Interested in our compliant windows? Get a quote using our online pricing tool. Get started on your next project by finding your local installer today. If you need us to contact us using our online contact form or call us on 03332 412 240.
Please note, our news articles are relevant and accurate at the time of release, but as technical developments dictate, and times goes by the information in this article may no longer be applicable. If you have questions, please contact us using our online contact form or call us on 03332 412 240.