What's the difference between a Bay and a Bow Window?
Share this story!
Share this post to any popular social media, email it to a friend or print it off.
---
People often get confused between the difference of a Bay and Bow Window. These two types of windows aren't really that much alike, but the fact they both only have three letters and start with 'B' certainly doesn't help distinguish them. However, you can create both bay and bow windows with a range of styles such as sash, double-hung and casement windows. Both Bay and Bow Windows are very popular in small to medium-sized homes, as they open up the living space and bring in more light than a single flat window would do.
If you're looking to upgrade your décor and add a so-called 'picture window' to your home, your two options for doing so would be to either add a bay window or bow window. Both essentially serve the same purpose and they can look very similar from the exterior of the house which is why it can be difficult to differentiate. Both bay and bow windows extend the body of the house meaning you get added room space. Both types of window help to improve your view from the inside of your home as well as your homes exterior appearance. An added benefit of both styles of window is that they also allow for maximum light to enter your home as they more glass panels to catch the light.
What is a Bay Window?
Typically, bay windows consist of three glass panels. They protrude from the home making the internal room much more spacious and the exterior more attractive. Of the three glass panels, the middle window is generally larger and considered the 'picture window' whereas the other two would be slightly smaller. Bay windows generally extend of the main house at a 25-45-degree angle. As they consist of three panels, bay windows aren't as wide as bow windows, yet they do offer a great amount of floor space.
What is a Bow Window?
Whereas, Bow Windows are made up of typically four or five identical windows, which are fitted at an angle of 10 degrees creating a beautiful curved appearance.  Generally, because bow windows are made up of more windows with obviously more glass than a bay window is, they bring in more light and extends your living area more than a Bay Window would. Due to their curved appearance bow windows work well when utilised on the corner of a building, they can be wrapped around which also offers panoramic views. Their curved, round appearance makes for a visually appealing appearance. All the panels are generally the same shape and size making for a symmetrical appearance.
Types of Bay Windows
There are a few different options when it comes to bay window styles, it usually comes down to personal choices in terms of style, material and finish. Depending on your own preferences and practical considerations such as budget and size you can choose how big your bay window is going to be, the material used and the final appearance. You can choose either sash windows or casement windows for your bay window; again, personal preference is usually the deciding factor alongside the appearance and style of your home.
Types of Bow Windows
As with bay windows, there are many different bow window styles. The style you arrive on will depend on your personal choices when it comes to things such as material, colour and size. There are different options available to customise bow windows to suit you and your home. As with bay windows, you can choose from both sash windows and casement windows for you bow windows. The choice between sash and casement windows will likely be based on a number of factors such as your existing home style and current window style.
There are a number of benefits to both bay and bow windows; generally, the two have the same features aside from their outward appearance. Both extend your interior home and create a bigger space whilst simultaneously improving the exterior of your home. They act as a focal point for the home and increase the amount of light which is let into your home. Whilst bay and bow windows can be a little higher in price when it comes to installation, the benefits largely outweigh the cost.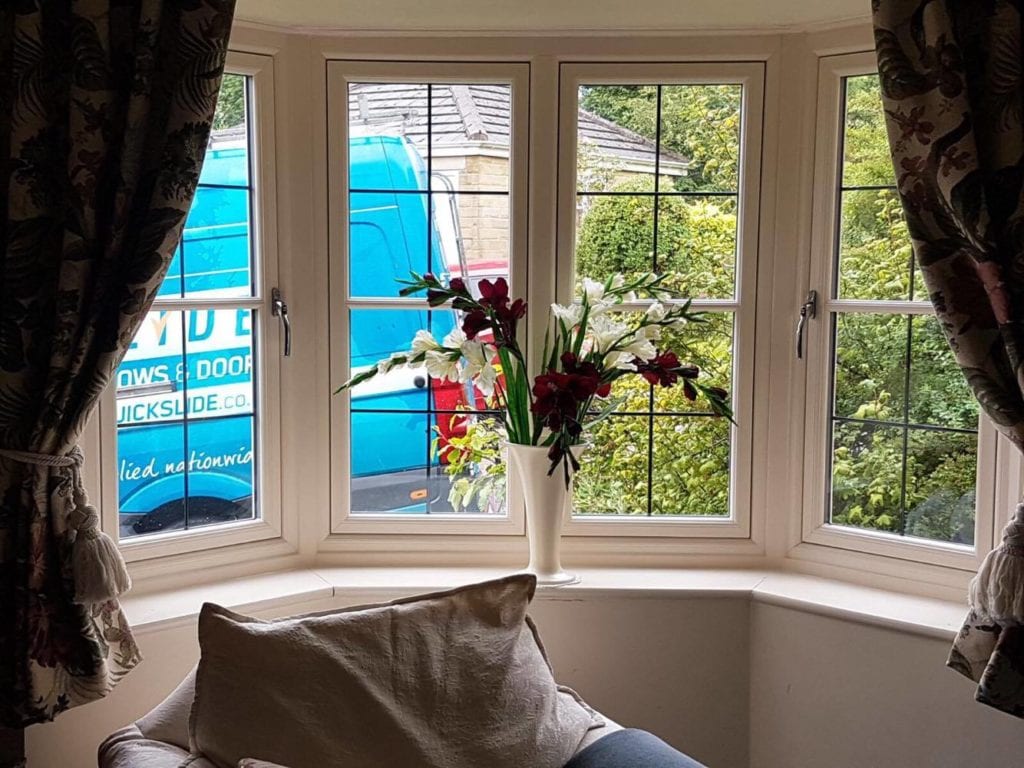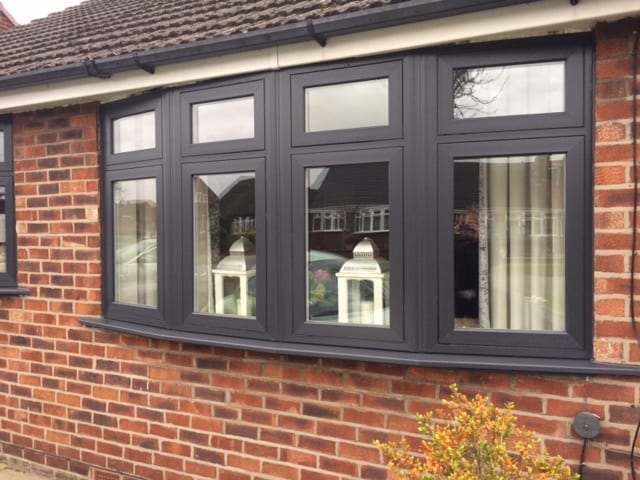 Further Questions
How To Install A Bow Window
Check out our installation guides on our website to find out details on how to install a bow window or bay window. Our installation guides, brochures and blogs are designed to help our trade partners get the information they need.
For more information or advice, fill out our online contact form to speak with an expert.
How Much Is A Bay Window
The price of a bay window or a bow window differs depending on the type of windows used, such as sash windows versus casement, the size of the windows, the colour, material, installation location, etc. For a cost on bay or bow windows, request a price with Quickslide today.
Are Bow and Bay Windows Expensive?
While bay and bow windows typically have a higher cost than other window types, they have a range of unique advantages and features that make them popular with homeowners. At Quickslide, we can offer our bow and bay windows with our legacy uPVC sash windows or casement windows. They can provide an excellent small extension to a room to increase internal space.
Please note, our news articles are relevant and accurate at the time of release, but as technical developments dictate, and times goes by the information in this article may no longer be applicable. If you have questions, please contact us using our online contact form or call us on 03332 412 240.