New Bifold Woodgrain Finishes
Share this story!
Share this post to any popular social media, email it to a friend or print it off.
---
Authentic woodgrain finishes on bifolding doors available to order now!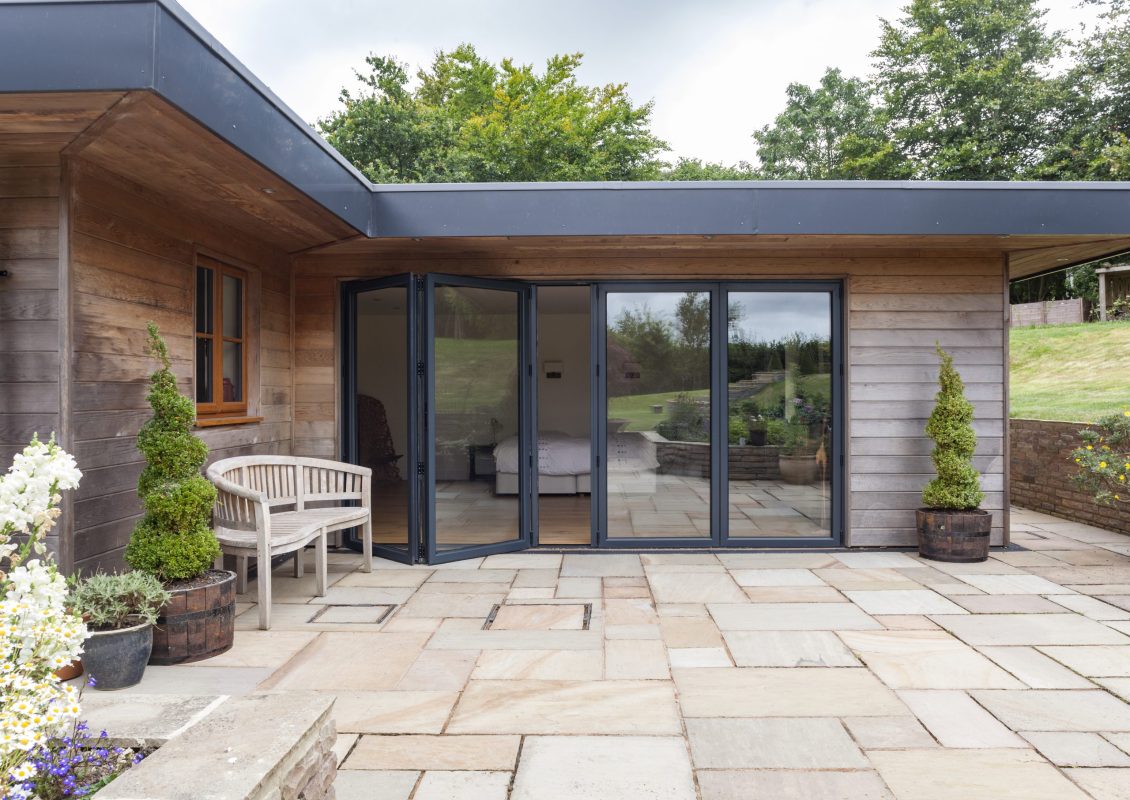 Our contemporary bifolding doors are now available in a carefully selected range of authentic woodgrain finishes to match our traditional timber-alternative range of windows, including sliding sash windows and flush sash windows.
With aluminium at its core, the bifolds still come with all the benefits you'd expect from a modern door. They are strong, lightweight, and feature a thermal break as standard for the absolute best in thermal performance.
Woodgrain Bifold Doors
Bifolding doors are available in white, grey, and black from stock. Now, as something totally unique to Quickslide, we can offer our bifold doors in a wide selection of woodgrain foils. You can choose from white woodgrain, Chartwell green and other natural oak finishes such as Irish and golden oak. The woodgrain finishes have been specifically produced for exterior applications, namely windows and doors. Additionally, these foils feature a grained finish to ensure they look and feel like wood.
Quickslide is synonymous with traditional-looking sliding sash windows. This new offering has been introduced to provide our customers with a complete solution in the same visible finish across all products. Our customers can enjoy having products that seamlessly match, creating a flawless finish to any property.
The wood effect foil is bonded to the aluminium profile using hot glue and rollers to ensure the bifold doors have a beautiful finish. Additionally, the profile is put aside to allow the foil to set before the profile can be used in fabrication. To carry out the foiling process, we use state-of-the-art machinery at our facility here in West Yorkshire.
Homeowners can now have the option of nine woodgrain finishes. Improve a property's traditional aesthetic with timber-looking bifolding doors. They are a high-quality alternative to real wood and are virtually maintenance-free! Unlike real wood, woodgrain finishes aren't prone to waning over time, making them very cost-effective. Homeowners won't have to worry so much about regular repolishing the aluminium bifolding doors.
If you're looking for a perfect match for your existing windows or new replacement windows, look no further than our bifold doors. Should you want a statement piece, the wood effect appearance for our bifold doors makes for a superb choice.
Why Choose Bifold Doors?
Bifolding doors fold open and closed, similar to a concertina. They are a great choice for our customers who want to create a more spacious and light-filled home. At Quickslide, we use aluminium frames that provide great additional durability to the doors.
Homeowners can have a choice of different configurations, from two, three and even eight panels. Our friendly team is on-hand to talk through the many different styles available. No matter the specifications, we create aluminium bifold doors that fold neatly.
There are many benefits to bifolding doors. These include; thermal efficiency, security and weatherproofing. Additionally, as with many of our other products, the bifold doors come with a manufacturing guarantee.
Our doors utilise the latest polyamide thermal break technology. This technology creates a barrier between the cold outside and the warm inside. Homeowners can enjoy a property that is kept warm in winter and is well ventilated in summer.
The aluminium bifold comes with a manufacturing guarantee to provide complete peace of mind. We offer this guarantee to help our customers know they are investing in a product designed to last them years.
Rest assured that at Quickslide, we want our customers to feel safe with their new investments. As well as looking stunning with our new woodgrain foils, our bifold doors are designed to be highly secure. The doors feature an effective locking system, and they are available with a PAS 24 upgrade that includes a wide range of enhanced features as well as laminated glass.
Our doors come with a rubber seal and draught excluders. Customers can rest easy knowing the aluminium bifold doors can help keep the worst British weather at bay. The doors we manufacture have been tested to 750Pa, equating to approximately 75mph wind speed, to make sure there is minimal air leakage.
Woodgrain Bifold Door Prices
You can request a price for our woodgrain finish bifold doors by downloading and submitting one of our enquiry forms right here on our website. You can also discuss your requirements with our friendly team by calling or emailing sales@quickslide.co.uk
Please note, our news articles are relevant and accurate at the time of release, but as technical developments dictate, and times goes by the information in this article may no longer be applicable. If you have questions, please contact us using our online contact form or call us on 03332 412 240.