Share this story!
Share this post to any popular social media, email it to a friend or print it off.
---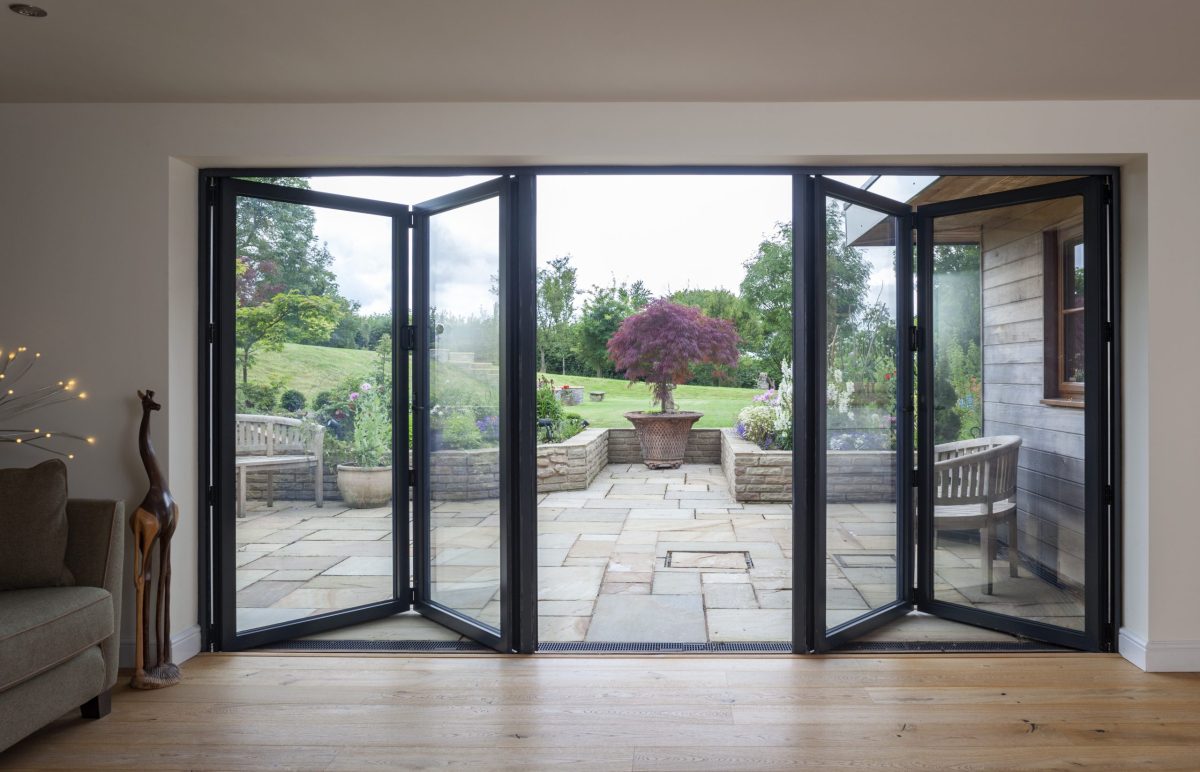 Are you struggling to find outstanding bifold doors in your area? Look no further! At Quickslide, we provide superb aluminium bifold doors. There are several benefits to bifold doors, including how spacious they can make a home feel. The special thing about bifold doors is that they fold similar to that of a concertina-type door.
Create a more spacious and light property with our bespoke aluminium bifold doors. We work with installers across the UK who can fit the doors into a property if an installation service is required. Based in Brighouse, West Yorkshire, we can supply you with high-quality, customisable aluminium bifold doors. To find out more, please get in touch with our team. You can use our online contact form or call us on 03332 412 240. Our team will be happy to help you with any bifold enquiries you may have.
Manufactured In The UK
The doors are manufactured right here in the UK. Our aluminium bifold doors are carefully constructed using the latest techniques in door manufacturing. We have many years of experience, which we continue to build on, to supply our UK customers with the best products available. You can count on us to be with you every step of the way to ensure the doors meet your specifications. There are various styles and features available, and we'll do our best to accommodate your bespoke requirements.
Wide Network
By working with UK installers, we aim to ensure that our customers have easy access to a network of local trade professionals. Choosing an accredited professional helps you ensure that the aluminium bifold doors you purchase are fitted correctly by specialists who take pride in providing an efficient and friendly service. You can use our locator tool to find your nearest installer today. It's quick and easy to use!
Benefits Of Aluminium Bifold Doors
We use high quality aluminium for the frames, which provide the doors with a more sleek and slim profile. A huge benefit to having slimmer frames is that homeowners can enjoy the views of their external area without being impeded by a large frame.
With our aluminium doors, you can create a more open and spacious atmosphere inside a property. In summer, the doors are perfect for keeping an area cool. Their foldability helps to provide an easy way for plenty of light and fresh air to enter a property.
In colder months, aluminium bifold doors can help retain a home's energy efficiency. The doors utilise the latest polyamide thermal break technology, which creates a barrier between the cold outside and the natural warmth inside. Should you choose to add triple glazing to the doors, they'll have the potential of achieving U-values as low as 1.3 W/m2K.
It's also easy to customise the doors to suit the style of the property. The doors are available in black, grey, white, and, more recently, a wide range of woodgrain foils! If you can't find the colour you're after, our team will be happy to accommodate and help you customise the colours or woodgrain finishes to meet your needs.
The aluminium bifold doors have an effective multi-point locking system that can help to protect a property from potential threats. For added security, you can choose to have the doors enhanced by opting for our PAS 24 upgrade, which provides a wide range of additional features, including laminated glass.
All our aluminium bifold doors include a manufacturing guarantee of up to 10 years depending on element. At Quickslide, we understand the importance of purchasing a product that lasts for years. This guarantee can provide our UK customers with peace of mind.
With our bifold doors you can also keep a property well protected against the British weather. As most Brits know, the weather can go from one extreme to another within a very short timeframe. We incorporate elements, including high security seals that are great at helping to prevent drafts and leaks. If you have any questions about our weather-efficient bifold doors, please get in touch.
Why Choose Quickslide?
At Quickslide, we take pride in offering our customers a high-class service that considers their needs. We have over 15 years of manufacturing experience that our team uses to produce outstanding products. As a dedicated trade supplier, our aim is to provide our customers with fantastic lead times and quality. This can be achieved thanks to our state-of-the-art facility located in Brighouse.
Homeowners can rely on us to provide a service that works to accommodate their project's specifications. Our team is dedicated to answering any questions relating to our products.
Bifold Door Prices
If you are interested in ordering our bifold doors, please get in touch with our team. You can contact them by emailing sales@quickslide.co.uk. Our team will be happy to help you with any questions you have. Additionally, we'll be able to help you acquire a price for your bifold doors.
Should you need help finding a local installer, please use our locator tool. It's easy to use and can provide you with the contact details of your nearest professional.
Please note, our news articles are relevant and accurate at the time of release, but as technical developments dictate, and times goes by the information in this article may no longer be applicable. If you have questions, please contact us using our online contact form or call us on 03332 412 240.