We're sponsoring Pedal for Pounds 11!
Share this story!
Share this post to any popular social media, email it to a friend or print it off.
---
Huddersfield Town AFC has revealed this year's Pedal for Pounds 11 cycling shirts. As a long-standing club sponsor and friend of Huddersfield Town AFC, we were more than happy to sponsor this year's shirts. The blue & white pattern takes inspiration from dragon scales to celebrate a large portion of the bike ride taking place in Wales and the final destination being Cardiff City Stadium.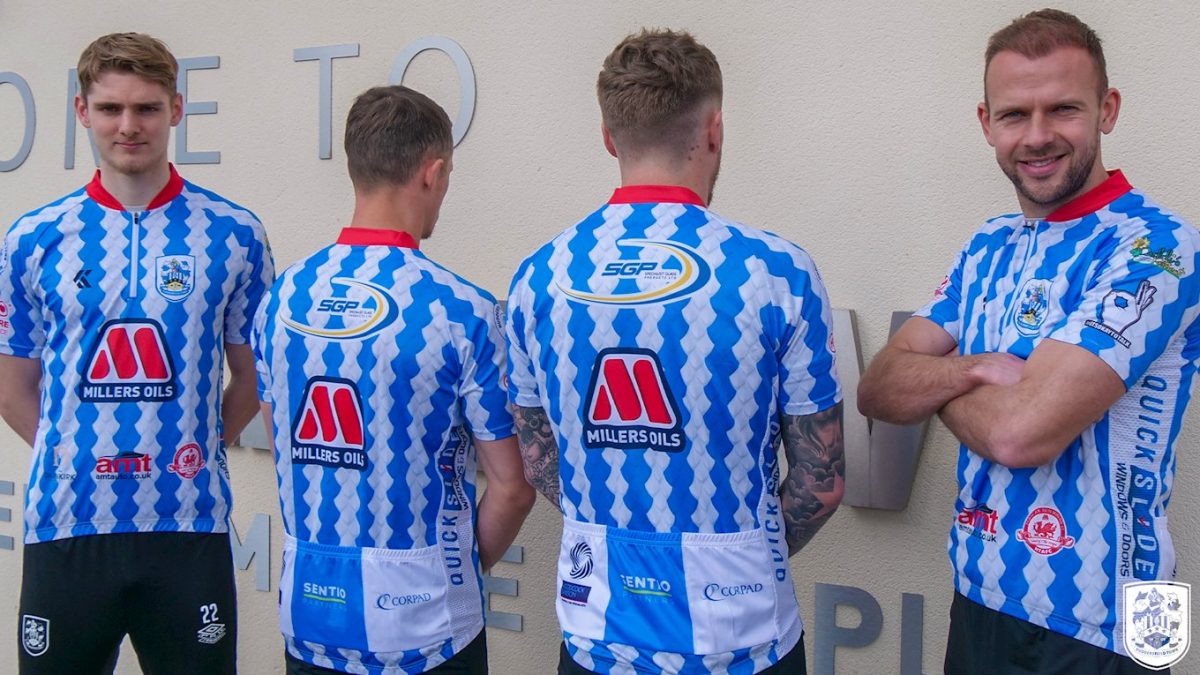 All the proceeds from Pedal for Pounds will be donated to four important charities. Yorkshire Air Ambulance, Andy's Man Club, Huddersfield Town Foundation, and Ruddi's Retreat.
Supporting our community
As a local business, Quickslide is hugely dedicated to supporting our community, which is why we have sponsored Huddersfield Town AFC & Brighouse Town AFC for the past few years, as well as getting involved wherever we can. We also sponsored last year's Walk 4 Pounds, providing a rest stop as well as some well needed drinks & snacks.
What is Pedal for Pounds?
Pedal for Pounds has been running since 2009. A 22-man cycle ride from Huddersfield to Southend began the near annual tradition and raised over £51,000.
Taking place from 26-29th April and covering a staggering 260 miles, this year 85+ cyclists will travel from Huddersfield's John Smith's Stadium to Cardiff City Stadium. They'll arrive just in time for the 3pm kick off of Cardiff City vs Huddersfield Town.
Day 1: departing from the John Smith's Stadium to Lichfield (108 miles)
Day 2: ride from Lichfield to Worcester (60 miles)
Day 3: leave Worcester and finish in Cardiff (90 miles)
Day 4: Cardiff City vs Huddersfield Town, 3pm kick-off
In previous years, P4P has split all proceeds between Yorkshire Air Ambulance & Huddersfield Town Foundation, but this year they're supporting an additional two charities: Andy's Man Club and Ruddi's Retreat. Participants aim to raise at least £500 each, with 25% going to each charity.
Yorkshire Air Ambulance
Many people believe Yorkshire Air Ambulance is a NHS organisation and therefore is funded by the government. YAA actually relies primarily on public & organisations' generosity. The charity needs around £19,000 every single day to keep both of their helicopters maintained and in the air.
Huddersfield Town Foundation
As the official charity of Huddersfield Town AFC, their aim is to support and create opportunities for young people in the Kirklees community. Focusing primarily on education, inclusion, and sport, Huddersfield Town Foundation have become a vital part of the community.
Andy's Man Club
As a UK wide men's suicide prevention charity, Andy's Man Club is a newer, but still just as important, addition to the Pedal for Pounds supported charities. Hosting group sessions across all areas of the UK, Andy's Man Club encourages men to talk and open up about their experiences with no fear of judgement.
Ruddi's Retreat
Ruddi's Retreat has one mission: to send more families going through traumatic times on memorable holidays. With 4 static caravans at Primrose Valley, Filey that sleep up to six, they can offer a week's getaway for families dealing with cancer or life limiting illnesses and children affected by bereavement.
How to get involved
While the entry date for this year's ride has passed, there's still plenty of ways you can get involved. The easiest and most effective way is to sponsor this year's cyclists, but you can also donate directly to each of the charities involved.
Please note, our news articles are relevant and accurate at the time of release, but as technical developments dictate, and times goes by the information in this article may no longer be applicable. If you have questions, please contact us using our online contact form or call us on 03332 412 240.