Sliding Sash Windows For New Builds
Share this story!
Share this post to any popular social media, email it to a friend or print it off.
---
Based in Brighouse, West Yorkshire, we are expert manufacturers and suppliers of award winning uPVC sliding sash windows that are perfect for new builds. Read on to learn more about how they could transform a modern home, or request a price today with our quoting engine.
Timeless Appeal, 21st Century Performance
Our uPVC sliding sash windows are the perfect blend of classic design and 21st century performance. These designs deliver on both form and function, making them a fantastic investment for new builds in your investment area.
Sliding sash windows have a timeless appeal that isn't exclusively for traditional properties. The curvy ovolo frames and elegant hardware are available in a selection of contemporary colours so they seamlessly blend into the design of a new build. Despite their classic look, these high quality windows are on par with casement windows in terms of visual appeal and performance.
Protect Your Home From Adverse Weather Conditions
Protect your new build from whatever mother nature wants to throw at it by investing in high quality sliding sash windows. Crafted using modern materials and state of the art techniques, these windows have been weather tested and exceed UK requirements for wind and water ingress.
As the weather continues to be unpredictable and energy prices rise, it is vital any window installed into your property can insulate and protect your space. Our sliding sash windows have been rigorously tested to withstand unpleasant British weather conditions.
Our sliding sash windows could help reduce your monthly energy bills because your home will be better insulated. Draughts and dampness could be minimised as heat can stay in, while the cold remains outside where it belongs. Relying less on your central heating could lead to reduced energy bills and a more carbon neutral home.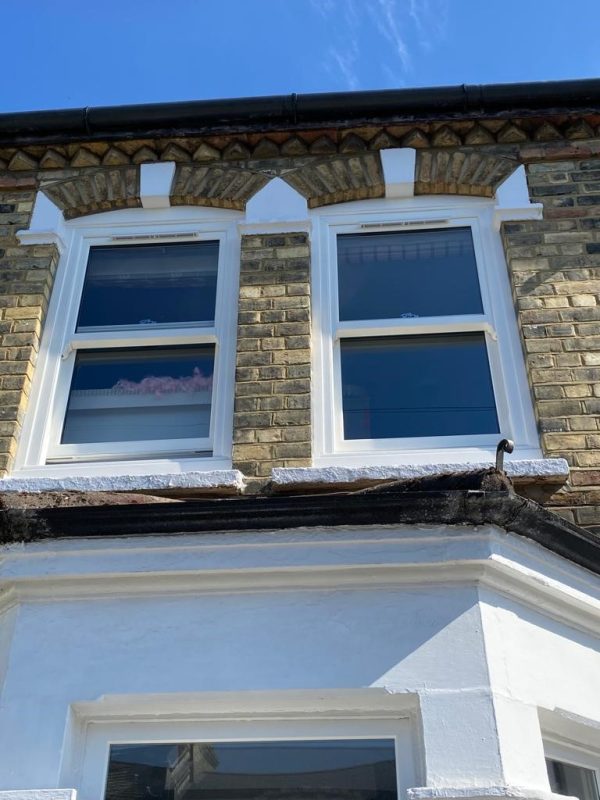 Why Choose Modern Sliding Sash Windows
One of the biggest differences between our sliding sash windows and the classic designs you previously saw installed into homes is that we make our windows from high quality uPVC profiles.
uPVC is cost efficient, durable and low maintenance, making it a fantastic investment for homeowners we work with. Unlike wooden window profiles that were previously used to craft sliding sash windows, uPVC sash windows designs aren't prone to flake, warp and wane under adverse weather conditions. uPVC also needs next to no upkeep to stay looking as good as the day they were installed.
The manufacturing method used to fabricate sliding sash windows has evolved over time. Original window profiles were traditionally handcrafted out of timber, and modern uPVC sash windows are now made in factories. This means we can better control the quality and ensure you get the very best for your home.Despite using uPVC instead of timber, Quickslide can replicate many of the original features found on original timber windows. If you have a contemporary home these windows could mimic heritage design but could also keep up with 21st century double glazing.
Bespoke Sliding Sash Windows
We also offer more minimalist and contemporary designs when it comes to our modern sash windows. We offer a range of modern finishes and colours, as well as a bespoke colour-bonding service which allows you to choose the exact shade of virtually any colour you can think of. Instead of choosing more heritage inspired run-through horns, go with no horns but choose seamless corners for a smooth finish from corner to corner.
We offer a broad array of hues, from more modern to more traditional designs. You can get exactly the right installation for your new build. Popular finishes include agate grey and anthracite grey, which are contemporary. If you want to recreate heritage designs without maintenance, we offer many other woodgrain foils from stock. Your new build can mimic traditional architecture with our range of windows.
Classic white woodgrain is one of the most authentic true timber replicas and is a consistently popular choice for homeowners looking for a traditional touch on their new build. Agate grey and green hues like sage and olive green are an upcoming trend for new properties. Enjoy a trendy new installation without compromising on quality.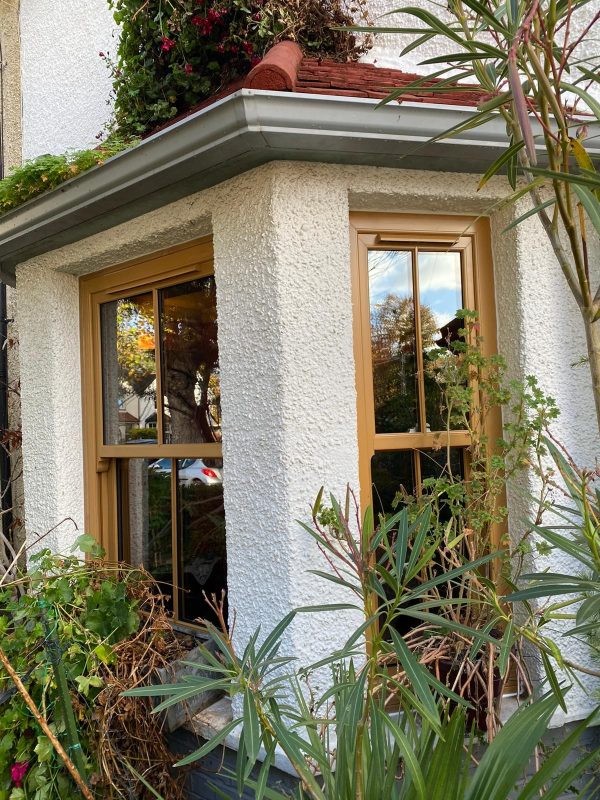 Sliding Sash Window Prices
Interested in our sliding sash windows for your new build? Use our innovative online design tool to create windows that meet your requirements and specifications. Simply enter your dimensions and style preferences, and we will get back to you with a price tailored to your needs.
If you want to know more about our sash windows costs or installation services via one of our stockists, please do not hesitate to get in touch through our online contact form. A member of our friendly team will get back to you and answer any queries that you have. Alternatively, give us a call on 03332 412 240 and have a chat with us.
Please note, our news articles are relevant and accurate at the time of release, but as technical developments dictate, and times goes by the information in this article may no longer be applicable. If you have questions, please contact us using our online contact form or call us on 03332 412 240.