Aluminium
Aluminium is a strong and durable material, making it the ideal component in our aluminium sliding patio doors. As a result, our products are incredibly hardwearing, resistant to even the harshest changes in temperature and climate. Keep up appearances in your Bournemouth property with our stunning aluminium sliding patio doors that come in a range of beautiful styles to suit your unique taste.
Sustainable and long wearing, installing our aluminium sliding patio doors will be a cost-effective decision for your Bournemouth property. Not only do they look great, but they are made to last, meaning they will very rarely have to be repaired or replaced. Save money in the long run with our market-leading door designs that consider every aspect, never compromising on its style or functionality.
Thermally Efficient
Make your Bournemouth property more thermally efficient by installing our aluminium sliding patio doors. Simple to install, they will help improve the overall performance of your home by reducing the amount of heat that will be able to escape. Instead, pockets of warm air are trapped within the door frames themselves, keeping your living space at a comfortable temperature for longer periods of time.
Start to see a possible reduction in your monthly energy bills with our aluminium sliding patio doors that mean you could be spending less on your heating. Not only Is this better for your pocket, but this is better for the environment too, helping to reduce your carbon footprint considerably. Make a sustainable change in your Bournemouth property with our affordable products that are environmentally friendly.
Product Options
Our Colour Options
Our aluminium patio doors can be finished in a whole range of colours, all of which are weatherproof and long lasting. From the subtle to the striking, we can offer it all, meaning those in modern and traditional properties alike are sure to find the perfect finish.

Black

Anthracite Grey

White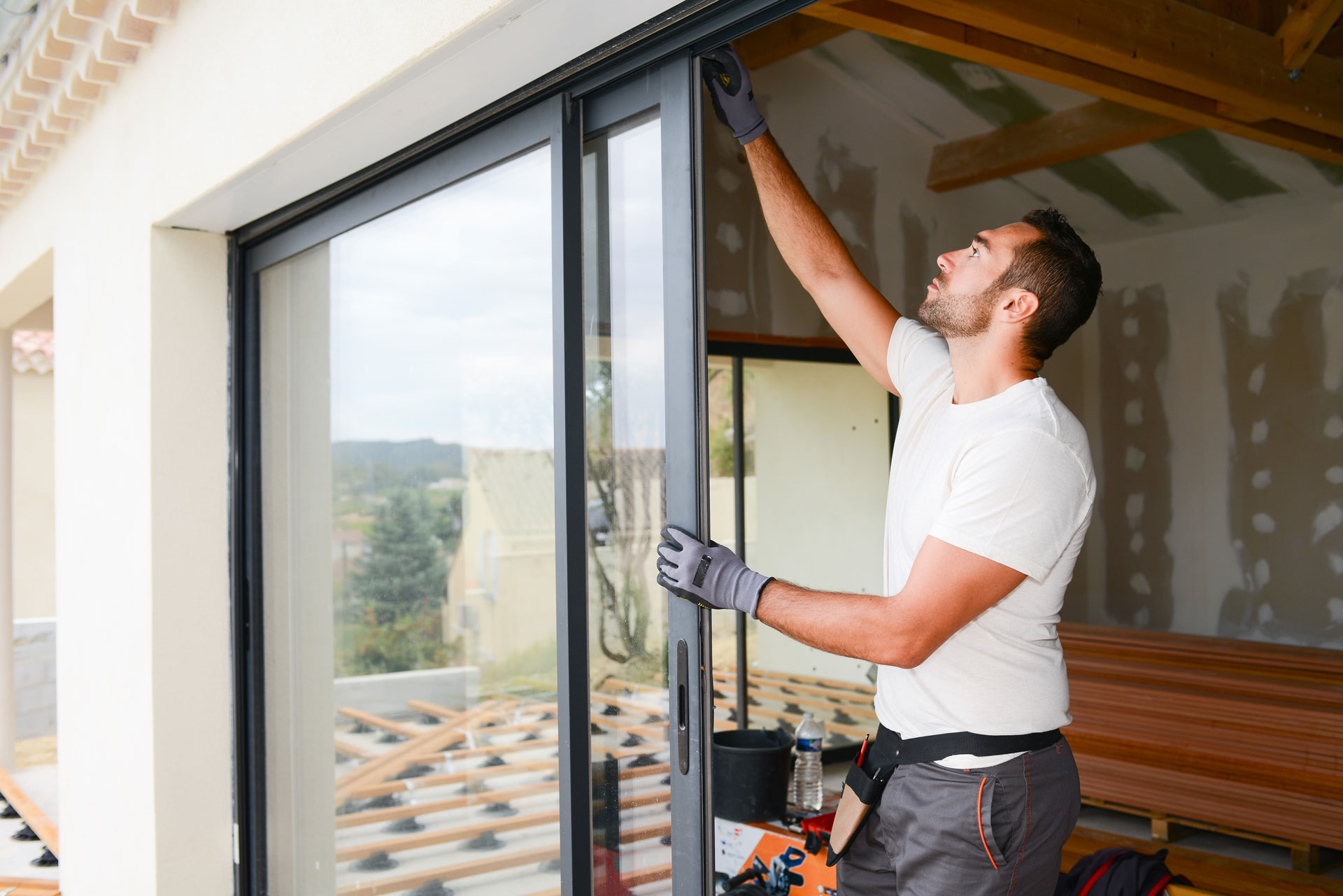 Performance
| Performance | Value |
| --- | --- |
| Best U-Value (Double glazing) | 1.5 W/m²K |
| Best U-Value (Triple glazing) | 1.3 W/m²K |
| Best Energy Rating | B |
| Air Tightness | Class £ |
| Water tightness (Pa) | Class 7A |
| Wind load (Pa) | Class AE2400 |
| PAS 24 Security Upgrade | Yes |
| Max Sizes | W: 6400mm | H 2500mm |
| Max Weight Per Pane | 200kg |
10-Year Guarantee
By choosing our stunning aluminium sliding patio doors, you will be able to benefit from our impressive 10-year guarantee. We are confident in the superior quality of our products; however, should you ever experience any issues, our friendly team are always on hand to help you out. We resolve any queries quickly and efficiently, allowing you to sit back and relax as we sort the rest.
Weatherproof
During the unpredictable British seasons, it is important your Bournemouth property is as weatherproof as it can be. Our aluminium sliding patio doors can help with this due to the tight seals and quality components we use. Not only this, but our aluminium sliding patio doors contain clever filtering systems to prevent excess dirt and debris from becoming clogged within the frames.
Secure
Have complete peace of mind with our aluminium sliding patio doors that will make your home extremely secure. Inside each of the door frames, we integrate the latest multipoint locking mechanisms to keep you and your family protected at all times. Deter any unwanted intruders with our ultra-secure aluminium sliding patio doors that can't be manipulated or tampered with easily.
Customisable
Customise your new aluminium sliding patio doors to suit some of the existing features of your Bournemouth property. The coloured coatings we use are made up of finely milled pigments that prevent them from fading or tarnishing in direct sunlight. Consequently, they will continue to look as good as new even years after they have first been installed. Pick from our beautiful metallic hardware options too.
Aluminium Sliding Patio Doors Bournemouth
Add a stunning feature to your Bournemouth home with our bespoke aluminium sliding patio doors. Choose from our styles and find your local installer online in minutes.
Our contact form is a handy way to be put in touch with a member of our professional team. Or give us a call on 03332 412 240. We look forward to hearing from you!
Frequently
Asked
Questions
Find the answer to a selection of questions relating to aluminium patio doors here. If you have anything else you'd like to ask, speak to our West Yorkshire team by getting in touch today.
View More FAQs
Are aluminium patio doors better than uPVC?
Aluminium, being a metal, is naturally more robust than uPVC. However, that doesn't mean that homeowners should discount the latter. Both are customisable, thermally insulating, and secure. The decision as to which material your customer selects would be largely dictated on design and budget. Become a Quickslide trade partner and you can offer them the variety of choice.
How much do aluminium patio doors cost?
With a whole range of designs, sizes, and specifiers, it's impossible to provide an exact price for the aluminium patio doors we supply. Request a price for a door with the appropriate specification to match your project using our online product designer. You can also request prices for windows or doors by contacting us directly.
What other doors do Quickslide manufacture?
If sliding aluminium patio doors aren't right for the project, worry not. Quickslide also manufacture and supply aluminium residential doors, French doors and bifold doors. We also offer a full suite of uPVC doors in many of the same styles.
Because we only work with one aluminium extruder, homeowners can specify wide scale renovations of their property, unifying designs, and colour schemes.
Gallery