Thermally Efficient
The ideal way to improve the thermal efficiency of your Bournemouth property our aluminium single and French doors are designed to retain heat. Because of the thermally broken chambers within the door frames, our aluminium single and French doors are far better for the environment. Make a sustainable change in your property with our products that could help you save money each month.
See a possible reduction in your energy bills with our aluminium single and French doors that are energy efficient. Reduce the possibility of excess heat loss with our innovative door systems that boast incredibly low U-values. As a result, you may even see an improvement in your home's market value with our aluminium single and French doors that combine technology and modern materials.
Range Of Styles
Our aluminium single and French doors come in a range of styles to suit your unique taste. Match your new aluminium single and French doors with some of the existing elements of your Bournemouth property to really make the most of your surroundings. Open them up in the summer months to create the perfect area to host a party for guests. See what our products could do for you.
Choose from our extensive collection of coloured profiles and hardware to complete your aluminium single and French doors. By its nature, aluminium is an extremely durable material, making it the ideal component in our products. Resistant to extreme changes in temperature, our aluminium single and French doors will continue to look great, even years after they have first been installed.
Product Options
Our Colour Options
Our aluminium French doors can be specified as standard in white, grey, and black. On request however, we can supply other colours, but we kindly ask that you contact us to discuss as minimum order quantities may apply. Whatever shade is specified, our colour finishes are long lasting and weatherproof.

Black

Anthracite Grey

White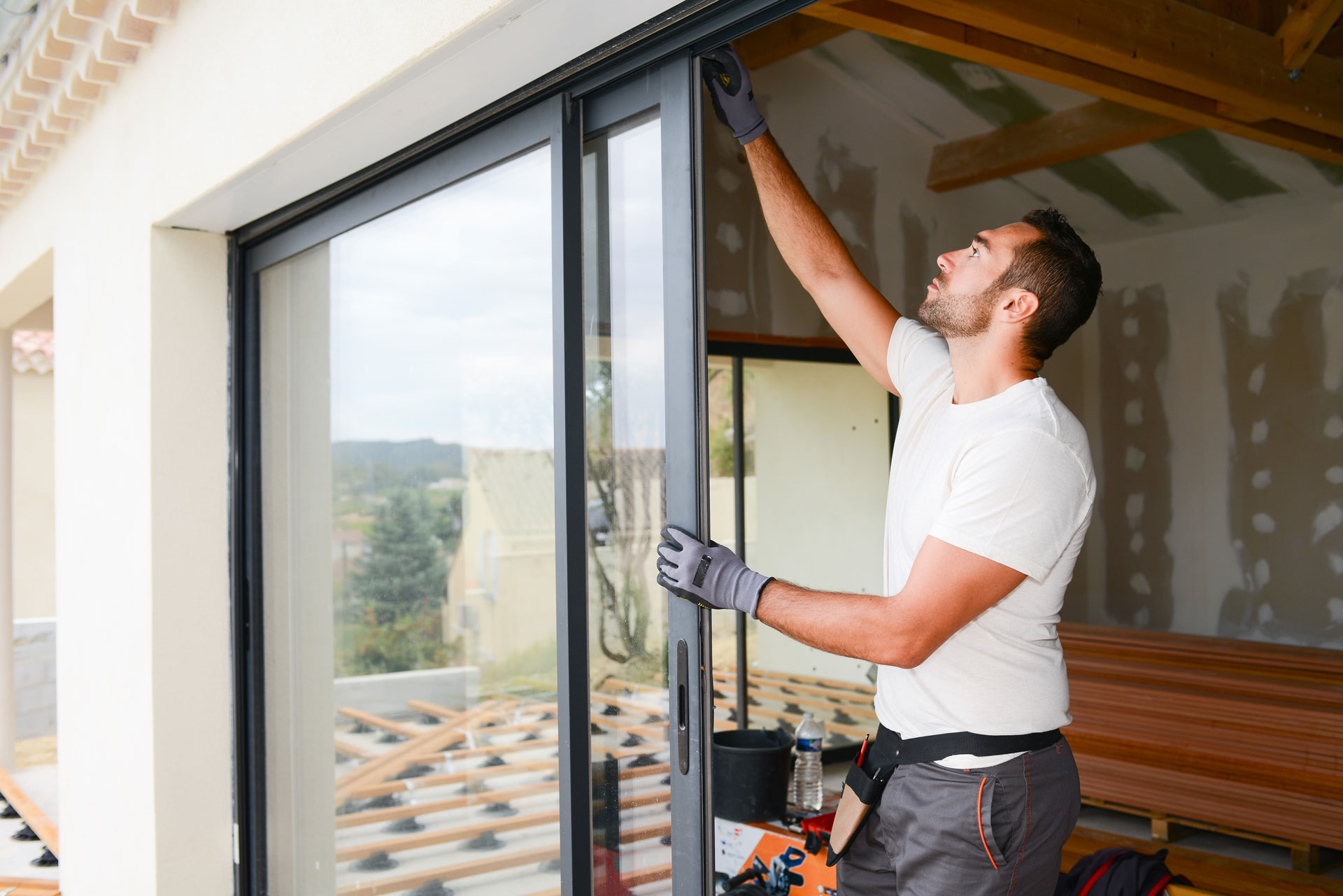 Performance
| Performance | Value |
| --- | --- |
| Best U-Value (Double glazing) | 1.6 W/m²K |
| U-Value (Triple glazing) | 1.3 W/m²K |
| Best Energy Rating | C |
| Air Tightness | Class 4 |
| Water Tightness | Class E750 |
| Wind Load | Class A4 |
| PAS 24 Security Upgrade | Yes |
| Min Sizes (Per Leaf) | W: 550 | H: 1200 |
| Max Sizes (Per leaf) | W: 1200mm | H: 2500mm |
Weatherproof
Weatherproof your Bournemouth property with our aluminium single and French doors. Sealed to the tightest standards, they will help to reduce any possibility of unpleasant water ingress or cold draughts. As a result, this will also help to prevent future problems concerning mould and damp. Make sure your Bournemouth property is safe and comfortable by choosing our innovative products.
10-Year Guarantee
To ensure our customers are always covered, our aluminium single and French doors all come with a fantastic 10-year guarantee. We have complete confidence in our products and their ability to perform in all conditions, thanks to the quality components and materials we use. Transforming your Bournemouth property is easy with our stunning aluminium single and French doors that last for decades.
Maximum Security
Provide maximum levels of security for your Bournemouth home by installing our beautiful aluminium single and French doors. Not only do they look great, but they contain the latest locking mechanisms to keep you safe at all times. Have complete peace of mind with our aluminum single and French door designs that are resistant to the strongest levels of force to deter any unwanted intruders.
Quality
When choosing our aluminium single and French doors, you are investing in quality products at affordable prices. Therefore, all Bournemouth homeowners are able to benefit from our stunning products that are simple to install and will not break the bank. The whole process is incredibly straightforward with our trusted installers Concept Glazing, who will listen to your specifications at every stage.
Aluminium Single And French Door Prices Bournemouth
Explore our range of aluminium single and French doors to transform your Bournemouth property today. Look online to find your trusted local installer; this takes minutes to complete.
Please complete our online contact form if you have a question for our expert team or would simply like to find out more about our products. Or give us a call directly on 03332 412 240.
Frequently
Asked
Questions
We've collated a handful of FAQs relating to aluminium French doors here. Take a look through and contact our team in West Yorkshire if you have any other questions to ask.
View More FAQs
How much are aluminium French doors?
Aluminium French doors are priced depending on the product's dimensions and designs. Use our online design engine to create various styles and get a price. A member of our team will get back to you as soon as possible.
Are French doors energy efficient?
Yes, they are! The thermally efficient frame and quality glazing work together to keep homes insulated throughout the year and can achieve excellent energy ratings.
Are uPVC French doors available?
We also offer uPVC French doors, yes. If aluminium isn't right for the project, uPVC can be specified instead. This is the same for our panelled and our patio doors. Both are available in aluminium and uPVC.
Gallery