Modern
The uPVC sliding patio doors we supply are incredibly sleek and modern. As a result, they will instantly transform the look and feel of your Bournemouth property, all for an affordable price. Choose from our extensive range of beautiful styles and finishes to really make the most of your new feature. Our customisable elements mean you can match your new doors to existing aspects of your home.
The slim profiles mean our uPVC sliding patio doors will take up very little room in your property. As a result, everyone is able to benefit from our bespoke products that are made to fit the dimensions of your space perfectly. Every element in our uPVC sliding patio doors is carefully considered to ensure your new doors continue to operate to the highest standards for years to come. Explore our styles.
Configurations
Choose the configuration of your new uPVC sliding patio door to really enhance your space. Choose from between 2-4 panels depending on the size of your space. Compact and streamlined, you will not need to create extra room in your Bournemouth property for our products. Made using premium grade uPVC profiles, they are resistant to strong levels of force whilst rarely showing wear.
Each of the uPVC sliding patio door panels is available in width up to 3 metres. This means you will be able to let maximum let and warmth into your Bournemouth home with only a few panels. In addition to this, we use double glazing as standard in our uPVC sliding patio doors to ensure the best levels of thermal efficiency and weatherproofing. Stay protected with our super strong products.
Product Options
Our Colour Options
We class patio doors as versatile renovations and therefore offer colour finishes to suit any ages and styles of property. That way, your homeowners can achieve their dream aesthetic. Our Deceuninck uPVC can be finished in everything from whites and greys to greens and woodgrains.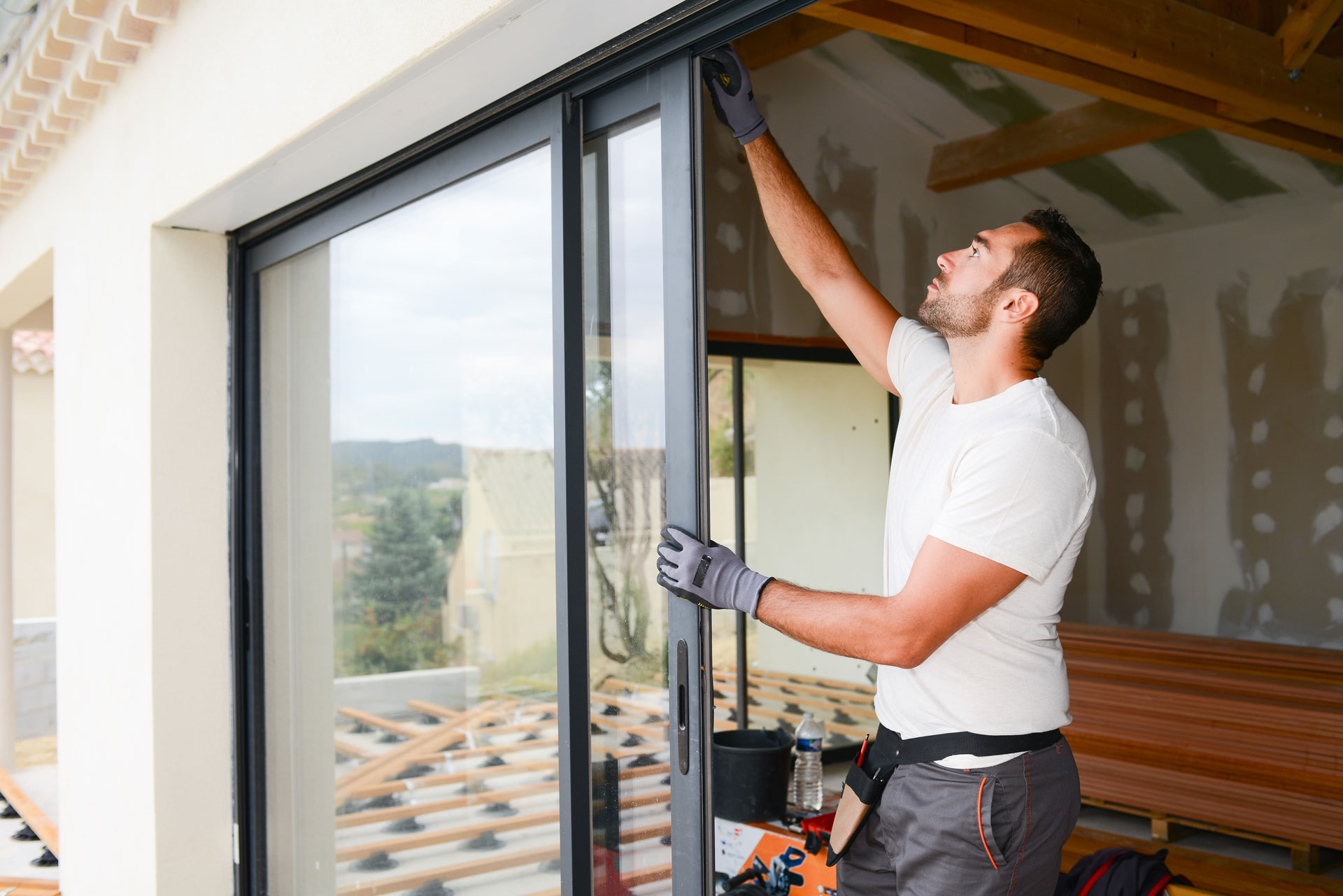 Performance
| Performance | Value |
| --- | --- |
| Best U-Value (Double glazing) | 1.4 W/m²K |
| Best U-Value (Triple glazing) | 1.0 W/m²K |
| Air Tightness | 2 Pane: Class 4 | 3-4 Pane: Class 2 |
| Water Tightness | 2 Pane: Class 8A | 3-4 Pane: Class 3A |
| Wind Load | Class 3A |
| PAS 24 Security Upgrade | Yes |
| Min / Max Height | 1800mm / 2350mm |
| 2 Pane Min / Max Width | 1505mm / 3000mm |
| 3 Pane Min / Max Width | 2000mm / 4900mm |
| 3 Pane Min / Max Width | 2600mm / 5930mm |
Energy Saving
Save energy and reduce your carbon footprint with our innovative uPVC sliding patio doors. The super-insulated door profiles effectively keep heat in, meaning your space will stay warmer for longer. This will be especially beneficial in the winter months, as you will have to rely less on your central heating to keep you warm. As well as this, they will provide great ventilation in the summer.
Range Of Styles
The uPVC sliding patio doors we provide come in a huge range of styles and configurations to suit your taste. Consequently, we guarantee you will be able to find something you love from our extensive range of customisable elements. Add a fun touch to your Bournemouth property with our stunning products that use bespoke colour bonding for maximum results. Make the most of your space.
Highly Secure
Achieve maximum levels of security for your Bournemouth home with our innovative uPVC sliding patio doors. Inside each of the profiles are a series of strong multi-point locking mechanisms that are resistant to the strongest levels of force. Deter any unwanted intruders in your home with our super strong uPVC sliding patio doors that are made with the security of homeowners at the forefront of design.
10-Year Guarantee
Our uPVC sliding patio doors all come with an excellent 10-year guarantee. As a result, you can rest assured with our products that will help to improve thermal efficiency and weatherproofing. Our products are designed to provide decades worth of enhanced performance, helping to save you time and money in the long run. Take a look at how our products can transform your home for less.
uPVC Sliding Patio Door Prices Bournemouth
Modernise your Bournemouth property with our uPVC sliding patio doors. We make it easy to find your local installer online today. Start your next project with our help.
Please complete our online contact form if you have any further questions regarding our doors. Alternatively, speak to a member of the team directly on 03332 412 240.
Frequently
Asked
Questions
View our frequently asked questions here. We've added only a selection, so don't hesitate to reach out if you'd like to ask anything else. Our expert team are happy to help.
View More FAQs
How much do uPVC sliding doors cost?
As each project is different and every aperture has different dimensions, we can't give an exact figure. Our competitive prices are aligned to the specifications of your project and the design that you choose. We have an online design tool so that you can play around with different styles and request a quote.
Can sliding doors match other windows and doors?
If you're looking to match your existing uPVC windows, we can help. Whether your current windows are finished in smooth white or a woodgrain finish, our patio doors offer the best in personalisation allowing you to create a sliding door that matches your existing windows and doors.
How do I get a price for patio sliding doors?
You can design your own and request a price for a set of supply only uPVC patio doors here on our website. If you require a full service including survey and installation, you can enquire a price via one of our stockists.
Gallery