Quickslide's Legacy grows with exclusive sash window vent solution!
Share this story!
Share this post to any popular social media, email it to a friend or print it off.
---
Since its launch in line with the revised Building Regulations earlier this year, Quickslide's exclusive new trickle vent solution for sash windows has become the preferred method for Document F compliance across the fabricator's market-leading range of Legacy vertical sliders.
The Glazpart modular vent – that allows for full compliance in one sash window – is exclusive to Quickslide, who were heavily involved in its design to ensure it fully complements the heritage aesthetic the leading window and door fabricator's name is synonymous with.
"The Legacy VS carries all the beauty of a traditional design, combined with modern industry thinking that enables us to offer a cost effective, compliant window that doesn't compromise on aesthetics," said Managing Director Ben Weber.
Perfect Timber-Alternative
"We've worked tirelessly and have done amazing work designing our Legacy VS with features such as run-through sash horns, timber-looking joints, astragal bars and a deep bottom rail. But the requirement for compliance to the revised Document F meant that we then had to develop a new vent solution to complement all of this. One that avoids use of multiple individual trickle vents, which would quickly spoil our windows' heritage aesthetic, or placing vents in the head of the outer frame to avoid the associated issues that would bring. We're pleased to say that the new modular vent offered by Quickslide comfortably fulfils the brief on both looks and compliance."
To provide installers across the nation with a compliant product that will prove attractive to buyers, the vents are woodgrain and colour-matched as standard. Even bespoke coloured windows will come with matching vents. For comfort, a unique closing mechanism on the internal side allows for adjustable ventilation.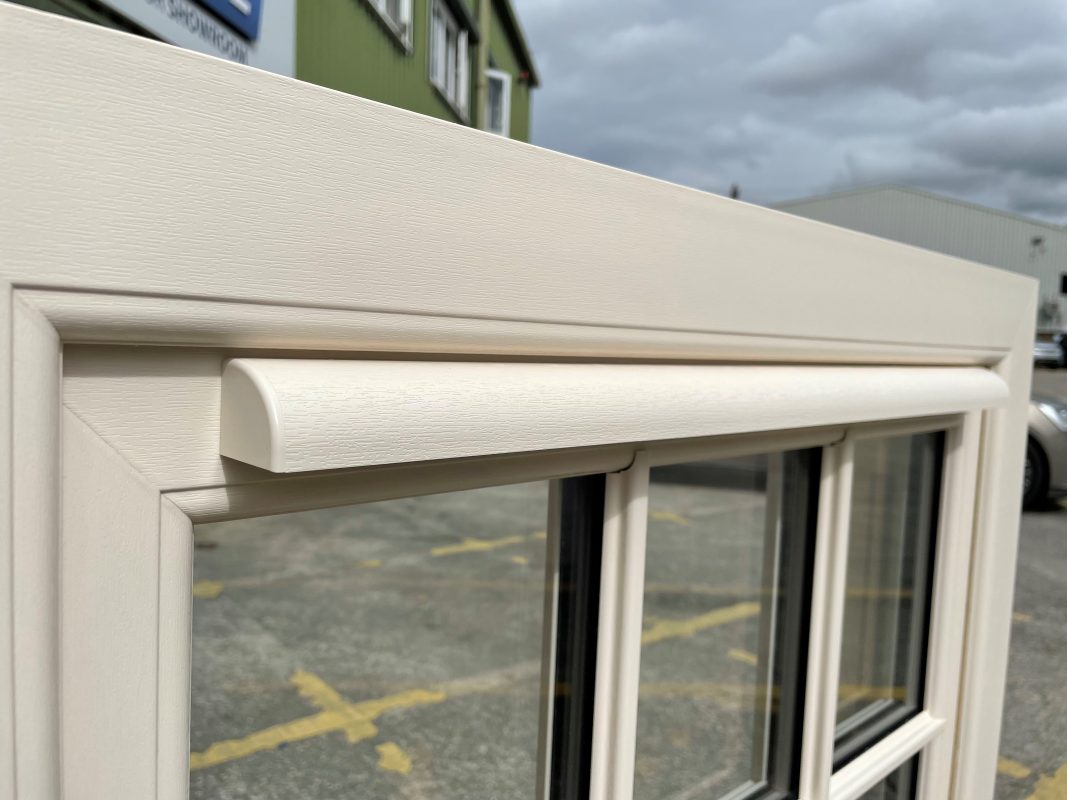 Our Commitment to World-class Products
"At Quickslide we're committed to providing our customers with world-class products and so being involved in the design and application of this vent and being the first to be able to offer it to our customers gives us a real sense of pride," said Ben.
"We believe this new trickle vent is the only continuous vent out there that allows for full compliance in one sash window. We'd certainly challenge installers to ask their VS manufacturer if their windows do the same?"
Since the beginning of July trickle vents have been included as standard in all Quickslide's vertical sliders, providing Trade Partners with the means to comply with the new Building Regulation requirements for ventilation at no extra cost.
"For those customers who are willing to pay more for VS windows for the right visual impact, we don't want to only meet them half-way by supplying a product that adheres to regulations but doesn't look the part," Ben explained. "As a result, all our welded vertical sliders over 775mm in width now comply with the new requirement to achieve 8000 EA in one single window, and we're really excited to be leading the way with this."
Contact Quickslide
Should you have any questions about Quickslide or our sash windows featuring the new exclusive modular vent, then please get in touch. You can either call us on 03332 412 240 or use our online contact form. We'll be happy to answer any queries you have.
Please note, our news articles are relevant and accurate at the time of release, but as technical developments dictate, and times goes by the information in this article may no longer be applicable. If you have questions, please contact us using our online contact form or call us on 03332 412 240.