Britain's Nicest Window and Door Fabricator? Quickslide Celebrates Its G Awards Win with Gifts for All
Share this story!
Share this post to any popular social media, email it to a friend or print it off.
---
After winning the coveted Fabricator of the Year Award for the second time at last November's G Awards ceremony, Yorkshire-based Quickslide might be after a further title of 'Britain's nicest window and door fabricator' after showering its trade partners, suppliers and staff with gifts to celebrate and share its win.
No less than 80 customers, 20 business partners and all members of staff were given gifts including bubbles and vouchers, to join in with the celebrations: "We're only as good as the people and businesses we associate ourselves with so in essence we wanted to say 'thank you' to everyone for being a part of an award-winning team," explained Quickslide Chairman Adrian Barraclough.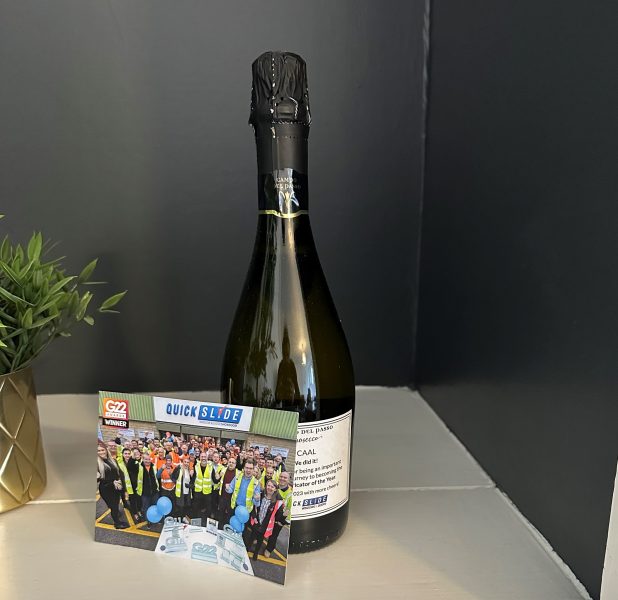 The latest trophy adds to the previous 'Fabricator of the Year' accolade, in addition to two others for specialist G Awards that Quickslide has won going back to 2011, and others the firm proudly displays in its ever-growing trophy cabinet: "We do love a good awards evening but as we couldn't invite everyone along, we thought this would allow people to share in our celebrations. Not only do we make the best windows and doors, we know how to celebrate with our friends," added Adrian.
Please note, our news articles are relevant and accurate at the time of release, but as technical developments dictate, and times goes by the information in this article may no longer be applicable. If you have questions, please contact us using our online contact form or call us on 03332 412 240.