Durable and Reliable
Aluminium has a much sturdier profile than uPVC or traditional timber. Its superior strength is matched by its easy maintenance and recyclability, ensuring sustainable business practices. Aluminium is capable of withstanding harsh weather conditions without warping or cracking, making it the perfect choice for any Shrewsbury home looking to get an upgrade.
Easy to Operate
Aluminium is smooth and rust-resistant; our doors can glide open and shut smoothly without hitches. With steel liners and low thresholds, our aluminium bifold doors can provide easy access to your patio, garden, or conservatory. 
Personalised hardware allows you to build the perfect aluminium bifold doors, giving you all the tools you need to make operating your doors a unique experience tailored to you.
Product Options
Our Colour Options
Depending on the application, we can provide the opportunity to upgrade to custom colours for our aluminium bifold doors. However, we usually offer white, grey, and black as standard options. No matter your choice, all of our aluminium bifold door colours are waterproof and long-lasting, keeping them looking good as new for decades with minimal upkeep.

Black

Anthracite Grey

White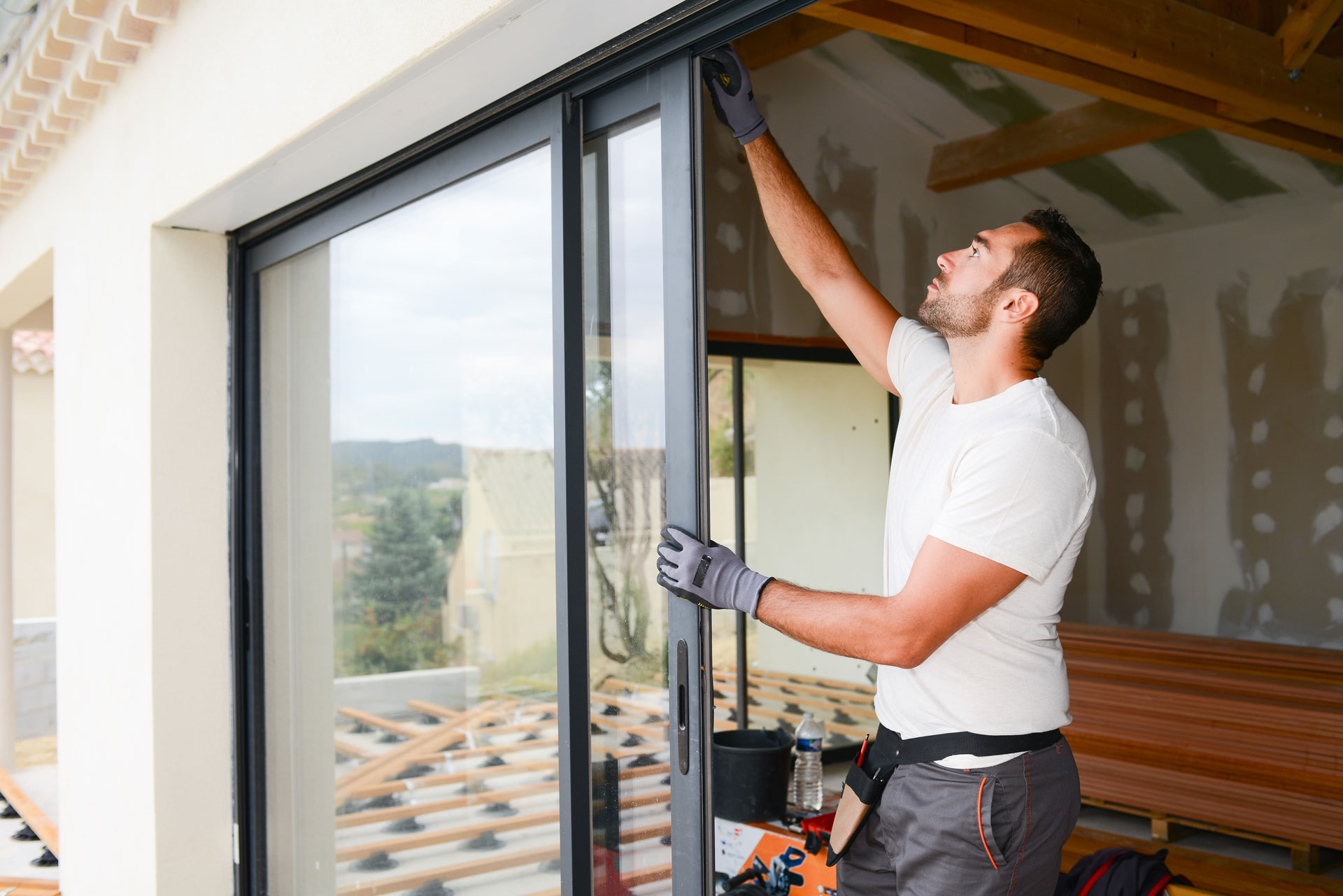 Performance
| Performance | Value |
| --- | --- |
| Best U-Value (Double glazing) | 1.6 W/m²K |
| Best U-Value (Triple glazing) | 1.3 W/m²K |
| Best Energy Rating | C |
| Air Tightness | Class 4 |
| Water Tightness | Class E750 |
| Wind Load | Class A4 |
| PAS 24 Security Upgrade | Yes |
| Min Sizes (Per Panel) | W: 550mm | H: 1200mm |
| Max Sizes (Per Panel) | W: 1200mm | H: 2500mm |
Soundproof
Thanks to our 28mm double glazing fitted within panes of the aluminium bifold doors, you could benefit from reduced noise pollution. The space between the glass absorbs sound, increasing privacy day or night. Plus, triple glazing can further improve the soundproofing effect of our aluminium bifold doors.
Safe and Secure
With bespoke multi-point locking mechanisms and robust frames, our aluminium bifold doors can give homes a beautiful view of the outside world while also keeping a house secure. With the choice of double or triple glazing and obscuring glass, we provide various safety features to make you feel comfortable.

Slim Sightlines
Thanks to aluminium's increased strength and high resistance to warping, aluminium bifold doors can be built with thinner frames compared to more traditional materials like timber. Having slimmer frames means the doors can have larger panes that flood property's with natural light and provide you with better views outside. Thanks to slim aluminium frames, you can rejuvenate any Shrewsbury home with the illusion of added space.
Recyclable
Unlike timber frames that tarnish over time, aluminium bifold doors have a long life and can be made from recycled materials for more sustainable construction practices. Plus, if you were to ever upgrade a Shrewsbury home again with us, you'll be pleased to know that the material can be melted down and reused elsewhere instead of going to a landfill.

Aluminium Bifold Door Prices Shrewsbury
You can rely on Quickslide to ensure that any Shrewsbury home is expanded beautifully with aluminium bifold doors. Our doors can offer an expansive, unobstructed garden view and can fill a home with natural light.
Please contact your local installer to explore price and project requirements or have any questions answered. Or, for more straightforward questions, call us at 03332 412 240; we'd love to hear from you!
Featured Installers
Matthews & Peart Ltd.
Archers Way Battlefield Enterprise Park, Shrewsbury, SY1 3GA
Contact Installer
Frequently
Asked
Questions
We'd love to hear from you, but if you have a small query, you may have some luck finding your answer in our FAQ categories. If you have further questions or want to discuss something in more detail, please call us; we'd be happy to help.
View More FAQs
How much are aluminium bifold doors?
The price of our aluminium bifold doors varies depending on each project and its required dimensions and design. However, all our prices are competitive and uniquely based on every project we accomplish. If you'd like to get a cost for your Shrewsbury project, use our online price engine to get started.
Do your aluminium bifold doors come glazed or unglazed?
Our doors will arrive unglazed. The doors and glass units will be delivered simultaneously but will need to be installed after the frame and doors are in.
Do you offer a low threshold option for your aluminium bifold doors?
Yes, we offer a few different threshold options, including a low threshold and a low threshold with ramps, providing Shrewsbury homes with a seamless transition between indoors and outdoors.
Gallery