Aluminium Bifold Door Configuration Options
We understand that not every home is the same and that people want different things. Our aluminium bifold doors boast numerous configuration options so that they will fit in with your lifestyle and your Bradford home. Each of our products is made to measure, and we offer different quantities of door sashes so that they will be the perfect fit. Our dedicated installers always recommend the best option for your home.
Our opening configurations are designed to be applicable to any situation. You can choose to fold your aluminium bifold doors internally or externally. Once folded, they neatly stack against each other so that it doesn't obstruct your Bradford home or garden. You can also decide whether they fold to the right or the left. The advanced manufacturing of our aluminium bifold doors makes it easy for you to use them, even years after the installation.
Weather Design
Innovation is part of our key values here at Quickslide, and we always use top-of-the-range profiles for our products. The aluminium that we use can secure your Bradford home against the elements. We know that the weather is an integral factor of the reasoning behind door purchases. You can trust that our aluminium bifold doors will help to prevent unwelcome cold winds and rainwater from entering your Bradford property.
Numerous features, including EPDM rubber gaskets and weather brushes, are installed to aid the resistance against the weather. We also offer rebated thresholds to enhance the performance of your aluminium bifold doors even further. You can have complete peace of mind that our aluminium bifold doors can give your Bradford home optimal protection against the weather. Speak to our team to find out more.
Product Options
Our Colour Options
Our aluminium bifold doors are available in white, grey, and black as standard, with the option to upgrade to bespoke colours subject to application. Our bifolding door colours are long lasting and weatherproof, maintaining a factory fresh shine for decades. Your homeowners get the absolute best.

Black

Anthracite Grey

White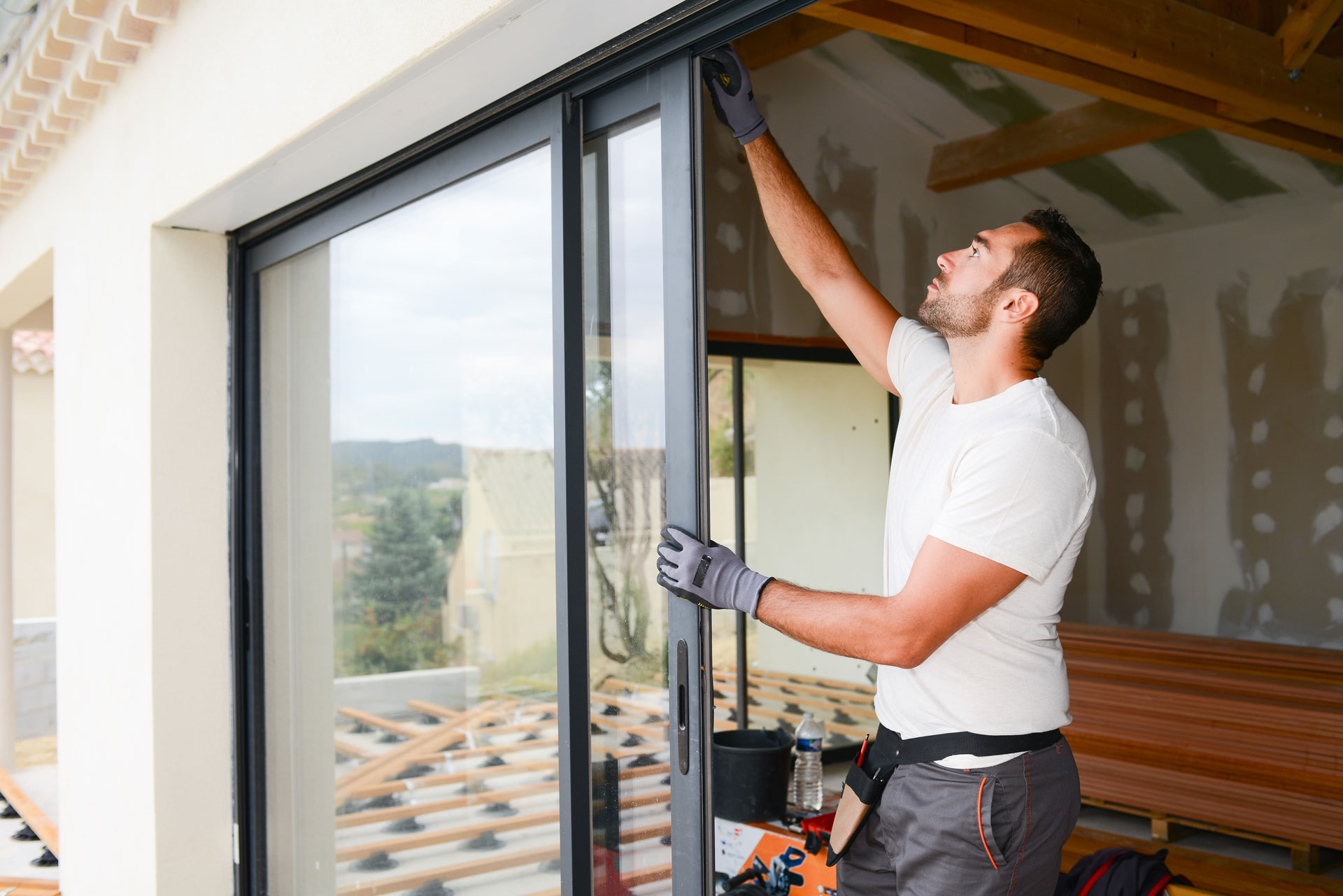 Performance
| Performance | Value |
| --- | --- |
| Best U-Value (Double glazing) | 1.6 W/m²K |
| Best U-Value (Triple glazing) | 1.3 W/m²K |
| Best Energy Rating | C |
| Air Tightness | Class 4 |
| Water Tightness | Class E750 |
| Wind Load | Class A4 |
| PAS 24 Security Upgrade | Yes |
| Min Sizes (Per Panel) | W: 550mm | H: 1200mm |
| Max Sizes (Per Panel) | W: 1200mm | H: 2500mm |
A Well-Insulated Home
Aluminium bifold doors aren't just limited to their striking design; they also boast an array of practical benefits. We fit 28mm double glazing as standard into our aluminium bifold doors. However, we do offer 36mm triple glazing if required. Alongside the glazing, the aluminium framework consists of a polyamide thermal break that creates an insulating seal, preventing cold draughts from entering your property.
Slim Sightlines
As aluminium is so strong, we can afford to fit slimmer frames. This will give Bradford homeowners even better views of their surroundings throughout the year. Not only this, but it will utilise the conditions outside to make your property as naturally bright as possible. This flood of natural daylight will help to create the illusion of more space in your home. Enjoy the panoramic views of your garden all year long.
Bespoke Design
Aluminium bifold doors are a great way to modernise your Bradford home, but they can also be tailored to complement your specifications. We offer a range of colours and finishes, including metallic and woodgrain. There is also a dual colour option available for homeowners that want to design one side of the frame different to the other. You can also choose from a selection of door furniture to work alongside the frame.
Manufacturing Guarantee
Each of our Bradford customers gets a ten-year manufacturing guarantee with their aluminium bifold doors. In the unlikely instance that something was to go wrong, you are covered. All you would need to do is get in touch with your local installer and let them know what is wrong. They will be happy to help and will be on their way to your home in no time. You can feel fully supported even years after the installation.
Aluminium Bifold Door Prices Bradford
Our aluminium bifold doors will be a great investment for your Bradford home. We consider every detail and manufacture doors that are going to impress. If you want to get your next project started, use our find an installer feature to find your nearest aluminium bifold door fitter. All you need to do is enter your postcode. However, for a quick solution, scroll down past the FAQ's to find our featured installers in Bradford.
You don't have to make a decision straight away; we know that an aluminium bifold door is a big decision for your Bradford home. You can send us a message through our online contact form, and a member of our friendly team will endeavour to respond to you as soon as possible. You, of course, can also give us a ring on 03332 412 240 and have a chat with one of our experts. We hope you soon so that you can start designing your new aluminium bifold doors.
Frequently
Asked
Questions
View our frequently asked questions here. If you have anything else you'd like the answer to, speak to our West Yorkshire team of experts today. We're happy to help.
View More FAQs
Do you offer a low threshold option for your bifold door?
Yes, we offer different threshold options including a low threshold and a low threshold with ramps, which helps to create a seamless transition between the indoors and outdoors. With the addition of the ramps the threshold will comply with Part M of the Building Regulation (DV174).
Which is better: bifold or sliding doors?
It really comes down to the opening and your preference. If you want a spectacular uninterrupted opening on to a fine patio and/or sculpted gardens, then you should consider a bifold door.
A great choice for superb uninterrupted views all year round is sliding doors. They use more glass and less frame. Considering the British summer weather, the doors will spend just as many days closed as open.
How do I get a price for bifold doors?
You can request a price for a set of bifold doors here on our website. If you require a full service including survey and installation, you can enquire a price via one of our stockists. Use our 'Find an Installer' tool for the latter.
Gallery